Oliver's Stock Rising through First Month of the Season
By: Justin Felisko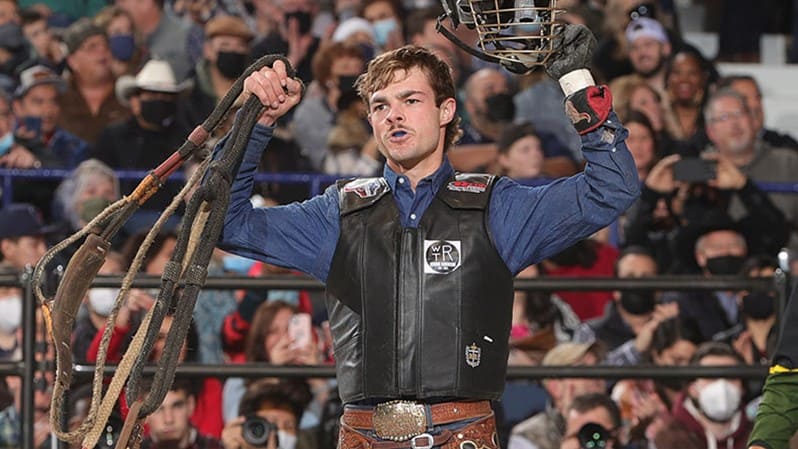 MILWAUKEE – Take a quick look at the Top 10 of the world standings, and there is one name that quickly jumps off the page.
Kyler Oliver.
The 22-year-old has surprisingly surged into the world title conversation through the first five events of the season. He's had a combination of clutch performances (a PBR Major win in New York City) and gritty toughness (notching a qualified ride last week minutes after being tossed into the out gate) that has certainly opened some eyes of his fellow riders in the locker room.
Oliver is only 9.5 points behind world leader Joao Ricardo Vieira, who has qualified for nine consecutive World Finals compared to Oliver's zero, heading into this weekend's PBR Ariat Invitational in Milwaukee.
The No. 2-ranked bull rider in the world has drawn Magic Potion (2-0, UTB) for the 15/15 Bucking Battle (noon ET on Sunday on CBS national television) and Crime Time (0-1, UTB) for Round 1 on Friday night at Fiserv Forum (9:45 p.m. ET on RidePass on Pluto TV).
Oliver's matchup against Magic Potion will be another litmus test to see if he can continue to contend for a world title in 2022. The PBR World Finals is already less than 100 days away from getting underway at Dickies Arena in Fort Worth, Texas.
Magic Potion is still relatively new to PBR competition, and his two buckoffs have come against 2019 Rookie of the Year Dalton Kasel and Andrew Alvidrez. However, the D&H Cattle Company bull is also 9-1 in PRCA competition, with seven-time PRCA champion Sage Kimzey being the only rider thus far to make the 8-second mark (84 points).
Oliver has already set a variety of career highs this year after he had to end his rookie season last March for reconstructive left shoulder surgery. Oliver is 7-for-14 (50%) through five UTB events in 2022, setting career-highs in rides (7), 90-point rides (2), event wins (1) and round wins (2).
2021 was a big disappointment for Oliver as he was looking to build off his come-from-nowhere run to qualify for the 2020 PBR World Finals as a Pendleton Whisky Velocity Tour wild card winner.
The Roy, Utah, native was extremely patient with his recovery, opting not to force a return late last season to attempt to qualify for his first PBR World Finals and instead focus on taking the next step in his career in 2022.

Oliver is a third-generation cowboy who is no stranger to the Western way of life. He has competed as both a bull rider and saddle bronc rider alongside fellow Utah native and PRCA All-Around World Champion Stetson Wright.
Oliver is the nephew of famed horse and dog trainer Cody Christensen. Kyler's grandmother, Sherry Oliver, is a horse trainer and qualified for the Ram Circuit Finals as a barrel racer.
Kyler has bull riding in his blood, too. Another one of his uncles, Shane Oliver, used to ride bulls professionally in the PRCA. Shane has served as a mentor to Oliver since he began getting on sheep at 3 years old. Shane also connected Kyler with 2007 PRCA champion Wesley Silcox for further guidance.
Now Oliver is looking to become a different Cinderella story, this time as a world title contender. He is one of a handful of young riders stepping to the plate with previous World Champions Kaique Pacheco and Cooper Davis out with left shoulder injuries and two-time World Champion Jess Lockwood struggling in his return from core muscle surgery that he underwent last spring.
Oliver has also started to gain traction as a potential first- or second-round draft pick for the upcoming PBR Team Series draft on May 23, according to more than 10 riders surveyed by PBR.com.
As one of four 22-year-olds ranked inside the Top 10 of the world standings (Oliver, Daylon Swearingen, Mauricio Moreira, and Mason Taylor), Oliver could be a rider a team can build a foundation around if he continues to develop.
"That would be great," Oliver said. "Everybody wants to be a first-rounder. Consistency is key. All the first-rounders are going to be the best guys in the world, so that would be great."
Here is a look at five additional riders who have jumped into the Top 20 this season after a down year in 2021.
No. 4 Stetson Lawrence
Stetson Lawrence won the PBR Tractor Supply Co. Invitational in Chicago to put himself into the world title conversation after having his 2021 season wiped out by injuries.
Lawrence missed the first six months of 2021 recovering from reconstructive left shoulder surgery only to break his neck when Dirty Sancho bucked him off onto his head in Tulsa, Oklahoma. Lawrence competed in seven summer Touring Pro Division events last year and two UTB events before undergoing his season-ending neck surgery.
The 31-year-old is only 123 points behind Vieira in the world title race. This season, Lawrence and Oliver are the only two riders with multiple round wins.
No. 10 Luciano de Castro

In the past two seasons, Castro has struggled tremendously with various injuries – hip, knee, groin, ribs, collapsed lungs, you name it – and he has finished No. 46 in the world standings in back-to-back years. He had to miss five months last season recovering from reconstructive right knee surgery, and he was mentally broken the past two years because of his laundry list of injuries.
However, a healthy Castro could be a dangerous one, as the 25-year-old proved last weekend. Castro capped a 4-for-4 weekend by riding Marquis Metal Work's Coriolis Effect for 85.25 points in the championship round, ending the talented bovine's streak of 21 consecutive buckoffs on the premier series.
No. 13 Alex Cardozo
Cardozo has bucked off six consecutive bulls at all levels, but his career-best third-place finish at the PBR Major in New York has him sitting pretty inside the Top 35. Cardozo's previous best placement on the premier series came six-plus years ago when he finished fourth at the Allentown Invitational, helping him qualify for the 2015 PBR World Finals, where he would, unfortunately, break his neck.
No. 15 Cannon Cravens
Only a few years ago, Cravens, then 18 years old, flashed potential that made some believe he could develop into a Top 35 bull rider. However, multiple injuries began to pile up, and he eventually opted to take the 2021 season off to focus on his family and let his body heal. Once he saw good friend Mason Taylor go 5-for-6 at the PBR World Finals, Cravens, who won the 2021 Indian National Finals Rodeo, felt inspired to break out his bull rope and make an attempt at returning to the Unleash The Beast. Two sixth-place finishes at the biggest events of the season thus far – New York and Sacramento – have the 21-year-old sitting No. 15 in the world standings.
No. 19 Bob Mitchell
Mitchell is the early-season leader in the 2022 Rookie of the Year race as the 19-year-old found immediate success on the Unleash The Beast last weekend (3-for-4, fifth-place). He began 2022 10-for-14 on the PBR's lower tier.
Other riders eligible for Rookie of the Year this season are No. 26 Sam Woodall and No. 30 Dawson Branton.
Follow Justin Felisko on Twitter @jfelisko
Photo courtesy of Andy Watson/Bull Stock Media
© 2022 PBR Inc. All rights reserved.