Pacheco Earns Seventh Career 15/15 Bucking Battle Victory in Indianapolis
By: Darci Miller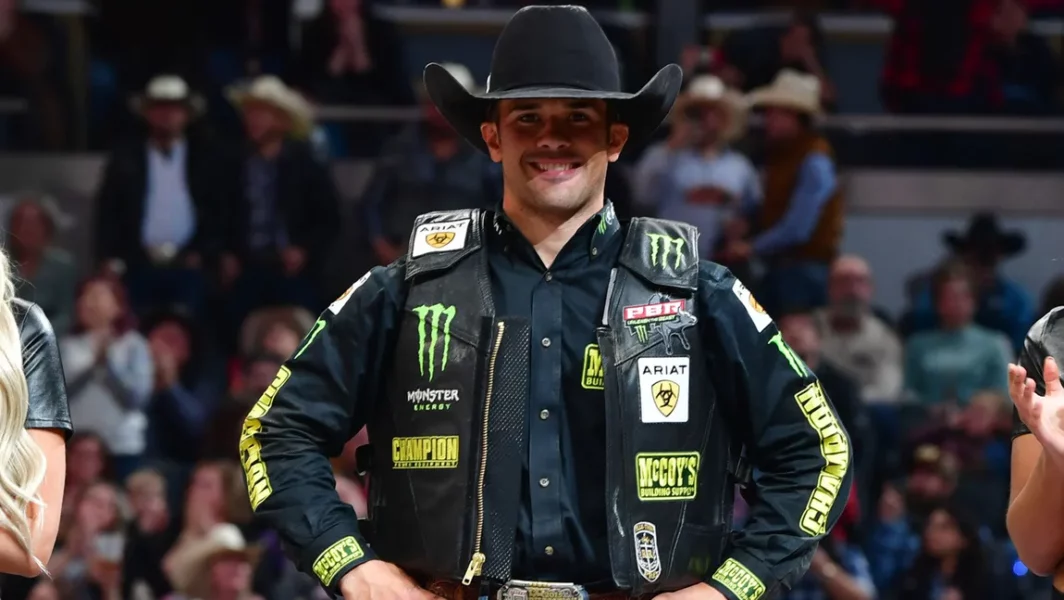 PUEBLO, Colo. – Things are good for 2018 World Champion Kaique Pacheco these days.
After a fairly unspectacular start to the 2023 Unleash The Beast season, Pacheco is looking every bit like the rider who very nearly won the 2022 PBR World Championship in May.
Two weeks ago in Chicago, Pacheco finished second overall. Last weekend in Duluth, Georgia, he earned his first event win of the season with a 3-for-3 performance, improving to No. 3 in the Unleash The Beast standings.
"In life, you have some ups and downs, and that happens; that's part of life, part of the game," he told PBR.com last weekend. "I need to just keep going, keep working hard to be better each time."
This weekend in Indianapolis, Pacheco was indeed better. Close to the best he's ever been, in fact. He won the 15/15 Bucking Battle at the PBR ZipRecruiter Invitational, presented by Ariat, with a 93-point ride on Ricky Vaughn – the second-highest-scoring ride of his career.
Even more significantly, the ride was the 300th qualified ride of Pacheco's premier-series career. He'd previously reached the milestone of 300 career rides, elite Team Series events included, in October.
"I still don't think they always give Pacheco the amount of points that he deserves," said Justin McBride, two-time World Champion and Pacheco's coach on the Nashville Stampede. "He's a lot like the great, legendary Jim Sharp. He rides with such perfection and control."
Ricky Vaughn was the second star in that equation, earning a bull score of 45.25 points for his efforts.
Ricky Vaughn made his premier series debut last weekend in Duluth. He scored 45.75 points for 4.56 seconds of work against Derek Kolbaba and a whopping 46.75 points for his 3.01-second buckoff of Kyler Oliver. His 46.75 points is the highest score for a debut bull in the last 20 years.
In his first two weekends of work, Ricky Vaughn has overtaken the No. 1 spot in the YETI World Champion Bull race.
"He's an awesome bull," Pacheco said. "He's still pretty fresh, young on the tour, but he's impressive every run, last weekend with 46 points. He's the No. 1 bull right now. I'm really happy to ride him and make a really good score today."
The 15/15 win in Indianapolis is Pacheco's seventh bucking battle victory. This ties him with two-time World Champion Jose Vitor Leme for the second-most all-time, trailing only Joao Ricardo Vieira's eight wins.
Pacheco narrowly beat out 2019 Rookie of the Year Dalton Kasel, who rode Tulsa Time for 92 points, very nearly winning his second consecutive 15/15.
In the regular event in Indianapolis, Pacheco went 1-for-2 to finish 22nd overall. He rode Kodiac for 84 points in Round 2 for career ride No. 301.
Pacheco is still ranked No. 3 in the Unleash The Beast standings heading into the PBR Wrangler Long Live Cowboys Classic next weekend in Sacramento, California. Round 1 airs on Feb. 3 at 10:45 p.m. ET on RidePass on Pluto TV.
And he'll be just as focused as he always is.
"My occupation is to ride bulls for my job," Pacheco said in Duluth. "That's what I decided to do for a living."
Professional Bull Riders – PBR ZipRecruiter Invitational, presented by Ariat, 15/15 Bucking Battle
Gainbridge Field House – Indianapolis, Indiana
Event Leaders (Round 1-Event Aggregate-Event Points)
1. Kaique Pacheco, 93-93.00-59 Points.
2. Dalton Kasel, 92-92.00-49 Points.
3. Jesse Petri, 88.5-88.50-43 Points.
4. Thiago Salgado, 88.25-88.25-38 Points.
Andrew Alvidrez, 0-0.00
Jose Vitor Leme, 0-0.00
Daniel Keeping, 0-0.00
Rafael Jose de Brito, 0-0.00
Mason Taylor, 0-0.00
Luciano De Castro, 0-0.00
Silvano Alves, 0-0.00
Eduardo Aparecido, 0-0.00
Boudreaux Campbell, 0-0.00
Brady Oleson, 0-0.00
Bob Mitchell, 0-0.00
© 2023 PBR Inc. All rights reserved.