PBR Brings Elite Unleash The Beast to Salt Lake City for First Time Ever
By: Easton Colvin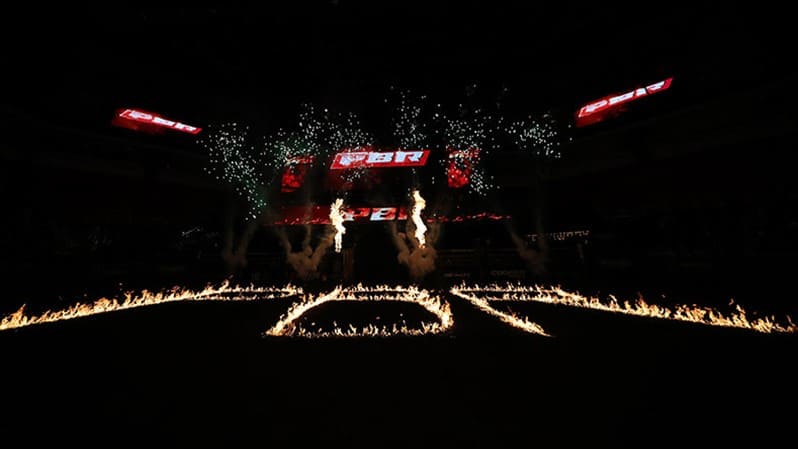 SALT LAKE CITY – As PBR (Professional Bull Riders) pioneers the return of fans back into the arena for live sporting events, Salt Lake City and Days of '47 Arena will host the fourth stop of the elite Unleash The Beast (UTB) tour's second half of the 2020 season. The PBR TicketSmarter Invitational presented by Cooper Tires rides on back-to-back nights, August 21-22.
Tickets for the outdoor, two-night 2020 TicketSmarter Invitational are on sale now and start at $15. They can be purchased online at PBRtix.com, over the phone by calling 800-732-1727 or at AXS.com.
In cooperation with Days of '47 Arena, PBR is instituting a series of fan safety protocols to welcome fans back into the stands for bull riding action, including:
-All Days of '47 Arena staff will be subject to Coronavirus screening and temperature checks each day
-All PBR staff, riders and stock contractors will be subject to COVID-19 medical testing
-PBR will only sell up to 50% of arena capacity, split into POD seating, to ensure social distancing and minimize fan crossover when entering and exiting seats.
-All event attendees will be required to wear facial coverings, per Salt Lake County Health order 2020-12
-Increased sanitization of high-contact areas, and complete sanitization of the Days of '47 Arena at the conclusion of each performance
-Social distancing will be encouraged in all high contact areas, including concession and restroom lines
-Guests will use designated arena entrances based upon seat location on the East and West sides of the arena
Prior to mass-gathering restrictions implemented due to COVID-19 (Coronavirus), PBR's UTB tour last competed in front of fans in Little Rock, Ark., at Simmons Bank Arena March 6-7. The sport then held closed events for its premier series in Duluth, Ga., at Infinite Energy Arena March 14-15, and three closed events in Logan County, Okla., beginning April 25.
On July 10-12, PBR welcomed fans back for the first time in Sioux Falls, S.D., for the playoffs of a special team tournament created to keep the sport going during the pandemic, the groundbreaking PBR Monster Energy Team Challenge, as well as a Pendleton Whisky Velocity Tour event.
The TicketSmarter Invitational, the first PBR stop in Salt Lake City since 2016, is a chance for riders to pick up vital points toward the 2020 PBR World Championship. The two round event begins with Round 1 at 7:45 p.m. on Friday, August 21. Round 2 will buck at 6:45 p.m. on Saturday, with the championship round to immediately follow. Each of the 35 riders will attempt one bull in Rounds 1 and 2. On Saturday, the rider's individual scores from each round will be totaled, and the Top 15 will advance to the championship round for a chance to take home the event title and top prize money.
During the 2016 Velocity Tour stop in Salt Lake City, Utah native Keyshawn Whitehorse (McCracken Springs, Utah) took home the top prize. Whitehorse turned in a perfect 3-for-3 performance, highlighted by an 88.5-point trip in the championship round. The Navajo cowboy was able to outlast Jess Lockwood (Volborg, Montana) who was 2-for-3 over the two-day event.
For an enhanced PBR experience, fans can now purchase PBR Elite Seats and Premium Experiences, which provide a behind-the-chutes look into the toughest sport on dirt.
PBR Elite Seats are available for avid bull riding fans who want an exclusive VIP experience while enjoying the world's top bull riding circuit. These tickets offer premium seats, a question and answer presentation with some of the top bull riders and stock contractors in the world, a special photo opportunity after the event on the Can-Am Cage and souvenir credential and lanyard. Social distancing will be practiced at all times throughout the experience.
For more information on the upgraded experiences that are offered, fans can contact PBR Direct at 800-732-1727.
The 2020 PBR UTB season consists of 26 stops, bringing the toughest athletes on planet earth to cities such as New York City, Los Angeles, Ft. Worth and many more. The season culminates with the PBR World Finals at Las Vegas' T-Mobile Arena November 4-8. In the Entertainment Capital of the World the 2020 PBR World Champion – the bull rider who earns the most world standings points during the season – will receive the coveted gold World Championship belt buckle and a $1 million bonus.
© 2020 PBR Inc. All rights reserved.