PBR Pick 'Em Morning Line – Las Vegas Round 1
By: Slade Long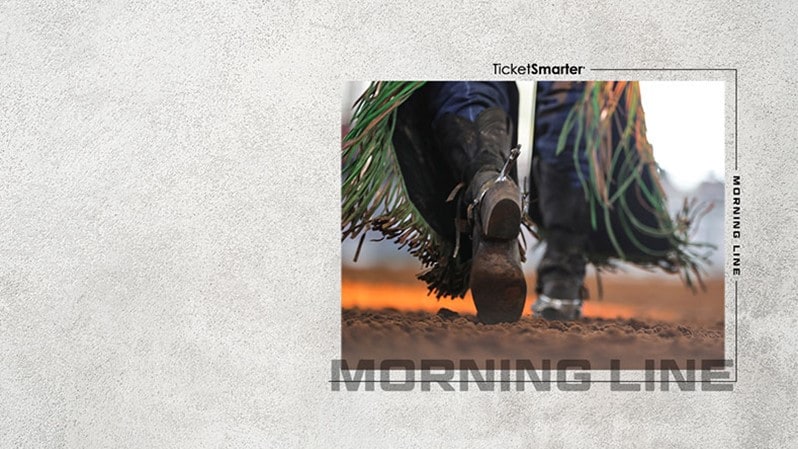 Andrew Alvidrez on 0511/4 Space Monkey:
This is one of the better bulls Alvidrez could have drawn in this round, even though he's 0-for-1 against him. Space Monkey has been pretty good to right-handed riders in his career, and when they met last summer, Alvidrez took him 7.8 seconds before coming down.
Dener Barbosa on C23 Smoke Show:
Barbosa has a shot at a qualified ride and possibly a round win. Smoke Show isn't an easy bull to ride, but he has given up big scores to left-handed riders. Barbosa has been riding well and is matched up well here. The only troubling stat is that Smoke Show threw off Jose Vitor Leme in his last out in Nampa.
Matt Triplett on 220 Hummer's Gold
This is easily the nicest bull to ride in this round. He represents the highest probability of a qualified ride in the round and probably in the overall event for any rider. Triplett was 87 points on him early last season. We don't see this bull that often, but he usually gives up a score when he does show up. Triplett probably won't contend for a round win, but he has the best chance of anyone to get a qualified ride.
Cooper Davis on 513 Boogie Bomb:
On paper, Davis looks like a solid favorite against this bull, but there's a catch. Boogie Bomb has been ridden a lot, but only by left-handed riders. He hasn't faced a right-hander as good as Davis yet, though. Overall, he's 5-8 against lefties and 7-0 against righties. This is another bull who tossed Jose Vitor Leme in his most recent out, which is an ominous sign in itself.
Conner Halverson on 10725/5 Renegade:
Halverson is a long shot, but this is a bull to keep an eye on. He's really fast and has good timing. He should be a good draw for UTB-level riders. Derek Kolbaba was 88 on him in Nampa going away from his hand, and he is likely to go away from Halverson's hand as well.
Jose Vitor Leme on 46C Cha Ching:
Leme has looked somewhat more human lately. Pacheco took the world No. 1 spot from him, but if they both finish out the season healthy at the same pace they have been on, Leme has a decisive edge. This draw is not likely to help Leme, though. He has better odds against almost every other bull in the round. Cha Ching is unridden in 27 career outs. He's 16-0 at the UTB level and 13-0 against top-tier riders. Leme does have a chance because he's one of the best riders to have ever lived, but this bull can be challenging. He has a lot of power and wonky timing to go with it.
Kaique Pacheco on 437B Lil 2 Train:
Like Leme, Pacheco would be better off with many bulls in this round other than this one. They met back in 2018, and Pacheco bucked off. However, Lil 2 Train is considerably easier than Leme's bull. Over the past couple of seasons, he's been ridden in about half his outs, and he's given up great scores in four of his last five outs. Pacheco will be tested, but he has a chance to out-earn Leme in another round, and he needs to capitalize on every opportunity.
Ezekiel Mitchell on 2481/5 Cali's Dream:
We don't know that much about this bull, but he's been ridden twice by right-handed riders in his only two career outs. Mitchell has been heating up over the past couple of events. He finished in the Top 5 in Jacksonville and won the Touring Pro Division event in Fort Worth.
Marco Eguchi on 591 Twisted X
Like Mitchell, Eguchi has ridden well lately, finishing second in both Jacksonville and Fort Worth. He has a tough but rideable bull here. His odds of a qualified ride are lower than Mitchell's, and on paper, this bull looks way more difficult than Mitchell's bull.
Cody Jesus on 16C Strange Cargo:
This is another long shot. Strange Cargo is about as difficult as your average short-round bull, and he is a short-round bull at many events. He isn't the kind of bull that Jesus is usually successful on, but Jesus can tee off on high-end bulls from time to time.
© 2021 PBR Inc. All rights reserved.