Pookie Holler Leads Bovine Power in 15/15 Bucking Battle Shutout
By: Justin Felisko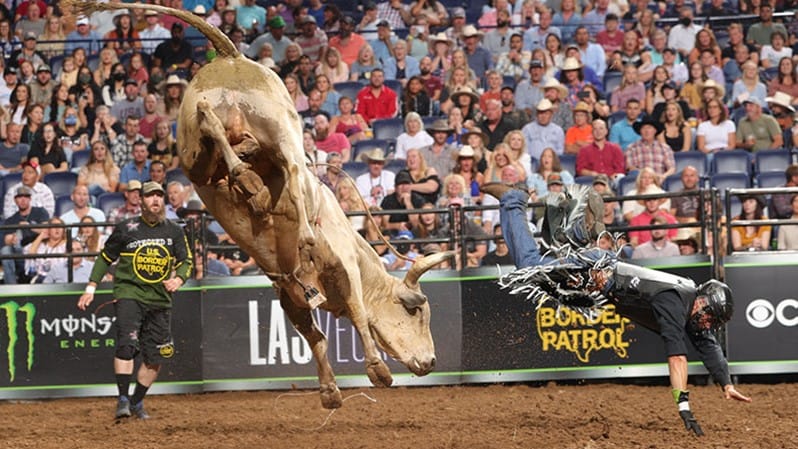 NASHVILLE – Reigning Stock Contractor of the Year Chad Berger did not even realize how impressive the bull power was on Saturday night in Nashville until he watched the 15/15 Bucking Battle Sunday on CBS national television.
"To be honest with you, I didn't even know until I watched it on TV today when they said there were no rides," Berger said before laughing. "I said, 'Heck, they didn't ride no bulls last night!'"
Leading the showcase of bovine power was Pookie Holler, who was only bucking for the third time since Berger acquired him from Terry Williams and Universal Rodeo.
Pookie Holler bucked off Rafael Henrique dos Santos in 1.91 seconds for his second consecutive 46.5-point bull score. The 6-year-old bull earned 46.5 points two weeks ago when he bucked off 2016 World Champion Cooper Davis in 7.43 seconds.

This weekend was the first time since April 5, 2019 (Sioux Falls, South Dakota) that there were no qualified rides in a 15/15 Bucking Battle. Whenever there are no qualified rides in a 15/15, the stock contractors who have bulls in the exclusive bonus round receive the prize money.
"It's nice to get a little extra payday," Berger said. "I wish I had a few more in there. But I always like to see them guys make great rides. I was cheering for a lot of them guys last night. So it makes no difference to me. I'm a big fan of the sport, and so I want great rides, and I want the crowd to leave saying how great the event was. So that's my ideal. I put on events and stuff, and I don't wish for everybody to buck off. I wish for great rides. That the bulls perform to the best of their ability, and if they ride them, more power to them."
Pookie Holler was the one putting on a show for the raucous fans at Bridgestone Arena, and Berger is excited for what the future may hold for him.
The stout bovine moved up to No. 8 in the YETI World Champion Bull race as his average increased to 45.06 points, but Berger is focused more on making a run at the 2021 Bull of the Finals title.
"He is everything a little more than I thought," Berger said. "It is a little late this year to be a contender, but he could sure be Bull of the Finals. If we can keep him together, next year we can probably make a run of it. To me, he is as good as any of them going for it right now."
Pookie Holler is 11-0 on the premier series and 22-0 at all levels of competition.
"He is just so steep, and his whole body whips when he comes around," Berger said. "Cooper Davis almost rode him, and Cooper did everything right to ride him, and he still got him at the end. He is going to be hard for them to twist."
No. 2 contender Chiseled closed the gap between himself and No. 1 Woopaa with 46- and 45-point bull scores in Nashville. Chiseled first bucked off Joao Ricardo Vieira in 4.03 seconds in the 15/15 for a 46-point bull score Saturday night. The 2019 ABBI Classic champion then prevented Mauricio Moreira from getting the event win Sunday with a 5.34-second buckoff in the championship round.
Chiseled is 0.53 points behind Woopaa in the YETI World Champion Bull race.
The 2021 YETI World Champion Bull will be the animal with the highest average bull score from their top eight regular-season outs and two outs at the PBR World Finals (Nov. 3-7 in Las Vegas).
Professional Bull Riders – PBR ARIAT MUSIC CITY KNOCKOUT PRESENTED BY COOPER TIRES 15/15 BUCKING BATTLE
Nashville, TN, 2021 – Event Leaders (Round 1-Event Aggregate-Event Points)
Jose Vitor Leme, 0-0.00
Kaique Pacheco, 0-0.00
Cooper Davis, 0-0.00
Dener Barbosa, 0-0.00
João Ricardo Vieira, 0-0.00
Boudreaux Campbell, 0-0.00
Chase Dougherty, 0-0.00
Keyshawn Whitehorse, 0-0.00
Rafael Henrique dos Santos, 0-0.00
Derek Kolbaba, 0-0.00
Junior Patrik Souza, 0-0.00
Mauricio Gulla Moreira, 0-0.00
Jesse Petri, 0-0.00
Dalton Kasel, 0-0.00
Silvano Alves, 0-0.00
Follow Justin Felisko on Twitter @jfelisko
Photo courtesy of Andy Watson/Bull Stock Media
© 2021 PBR Inc. All rights reserved.