PRCA for the Record: Cody Stampede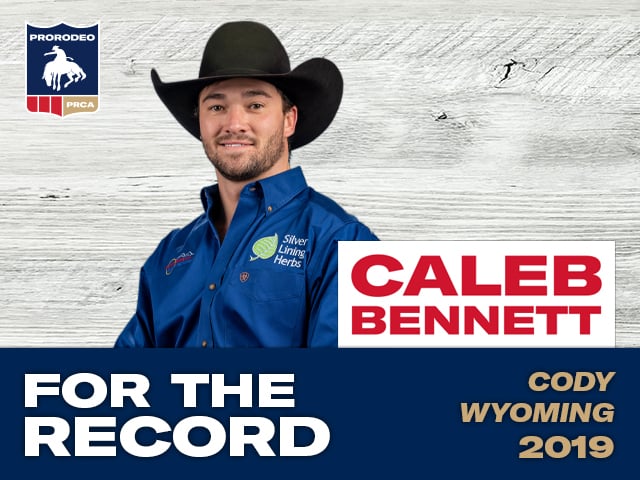 Named after former resident and American icon Buffalo Bill Cody, the town of Cody, Wyo., is home to one of the highest-paying PRCA competitions of the year – the Cody Stampede.
This year marks the dawning of the next century of ProRodeo action in the self-proclaimed "Rodeo Capital of the World," as this iconic Wyoming rodeo celebrated its 100th anniversary in 2019.
The Cody Stampede's PRCA record book goes back to 1953. Since, some of the biggest names in ProRodeo have competed there, but only the best left their mark in the rodeo's record book.
Bareback rider Caleb Bennett helped Cody celebrate its centennial with a record-setting 93.5-point ride on Frontier Rodeo's Gun Fire.
Only five bareback riders in ProRodeo history have scored higher than Bennett with 94 points – Wes Stevenson (2002), Will Lowe (2003), Ryan Gray (2009), Tilden Hooper (2010) and Tim O'Connell (2020).
Bennett and Gun Fire had crossed paths before and won the 2018 Fiesta Days Rodeo in Spanish Fork, Utah, with an 87-point ride.
Bennett wasn't the only one who knew Gun Fire was a good draw. Cody's fans were also familiar with the horse. In 2017, Tyler Nelson won the Cody Stampede with an 86-point ride on Gun Fire.
Winning the Cody Stampede helped Bennett qualify for his eighth consecutive Wrangler National Finals Rodeo (2012-19). The Utah native turned Montana cowboy has won more than $1.47 million since his rookie year in 2007.
The 31-year-old is still a contender in the race for the Wrangler NFR. On May 24, Bennett won Cave Creek (Ariz.) Rodeo Days, the first ProRodeo competition to be held after the COVID-19 pandemic put competitions on hold.
On July 1-4, ProRodeo athletes will be competing for valuable ProRodeo Tour Points in Cody. Fans can catch the action on the PRCA on the Cowboy Channel Plus App, July 1-3 at 10 p.m. (ET) and July 4 at 7 p.m.
Rodeo records
• Total payout: $377,723, 2007
• All-around: $11,369, Trevor Brazile, 2015
• Bareback riding: 93.5 points, Caleb Bennett, 2019
• Steer wrestling: 3.3 seconds, Chad Hagan, 1997
• Team roping: 4.0 seconds, Dustin Bird/Paul Eaves, 2012
• Saddle bronc riding: 92 points, Dan Mortensen, 1995
• Tie-down roping: 7.2 seconds, Trevor Brazile, 2009; Jake Hannum, 2009
• Barrel racing: 16.01 seconds, Kelly Yates, 1999
• Bull riding: 94 points, Wesley Silcox, 2011
Courtesy of PRCA