PRCA for the Record: Wrangler NFR Round 7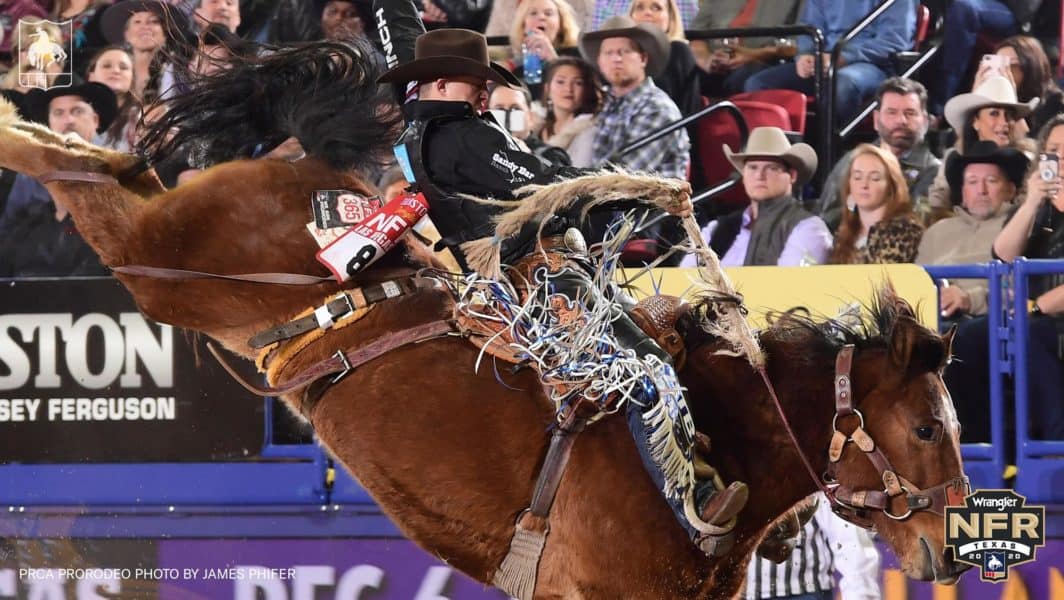 Two-time World Champion Saddle Bronc Rider Zeke Thurston (2016, 2019) is one of three saddle bronc riders holding more than one go-round record at the Wrangler National Finals Rodeo, with his most recent happening during Round 7 in 2019.
In 2018, Thurston and Cort Scheer each posted 89.5-point rides in Round 6 to set the round record. One year later, Thurston set the Round 7 record with a 92.5-point ride on Northcott Macza's Get Smart.
Thurston and Scheer each hold two go-round records, while Billy Etbauer has four:
• Thurston: Round 6 (89.5 points, 2018), Round 7 (92.5 points, 2019)
• Scheer: Round 2 (92 points, 2018), Round 6 (89.5 points, 2018)
• Etbauer: Round 3 (90 points, 1999 and 2005), Round 5 (93 points, 2003), Round 10 (93 points, 2004)
Normally, NFR round records are broken in small increments, one point or even a half-point at a time.
That wasn't the case with Thurston. He took Round 7's record up by 2.5 points. The previous Round 7 record was 90 points, shared by Etbauer (on Bar T Rodeo's Son of Sadie, 2009), Chase Brooks (on Corey & Lange Rodeo's Diamond Fever, 2018) and Wade Sundell (on Lancaster & Jones Pro Rodeo's Total Equines Angel Fire, 2018).
Thurston knew he was in for a good ride since Get Smart was named the top saddle bronc of the 2018 NFR and won the 2019 Pendleton Whisky Let 'er Buck Saddle Bronc of the Year Award.
"We have a good history," Thurston said. "He bucks so hard and tries his little heart out every time. I draw him a lot, and I always don't know if I can do it. He just bucks so hard that there's no room for error.
"Most of the rides I made on him were a blur because they happen so fast, and he hits the ground so violently and kicks the lights out – he's just a cool horse. He was bucking hard and rapid, and I felt like I made a pretty good ride."
Keeping a level head after his stellar Round 7 ride paid off for the Canadian cowboy, as he went on to win the ninth round and tied for third in the final round to place fourth in the average and win his second world title by a margin of $60,684.
"Anything can happen, I've been there enough times to know that you need to take it one horse at a time," Thurston said. "In that 10-day set, anything can happen. That (setting a record) does help your confidence, but you still have to go do your job on the next one. But, getting things feeling good is a huge momentum-builder, and you just work off that."
The 26-year-old cowboy will compete at his sixth consecutive NFR (2015-2020) Dec. 3-12 at Globe Life Field in Arlington, Texas.
"I'm feeling pretty good but there's the unexpected, not knowing what it'll be like," Thurston said. "But it's the same bucking horses and a few new guys, and I'm really excited."
The 2020 Wrangler NFR moved to Globe Life Field due to the ongoing COVID-19 pandemic, so a different arena means past NFR records likely will remain untouched this year. But the best rides and runs of the past remain a good measuring stick as the 120 best ProRodeo athletes kick up dust on a new batch of arena dirt.
Every point counts and a fraction of a second can mean the difference between winning a world title or coming in second at the Wrangler NFR.
The following records, and the records for the other nine rounds, could be broken Dec. 3-12. Fans can check with ProRodeo.com for updates throughout the competition and can watch the action unfold live on the PRCA on the Cowboy Channel Plus app.
The NFR Round 7 records are:
Bareback Riding
91.5 points
• Bobby Mote on Big Bend Rodeo's Spring Fling, 2008
• Clayton Biglow on Rafter G Rodeo's Ankle Biter, 2019
Steer Wrestling
3.1 seconds
• Matt Reeves, 2013
Team Roping
3.6 seconds
• Derrick Begay/Cesar de la Cruz, 2009
• Clay Tryan/Travis Graves, 2012
• Trevor Brazile/Patrick Smith, 2015
• Cody Snow/Wesley Thorp, 2019
Saddle Bronc Riding
92.5 points
• Zeke Thurston on Northcott Macza's Get Smart, 2019
Tie-down Roping
6.7 seconds
• Trevor Brazile, 2007
• Cody Ohl, 2013
• Matt Shiozawa, 2015
Barrel Racing
13.40 seconds
• Tillar Murray, 2017
Bull Riding
94.5 points
• J.W. Harris on Frontier Rodeo's Smoke Screen, 2010
Courtesy of PRCA