PRCA Weekly Recap: Stetson Wright Takes Home Three Titles in Caldwell, Idaho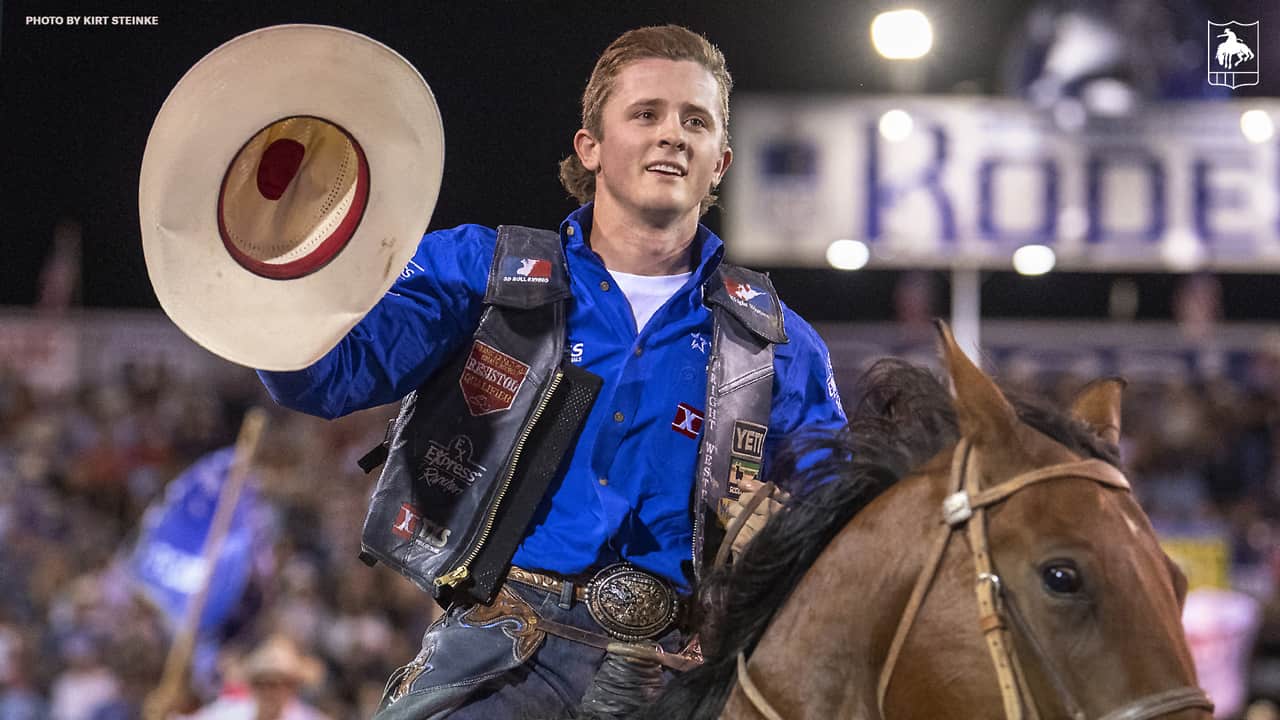 Stetson Wright showed why he's one of the top cowboys in the world this past weekend at the Caldwell (Idaho) Night Rodeo.
Wright put up the top bull riding score of the week (Aug.16-22). The reigning world champion had a 92-point ride on Powder River Rodeo's Top Shelf to win the rodeo.
"He was just a great bull that played to the left, right into my hand really, I couldn't have asked for anything better that night in Caldwell (Idaho)," said Wright, 22.
There was more where that came from for the Milford, Utah, native. He also took home the bareback riding title and all-around cowboy honors.
"This whole summer has been really good for me, and it seems like it just keeps getting better and better," Wright said."I think these wins definitely give me a nice little boost, but I try not to think about it. I just keep trying to ride and do my job. It's worked out pretty good for me so far this season."
Wright's success last week came with a hefty payday. In three rodeos he earned $22,453, with $14,438 of that coming from his outing in Caldwell. The money won in bareback pushed him into the No.1 spot in the latest PRCA | RAM World Standings, now $1,473 ahead of his brother Ryder Wright.
"He (Ryder) isn't sweating me, I can tell you that for sure," Wright said. "There's still a lot of work left to be done. I'm not satisfied with where I'm at right now, I want to keep getting better. I mean it's been one of the best years I've ever had, if not the best, but I still have that motivation that I can be even better."
With five weeks left to go in the regular season, Wright is closing in on the PRCA record for the most money earned in the all-around standings before the NFR. That record is held by ProRodeo legend Trevor Brazile who earned $282,242 before the NFR in 2015. Wright is $29,763 away from breaking Brazile's record. The regular season ends Sept. 30.
Below are the other top times and rides for the week of Aug. 16-22.
Clayton Biglow put together the highest scored bareback ride of the week. He had a 92-point ride on Calgary Stampede's Xplosive Skies at the Canby (Ore.) Rodeo on Aug. 20.
Rowdy Parrott had the fastest steer wrestling time last week. Parrott clocked a 3.3-second run in Canby on Aug. 20.
Brenten Hall and Chase Tryan posted the fastest team roping time of the week. The duo stopped the clock in 4.1 seconds at the Gooding (Idaho) Pro Rodeo on Aug. 19.
Mitch Pollock had the highest saddle bronc riding score this past week. He put together a 90-point ride on Barnes PRCA Rodeo's Red Horse Crossing at the Cassia County Fair & Rodeo in Burley, Idaho, on Aug. 21.
Two cowboys tied for the fastest tie-down roping times of the week. Riley Webb clocked a 7.0-second run at the Mesquite (Texas) Championship Rodeo Aug.21, while Macon Murphy had the same time at the Yellowstone River Round-up in Billings, Mont., on Aug. 20.
Three different cowgirls tied for the quickest breakaway roping time this past week. Martha Angelone, Kayelen Helton, and Rickie Engesser all stopped the clock in 2.2 seconds from Aug. 20-22.
Maggie Poloncic clocked the fastest barrel racing time of the week. Poloncic put together a 14.22-second run at the Yellowstone River Round-Up on Aug. 20.
Scott Snedecor continued to impress this past week with the fastest steer roping time. He clocked an 8.8-second run at the Wyoming State Fair & Rodeo in Douglas, Wyo., on Aug. 18.
Courtesy of PRCA