Red Bluff: Aussie-born Cowboy Turned Californian is Fast Time in the Steer Wrestling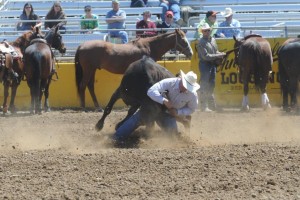 Red Bluff, Calif. (April 19, 2014) – Australia may be a world away, but on Saturday afternoon in Red Bluff, it was represented at the Round-Up.
An Australian born cowboy was the fast time in the steer wrestling for the day, and the second place winner for the third go-round.
Brad McGilchrist, who moved from Australia to Marysville, Calif. fifteen years ago, turfed his steer on Saturday afternoon with a time of 5.4 seconds.
The California cowboy was pleased with his run. "I was pretty happy with it," he said. "I had a really good steer, and I felt like I got a good start and made a good run." The best twelve steer wrestlers from the Friday and Saturday rodeos will compete in Sunday's performance, and Brad will be one of them. "I put myself into a position where I can hopefully move tomorrow and make good money in the average."
McGilchrist's mount is a horse borrowed from a friend, Jaed Hare. He began riding the eleven year old gelding last week, and won money on him at the rodeo in Oakdale. "I've got a lot of confidence in him. He scores real good which is important at Red Bluff because the steers are fresh and you have to run them out a little ways before they go."
It was rodeo opportunities that brought McGilchrist to America. He competed in rodeo at home, but there were more chances in the States. "I could rodeo in Australia, but rodeos aren't as good and not as big. There isn't the fan base, and there isn't the money you can win over here."
He went to Central Wyoming College in Riverton on a rodeo scholarship and after graduation, moved to Marysville. He shoes horses for a living, which allows him the flexibility to rodeo. He's content in the States. "I'm pretty settled here. I have a good business here. I like it here. I have a lot of good friends here now that are as close as family, and it's home."
In other events, high scores and fast times for the day included bareback rider Richie Champion (84), and saddle bronc riders Josh Redig and Heith DeMoss (80). Only two bull riders made the eight second buzzer, and the top score between them was Kanin Asay (87). Tie-down roper Jake Pratt had a time of 8.5 seconds to lead today's pack, and team ropers Cory Kidd, V. and Adam Plyler were 6.0 seconds on their steer today. Barrel racer Carley Richardson rounded the barrels in 17.31 seconds to be the fast time.
The Wrangler Network webcast today's performance live, and it will be archived for future viewings at wranglerwestern.com. This is the first time the Red Bluff Round-Up has been webcast.
The final performance of the Red Bluff Round-Up takes place Sunday, April 20 at 1:30 pm. The annual Tough Enough to Wear Pink campaign is tomorrow, with monies raised going towards breast cancer treatment at the St. Elizabeth Imaging Center in Red Bluff. Cowboy church begins at 10 am in the grandstands. For more information, visit the rodeo's website at RedBluffRoundup.com. Tickets range in price from $13 to $27 and are available at the gate.
Results after second performance, Red Bluff Round-Up, April 19, 2014
Bareback Riding
1 Richmond Champion, The Woods, Texas 84 points on Big Stone Rodeo Co.'s Gold Dust; 2 tie Kody Lamb, Sherwood Park, Alb. 80 and David Peebles, Redmond, Ore. 80; 4 Bobby Mote, Culver, Ore. 77
Steer Wrestling
1. Brad McGilchrist, Marysville, Calif. 5.4; 2. Ty Erickson, Helena, Mont. 5.7; 3. Blake Knowles, Heppner, Ore. 5.8; 4. Trevor Knowles, Mt. Vernon, Ore. 5.9
Saddle bronc riding
1. (tie) John Redig, Casper, Wyo. 80 points on Rubels, Big Stone Rodeo Co., and Heith DeMoss, Heflin, La. 80 points on Numero Uno, Corey and Lange Rodeo Co.; 3. (tie) Josh Reynolds, Ekalaka, Mont. 76 and Cody DeMoss, Heflin, La. 76
Tie Down Roping
1. Jake Pratt, Ellensburg, Wash. 8.5; 2. Bradley Bynum, Sterling City, Texas 8.8; 3. Fred Whitfield, Hockley, Texas 8.9; 4. Ryan Watkins, Bluff Dale, Texas 9.1.
Team Roping
1. Cory Kidd, V., Statesville, N.C./Adam Plyler, Pageland, S.C. 6.0; 2. Joseph Shawnego, Oakdale, Calif./Landon McClaughtery, Tilden, Texas 6.4; 3. (tie) Kaleb Driggers, Albany, Ga./Patrick Smith, Lipan, Texas 7.0 and Dakota Shipp, Lincoln, Texas/Joe Mattern, Plantersville, Texas 7.0
Barrel racing
1. Carley Richardson, Pampa, Texas 17.31; 2. Deb Guelly, Okotoks, Alb. 17.47; 3. Sheena Robbins, Fresno, Calif. 17.64; 4. Kimmie Wall, Roosevelt, Utah 17.68.
Bull Riding
1. Kanin Asay, Powell, Wyo. 87 points on Growney Bros. Rodeo's Canadian Tuxedo; 2. Brady Portenier, Caldwell, Ida. 64; no other qualified rides.
** All results are unofficial. For more information, visit RedBluffRoundup.com.