Reno Rodeo Looking For Kids' Day Event Flyer Cover Artist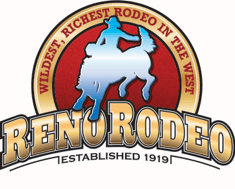 RENO, Nev. – The Reno Rodeo is now accepting entries in the 2022 Kids' Day art contest through April 22. Test your artistic abilities for the chance to win a prize and be featured on this year's Kids' Day event flyer.
"This year's Kids' Day is going to be the biggest yet," said Violet Richards, Chair of the Reno Rodeo Kids' Day committee. "We are always looking for new ways to get the community involved and this is the perfect opportunity to leave your mark on the Reno Rodeo and show off your child's artistic ability."
Interested artists under the age of 13 can submit their best "Keeping It Old School" rodeo artwork by April 22. Entries can be sent to KidsDayContest@gmail.com or dropped off at the Reno Rodeo Association office Monday to Friday 9 a.m. to 4 p.m.
"The Reno Rodeo is all about honoring western lifestyle, and culture and community are main pillars of those values," said Josh Iveson, 2022 Reno Rodeo President. "We are looking forward to seeing how the community visualizes 'Keeping it Old School' and reflects on what rodeo means to them."
Artists at The Generator will pick the top three for each age category (ages 8-13 years and 7 and under) for the Reno Rodeo committee to select the final contest winner. The winning artwork will be featured on the 2022 Kids' Day event flyer.
Kids' Day is set for Sunday, June 19 from 9 a.m. to 1 p.m. where the whole family can enjoy a fun-filled day of western-inspired adventures. The free event is jam-packed with kid-friendly activities including games, art, square dancing, face painting, horseback rides, the 6th Annual Mutton Bustin' Championship, animals to interact with and a lot more. Children will learn about western lifestyle, agriculture and safety with interactive vendors, and live displays throughout the Reno Livestock Events Center Indoor Arena.
For more information on Kids Day or the Reno Rodeo visit RenoRodeo.com.
About the Reno Rodeo
The Reno Rodeo is a Professional Rodeo Cowboys Association (PRCA) sanctioned sporting event, and one of the top rodeos in North America. Reno Rodeo Association is a non-profit organization made up of over 500 volunteers. The 2022 Reno Rodeo is scheduled for June 16-25. Competition includes bareback, team roping, saddle bronc, tie-down roping, steer wrestling, women's barrel racing, women's breakaway roping and bull riding. Like Reno Rodeo on Facebook and Instagram, follow us on Twitter, or for more information on the Reno Rodeo, visit www.renorodeo.com.