Resistol Rookie Bareback Riders Making their Mark in ProRodeo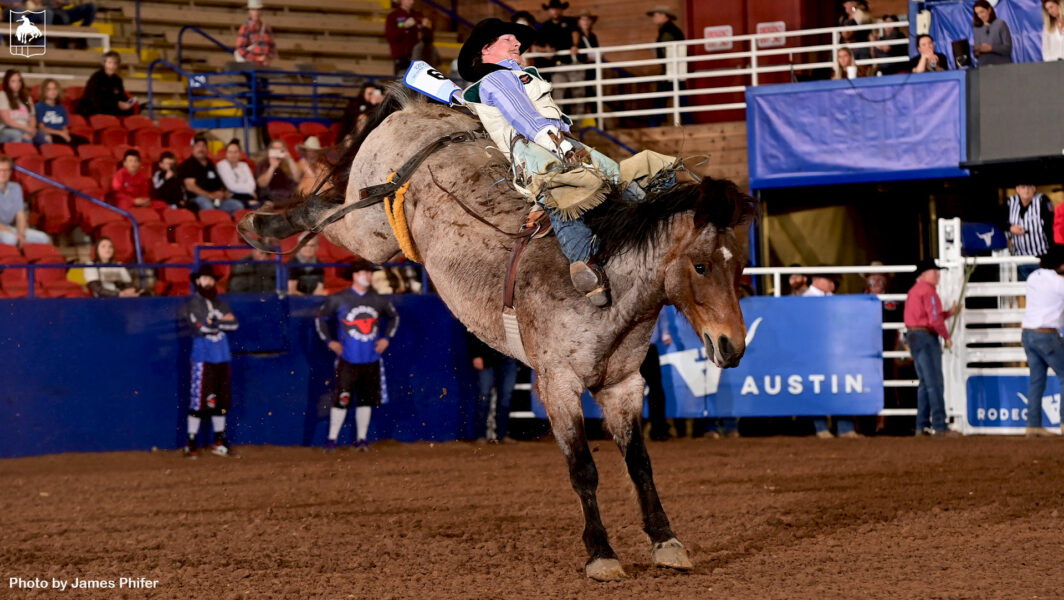 The 2023 Class of Resistol Rookie Bareback Riders has the opportunity to be the gold standard in their event for years to come.
Last season, the top 10 bareback riders on their permits earned a combined $422,945, highlighted by Keenan Hayes winning $108,568, which broke the ProRodeo record for most money ever won during a permit season.
All 10 of those riders have purchased their PRCA cards in 2023 and are making headlines. Even more impressive, as of April 5, four of those cowboys are in the Top 15 of the PRCA | RAM World Standings.
The group says even though their performance has caught the attention of others across the sport, the success is no surprise to them.
"I think we all kind of knew coming in that this group could be special," said Kade Sonnier, 23. "We knew who all was going to buy their cards and what it was going to be like. If I had to use one word to describe us it would be salty. We are all extremely talented, extremely athletic, and willing to get after it."
The last time three or more rookies qualified for the Wrangler NFR in a single event was in 2020 at Globe Life Field in Arlington, Texas. That year it happened in the bull riding but finding that amount of success in rookie bareback riding history is hard to come by.
After a record-setting year last season on his permit, Hayes is back in the limelight in 2023. The Hayden, Colo., cowboy sits second in the PRCA | RAM World Standings and leads the Resistol Rookie of the Year race with $84,620. Hayes' early season success was spurred by the San Antonio Stock Show & Rodeo, where he finished second and earned $20,000.
"It's been as good as I could've hoped for so far," said Hayes, 20. "I've gotten into all these big winter rodeos that I didn't get to go to last year and I'm doing pretty good at them all. It's been a great year so far."
The average age of the top 10 rookie bareback riders is just over 20-years old with the youngest being 19 and the oldest 23. A majority of the cowboys grew up with each other inside and out of the arena, creating bonds that helps drive them.
"I've seen most of this class coming up because I grew up rodeoing with a lot of them. So, I'm not surprised with the amount of success we are having," said Dean Thompson, 21. "I know how good my friends ride and that's really what they are. They've been my good friends growing up all the way through.
"It's so much fun because that's who you are competing against, your good friends. Who you compete against is how good ride. I'm awfully thankful to be around these guys all the way through my career."
They want nothing more than to win themselves, but they support their friends and fellow competitors just as much.
"We want to see each other do as good as we want to do ourselves. We grew up together really," Hayes said. "Dean and I lived only like two hours away from each other growing up. We've known each other for a longtime. It's just awesome having good friends right there with you. Not just Dean, but with all these other guys as well."
The top seven rookies have already earned over $21,000 this season, with a majority of the year still to go. They believe the year-end title might not be wrapped up until the final night of the 2023 Wrangler National Finals Rodeo presented by Teton Ridge, which is Dec. 7-16.
"We've all talked about it, and we firmly believe there's liable to be a bunch of us at the Finals in December if we ride to our abilities and stay healthy," Sonnier said. "We don't know who's going to win (Resistol) Rookie of the Year, but we are pretty convinced it'll be Round 10 before anybody knows."
But one thing they all know is taking home the title of Resistol Rookie of the Year this season will have a little extra meaning when it's all said and done.
"I was counting the other day and I think there's eight rookies that have a chance to make it to the Finals," Thompson said. "So, just competing with that rookie class is amazing. Winning (Resistol) Rookie of the Year is sure going to mean something this year in the bareback riding."
Courtesy of PRCA