Riddle is the answer at top of RNCFR leaderboard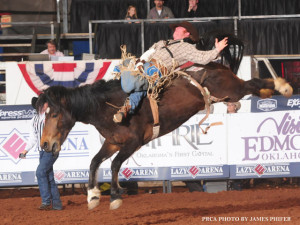 By Tracy Renck for ProRodeo.com
GUTHRIE, OKLA. – Since bareback rider Caine Riddle joined the PRCA in 2004, he has been chasing his dream of winning a gold buckle.
He has never reached that coveted goal, but after Friday night he is one step closer to winning a national championship.
The Vernon, Texas cowboy scored 79 points on Powder River Rodeo's Big Prize to take the lead in the average after two rounds of the $530,503 Ram National Circuit Finals Rodeo at the historic Lazy E Arena.
Riddle has a total score of 162 points, thanks to scoring 83 points on Southwick Rocky Mountain Rodeo's Rock Quarry on Thursday night, which was good for second in the first round.
"Taking the lead in the average is a big confidence booster for me," said Riddle, 31. "I've never been on that horse (Big Prize), but I heard good things about it. She was a good, solid horse. She felt really good and things just clicked."
All 24 contestants in each event compete in the two preliminary rounds of the rodeo which conclude at 1 p.m. (CT) today. The top eight in each event then advance to the semifinal round, which begins Saturday night at 7:30 where all previous scores and times are discarded.
The top four finishers in that round move on to the final round, a sudden-death competition that determines the national champion.
This is Riddle's third trip to the RNCFR as he also went in 2007 and 2010, but he has not had much luck until this week.
"I have won a couple of checks here, but I have never made it to the round of eight," Riddle said. "(Saturday), I just have to not worry about anything except the horse I get, and do the best that I can."
The name Riddle is familiar in PRCA circles. Rusty Riddle, Caine's father, was an eight-time Wrangler National Finals Rodeo qualifier from 1972-79. Riddle finished second in the world four consecutive years (1972-75), losing each time to Joe Alexander.
"I live on a ranch and my dad and I have a cattle operation," Caine said. "He went to the Finals eight times and I'm kind of following in his footsteps. The ultimate goal is to be a world champion, but you have to get the Finals before you can do that, and if I could get to the Finals it would be a dream come true."
Riddle finished a career-best 18th in the world standings in 2011.
Other second-round leaders in the average standings are steer wrestler Beau Franzen (9.3 seconds), tie-down roper Adam Gray (18.1 seconds), saddle bronc rider Cody Wright (166 points), team ropers Paul Tierney and Jared Bilby (9.7 seconds), bull rider Aaron Pass (166 points) and barrel racer Ann Scott (34.83 seconds).
"It's really important to get two good runs here," said Gray, who had an 8.9-second run Friday night. "One good run and one bad run and you go home. The prize is at the end and I want to win something every time I nod my head. (Saturday) I just need to go fast. I need to try and get a good start and make no mistakes."
Wright, a two-time world champion (2008 and 2010), had no equal for the second night in a row. On Friday night, he scored 83 points on Korkow Rodeo's Paint Chip. A day earlier, he had an identical score on Sutton Rodeo's Real McCoy.
"That was a good horse," Wright said about Paint Chip. "I saw him in the first round and he kicked and he was a really good horse and I was just lucky to get him. I just have to make the best ride I can with the horse I have (Saturday). I think they will just get nothing but better from here on out, if you can imagine that because that was a pretty nice horse."
Like Wright, Pass also was the best for the second consecutive day, scoring 78 points on D&H Cattle's Fireshow.
"It feels good," Pass said about leading the average. "I'm just feel aggravated that I didn't get the best out of that bull. The bull bucked and it was my fault for the low score, but I stayed on two. I think I should get in the 8-man round."
Courtesy of PRCA