Santos Puts Broken Ribs Behind him and Turns Focus Toward Ending 2021 with a Splash
By: Justin Felisko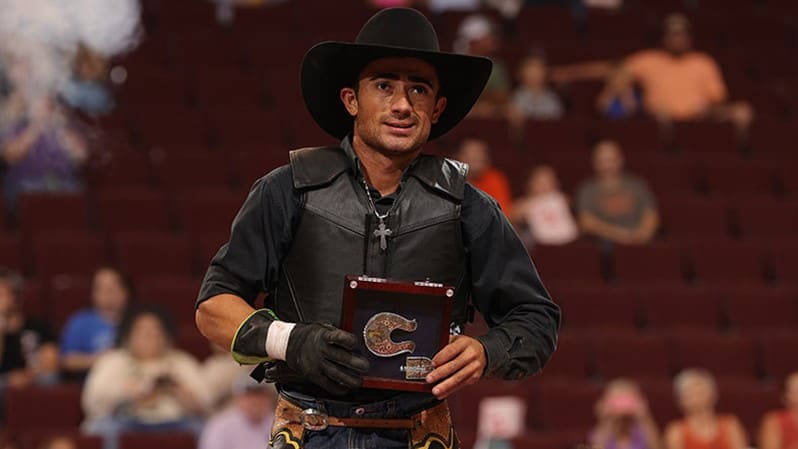 PUEBLO, Colo. – It had been almost two months since Rafael Henrique dos Santos broke his back in Rocksprings, Texas, on June 25 during his Touring Pro Division victory at the Slick Rock Challenge before he was celebrating last weekend on the dirt in Little Rock, Arkansas.
Instead of rushing back to competition, Santos was extremely patient and cautious before deciding it was time to return to the toughest sport on dirt.
That decision obviously paid off.
Santos returned to action with a flawless 3-for-3 showing at the Bad Boy Mowers Mowdown to pick up the first premier series win of his career.
"Winning Little Rock was a big accomplishment, being my first event win in the PBR," Santos told PBR.com this week. "Being so close to having a win already just made this moment a little sweeter, as well as it being my comeback after being off for six weeks due to a rib injury."

Santos was referencing a back-to-back stretch in February/March where he was seconds away from his first event win. Santos was first ruled to have slapped Chiseled at 2.52 seconds in Fort Worth, Texas after it originally appeared he had ridden him for the victory.
Two-time YETI World Champion Bull Smooth Operator then bucked Santos off in 6.67 seconds in the championship round of the Del Rio, Texas, event the following weekend in Glendale, Arizona.
Santos did win his first career 15/15 Bucking Battle with a 91.75-point ride on Blue Crush two weeks later in Louisville, Kentucky.
The 25-year-old is now ranked No. 9 in the world standings heading into this weekend's PBR Ariat Music City Knockout, presented by Cooper Tires, in Nashville, Tennessee.
Santos wound up with the victory in Little Rock after his 90.75 points on Twilight Zone in the championship round pushed him into the event lead, and 2018 World Champion Kaique Pacheco later bucked off Rocky.
The Sebastianopolis, Brazil bull rider began his weekend inside Simmons Bank Arena with back-to-back 87-point efforts on Stetson and Back Jack.
Not only did the 133.5 world points push Santos into the Top 10 of the world standings, but they also put him right on the heels of Rookie of the Year leader Chase Dougherty.
The PBR competition department announced this week that Santos, as well as Junior Patrik Souza, would be eligible for the 2021 Rookie of the Year award, seeing as they were unable to compete at the World Finals last year because of the COVID-19 pandemic and didn't crack the Top 30 of the world standings last year. Both riders were scheduled to compete in Arlington, Texas before COVID-19 protocols forced them out of competition.
Santos is ranked No. 2 in the Rookie of the Year race, 37 points behind No. 1 rookie Chase Dougherty.
The second-generation bull rider first attempted a bull at 8 years old under the watchful eye of his father, Roberto Antonio, who rode professionally in Brazil for about five years.

Rafael moved to the United States last year. He was able to navigate the COVID-limited PBR non-premier series schedule to make his Unleash The Beast debut on April 25 in Guthrie, Oklahoma. He went 7-for-28 and ultimately placed 41st in the world standings after being unable to compete at the World Finals.
Santos has doubled his qualified ride total already in 2021 and is 14-for-39 in (35.9%) in 16 events.
"I just got used to the bulls better," Santos explained earlier this year with the help of Paulo Crimber translating. "I kind of dedicated myself better to getting on practice bulls. It is a big change, but this has helped me to do better, working a little harder. Beginning of the year, I didn't ride so good, but I have gotten on a streak a little lately, and it has been good."
Santos has drawn Panic Button (1-0, UTB) for Round 1 on Saturday night (8 p.m. ET CBS Sports Network) before getting a rematch against Pookie Holler (10-0, UTB) in the 15/15 Bucking Battle.
Pookie Holler is 21-0 at all levels of competition, and he bucked Santos off in 5.78 seconds at the Jacksonville, Florida, event in May.
"He isn't an easy bull and ended up bucking me off, but this weekend I'm more prepared for him," Santos said.
The 15/15 Bucking Battle airs Sunday at 12:30 p.m. ET.
Santos also believes his win in Little Rock will propel him on a big run over the course of the final two-and-a-half months of the season.
"This event gave me the confidence, showing me that my body is ready for the last events before Finals," Santos said. "The two events earlier in the year I came in leading and ended up falling off in the short go just gave me more strengthening me for the battle of the world title."
Follow Justin Felisko on Twitter @jfelisko
Photo courtesy of Andy Watson/Bull Stock Media
© 2021 PBR Inc. All rights reserved.