Shad Mayfield Wins Caldwell Night Rodeo with Heavy Heart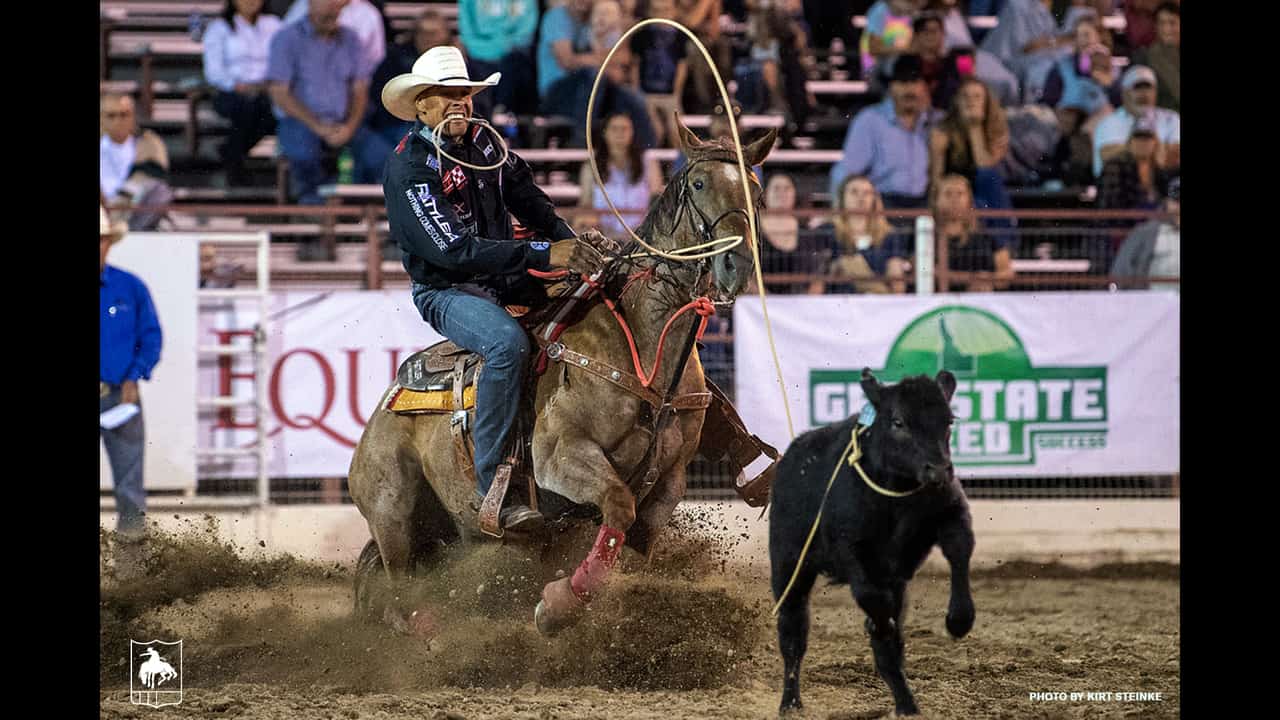 Shad Mayfield took another small step towards repeating as the PRCA Tie-Down Roping World Champion at the Caldwell (Idaho) Night Rodeo Aug. 21.
The Clovis, N.M., cowboy took home the title by winning the average with a 23.1-second time on three head. It was his seventh rodeo win this season, but this one meant even more to the reigning world champ.
"I dedicated my run tonight to rodeo secretary Brenda Crowder," said Mayfield 20. "She passed away this morning (Aug. 21) and I told myself I wanted to get the win for her. She's always been like family to me, and all the contestants would say the same thing. She's the best lady you'll ever meet and we're all going to miss her for sure."
With Brenda Crowder heavy on his heart Mayfield delivered an inspired performance in the finals. He secured the win with a 7.8-second run, which capped off three straight round wins in Caldwell.
"My horse (Rampage) he's a big part of all my success," Mayfield said. "He was so good this weekend in Caldwell, he made it easy for me in all the rounds. I had three really good calves and I took advantage of that, I used them up, and ended up winning all three rounds."
Those three round wins brought Mayfield a hefty payday. He earned $13,676 to add to his already impressive 2021 season. The Caldwell Night Rodeo is a stop on the ProRodeo Tour presented by Pendleton Whisky.
"I love to win and that's why I do this," Mayfield said. "Like I've always said every dollar counts and coming off a world title makes me want to get another one. I'm trying to bump myself up there in the world standings before the end of the season. I'm sitting fourth right now, but I really want to go into the finals No. 1."
He hopes the Caldwell win will give himthe momentum to do just that.
"You know this win is huge for me, and I'm dang sure going as hard as possible until Oct. 1," Mayfield said. "I hope I can keep this momentum rolling right into the (Wrangler) NFR."
The PRCA regular season ends Sept. 30.
Other winners at the $339,778 rodeo were all-around cowboy Stetson Wright, $14,438 (saddle bronc riding and bull riding); bareback riders Cole Reiner and Kaycee Feild (173 points each on two head); steer wrestler Clayton Haas (13.3 seconds on three head); team ropers Tyler Wade/Trey Yates (15.5 seconds on three head); saddle bronc rider Stetson Wright (176 points on two head); barrel racer Ivy Saebens (51.94 seconds on three runs); and bull rider Stetson Wright (92 points on Powder River Rodeo's Top Shelf).
Courtesy of PRCA