Shane Hanchey Takes Home Ponoka Stampede Title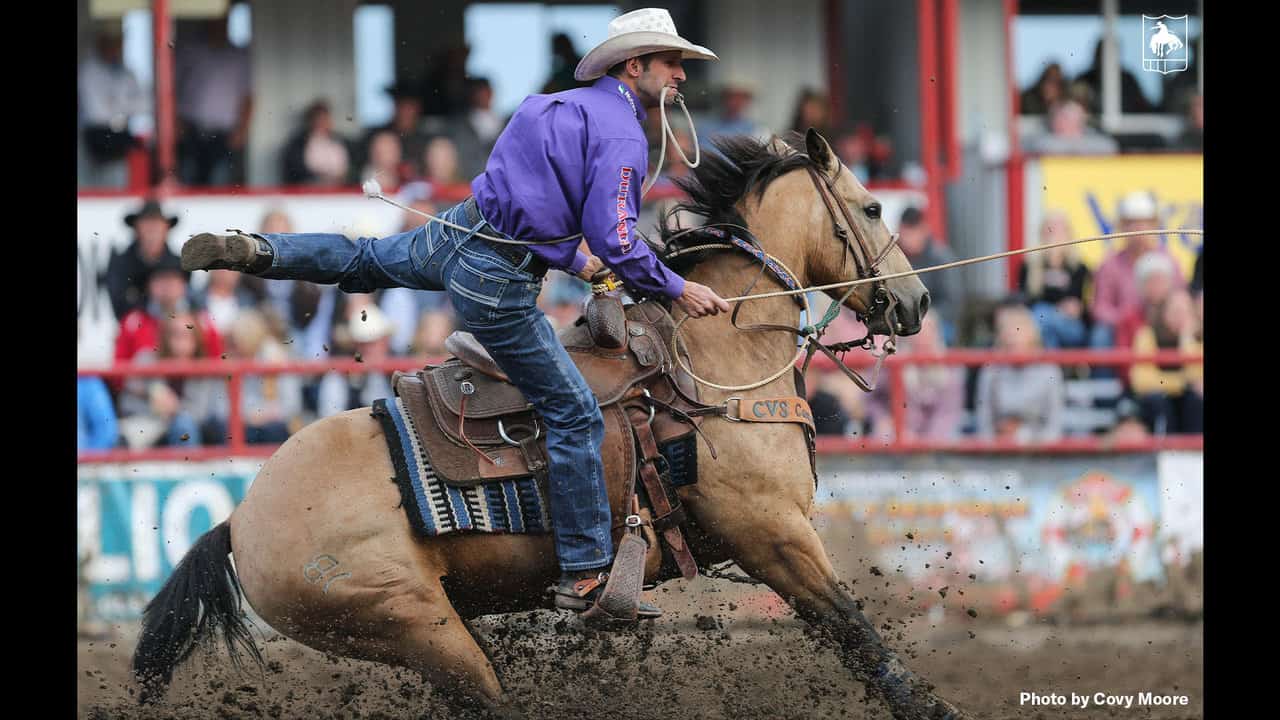 The big Fourth of July Cowboy Christmas run offers competitors nearly three dozen rodeos in sixteen states and two Canadian provinces but for PRCA World Champion Tie-Down Roper Shane Hanchey, choosing where to enter isn't too tough.
He's going north. Every. Time.
On Sunday night (July 3), Hanchey picked up his third championship at the Ponoka Stampede in Ponoka, Alberta, after posting a 7.9-second run in the Showdown Round. The Stampede is two long rounds, a top 12 short go with the top four moving into the Showdown Round, where a champion is crowned in sudden death competition.
"This rodeo is my number one priority over all the Fourth of July rodeos," said Hanchey, 32. He also won here in 2012 and 2016. "The format and the setup are great."
"We roped our first ones on the 28th so that was what? Tuesday?" Hanchey noted. He and his traveling group then hit Oakley, Utah, St. Paul, Ore., Red Lodge, Mont., Cody Wyo. and Livingston, Mont. in one day before heading back to Ponoka.
"I had two okay runs, 9.6 (seconds) and 9.7, and didn't win a dime there," he said. "But I came back here sixth in the short go, ended up winning it and finishing second in the average."
Showdown rules have the ropers compete in reverse order, so Hanchey was second to last to rope and watched Kyle Lucas stop the clock at 9.6 for the lead.
"I watched the first guys go and had Caleb Smidt behind me. I grew up with Caleb, we've been roping together a long time. I figured if I threw my hands up winning first, then I knew I'd win second. But Caleb had some tough luck and it worked out for me."
"I love this rodeo," Hanchey said after taking home $10,000 for the Showdown win. "Just like this, I hadn't won any money here, but today I walked out with $17,000."
Already ranked sixth in the PRCA | RAM World Standings prior to the Fourth, the money will help Hanchey move up the standings.
The win was also special because Hanchey was riding Peso, the horse he rode at the 2021 Wrangler National Finals Rodeo.
"I guess everybody knows the story, with TJ," Hanchey said, referring to the horse that carried him to the regular season standings lead a year ago but tragically died just ten days before the Wrangler NFR. Logan Bird, who owned TJ, lent Hanchey Peso for the Finals and the pair won the opening go round.
"This was the first time I'd been on him since last year (at the Finals)," Hanchey said. "It was very special to get the win on him."
Along with great horsepower, Hanchey had extra motivation to pull out a big win in Ponoka.
"I was a little nervous going into today because my wife (Wrangler National Finals Breakaway Roping qualifier Taylor) is having a great Fourth and I knew if she won more money than me, I'd never live it down!"
Other winners were bareback rider Leighton Berry (90.25 points on Calgary Stampede's Yippee Kibitz); steer wrestler Stephen Culling (3.7 seconds); team ropers Rhen Richard/Jeremy Buhler (4.6 seconds); saddle bronc rider Layton Green (92.25 points on Calgary Stampede's Yesterday's Delivery); barrel racer Bayleigh Choate (17.39 seconds); and bull rider Lonnie West (92.75 points on Hard Not to Get).
Courtesy of PRCA