Spencer Wright Continues Recent Run with Red Bluff Win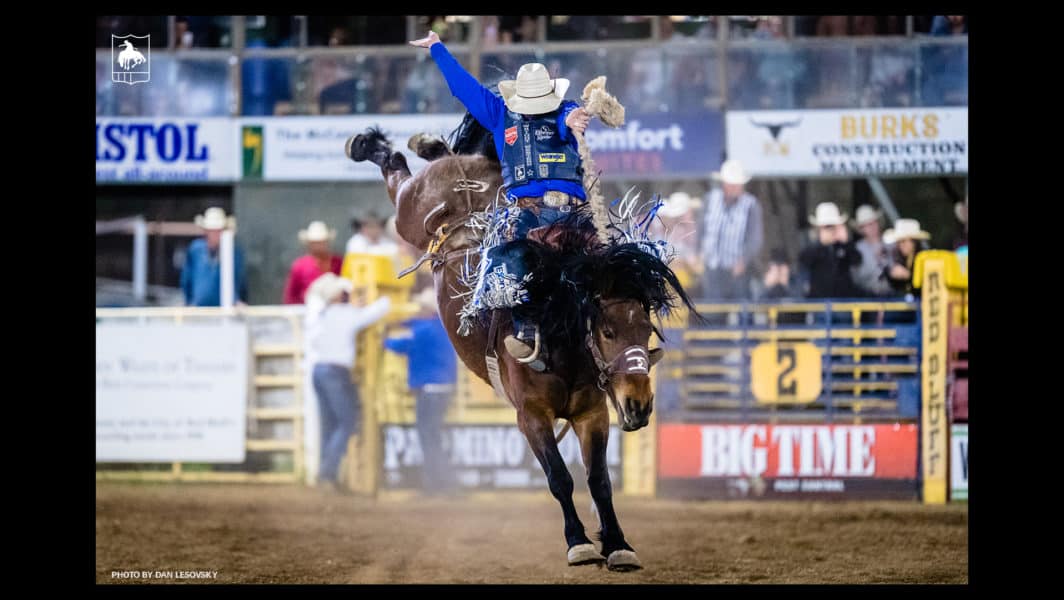 The 2020 Red Bluff (Calif.) Round-Up was supposed to be the Northern California city's celebration of 100 years of professional rodeo, but no rodeo happened last year due to the COVID-19 pandemic.
Maybe the wait made it that much sweeter — the 2021 event celebrated the centennial anniversary by setting a record for payout ($306,097) and number of contestants. The Round-Up was the largest event to happen in the state since the pandemic shut down public gatherings and sporting events.
Utah saddle bronc rider Spencer Wright enjoyed every minute of it, and not just because his 88-point ride on the opening night of April 16 held up for the win at the rodeo's conclusion April 18.
"It was awesome," Wright said. "I was surprised to see so many fans … but they seemed to love it. The committee really did a great job."
The 2014 Saddle Bronc Riding World Champion set the bar high with his ride aboard Powder River Rodeo's Miss Valley and wouldn't be caught through the weekend of rodeo action. He earned $6,937 and valuable ProRodeo Tour points.
"That's a really good horse, she's just a colt, but both her parents are NFR horses," Wright said.
Miss Valley is by Vold Rodeo's Painted Valley and out of Powder River's Miss Congeniality. The mare went to the Wrangler NFR last year and helped Wyatt Casper to a second-place finish in the second round.
Wright also saw the mare at the RAM Wilderness Circuit Finals Rodeo in 2020.
"My nephew Rusty was like 91 on her there," he said. "Yeah, I was really happy to have her. I couldn't have asked for a better animal."
Wright built on the momentum he gathered with a reserve finish at the RAM National Circuit Finals Rodeo last week and has moved inside the top 10 of the PRCA | RAM World Standings. Wright was fourth in the world in 2019 and just missed the Wrangler NFR in 2020 after finishing 17th.
"It's nice to get on little hot streaks, you hope you stay on them forever," he joked.
After Red Bluff, he and brothers and nephews headed to Texas for the San Angelo Rodeo over the weekend. They'll take a little break at home before returning to California for the Clovis Rodeo, April 22-25, another stop on the Pro Rodeo Tour.
"We try to gather up all the points and money we can," Wright said.
While home in Milford, Wright will try to rest, a task made harder with the birth of his son, Levi, on March 24.
"Our daughter (Steeley), she's 2, she spoiled us. She slept all through the night from about 2 to 3-weeks-old on. He wakes up every two hours on the dot," Wright noted with a laugh. "But he's healthy, just hungry."
Having a young family at home makes it tough to hit the road, but Wright still has goals including another world title.
"The world title is the main goal," Wright said. "It's easier to stay gone than to be home and have to get gone. None of it is a basket of roses, but I do love what I do."
Other winners at the $306,097 rodeo were all-around cowboy Tanner Green ($9,234, team roping and tie-down roping); bareback rider Clayton Biglow (88 points on Powder River Rodeo's Black Leg); steer wrestler Josh Garner (19.5 seconds on four head); team ropers Tanner Green and Clay Futrell (30.9 seconds on four head); tie-down roper Tuf Cooper (35.8 seconds on four head); barrel racer Jessie Telford (34.63 seconds on two runs); breakaway ropers Lakota Bird and Jimmie Smith (5.5 seconds each on two head); and bull rider Shane Proctor (88.5 points on Flying U Rodeo's Bringin Trouble).
Courtesy of PRCA