Steer Wrestler Stan Branco Takes Gooding Crown with Blistering Run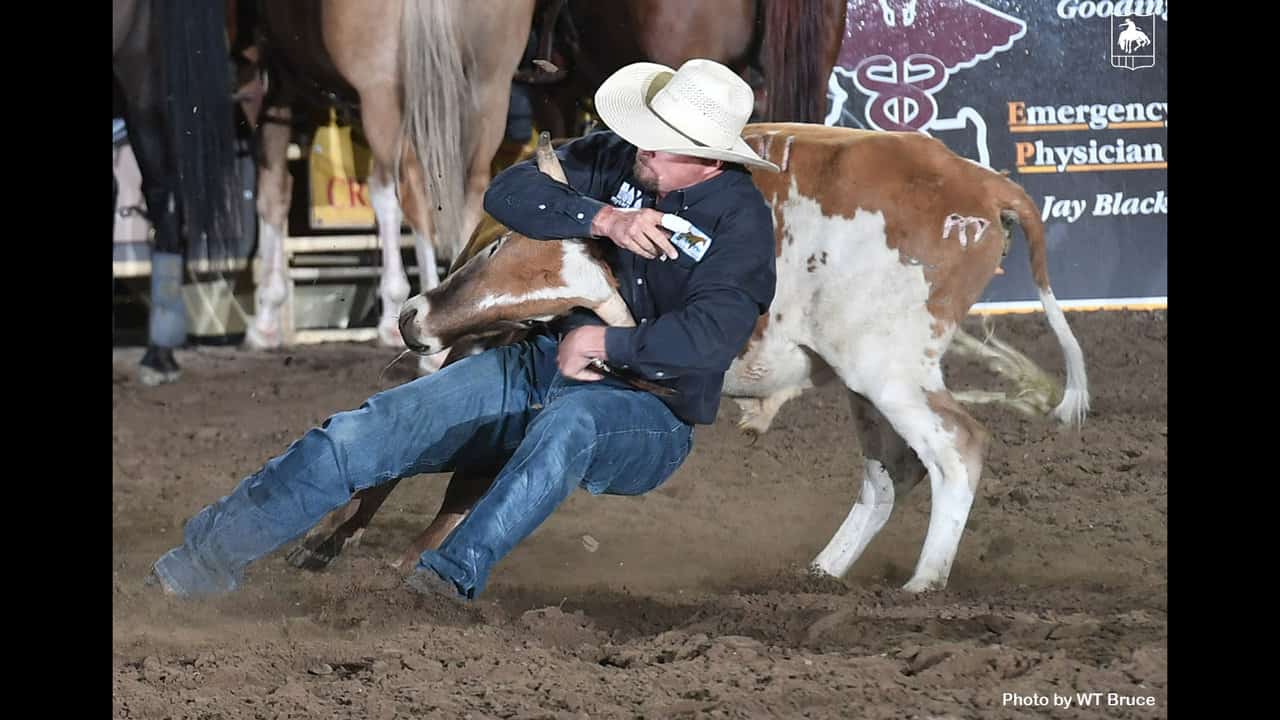 Stan Branco talks deliberately, his speech in juxtaposition to his urgent pursuit. With his recent run of success, he can see a circle forming around his career. An WNFR berth sits within reach for the first time since 2013 when he won a Finals round and placed in three others.
The vision of going back crystallized in Gooding (Idaho) Pro Rodeo this weekend as the steer wrestler turned in the best time of his career, clocking in at 3.2 seconds. It was a bit of a blur. In a good way.
"I thought I broke the barrier, but I didn't hear anybody holler. I was really running it. I knew I was in it," Branco said of the one-header event. "The steers were good there, and that time is by far my fastest (who posted a 3.5 at the NFR nearly a decade ago)."
Branco earned $3,952 for the victory.
Branco began thinking of the big picture this season after netting $3,128 at the NFR Open in Colorado Springs, Colo. His confidence buoyed; the math started to make sense for a return to the sport's biggest stage with a strong finish over the final few months. It also helps he has Oscar, "a great horse," provided by his friend and fellow steer wrestler Dirk Tavenner. The last time Branco rodeoed full time was on Oscar in 2018-19.
"I have been pretty fortunate this week. Things have gone well," Branco said. "It has all worked out."
Branco is pursuing his goal with a much different motivation than nine years ago. After some tough luck, he moved back home to Chowchilla, Calif. Rodeo was never far away, not when you come from a family steeped in the sport – five generations of competitors on his mother's side and three generations on his father's side. But what happened next changed his perspective. He met and married his wife, Kate. The couple welcomed their first child, baby boy Riggs, on July 6.
"It's been really good (being a husband and dad)," said Branco, 35. "I am older, and I wanted to have kids."
Now, Branco seeks to finish this season strong. His schedule includes a flurry of upcoming events. Branco cannot afford patience or to play it safe. He needs wins to return to the NFR, but his four this season suggest that anything is possible.
"I have an outside chance. I know I am going to have to win a ton," Branco said. "I am going to be going pretty much as hard as I can entering events and if it goes well, who knows?"
Other winners at the top $173,532 rodeo were all-around cowboy Stetson Wright (is $4,829 saddle bronc riding and bull riding); bareback rider Caleb Bennett (89.5 points on Summit Pro Rodeo's Game Trail); team ropers Tanner Tomlinson/Patrick Smith (4.0 seconds); saddle bronc rider Stetson Dell Wright (88 points on Summit Pro Rodeo's Dry Creek, $4,625); tie-down roper Matt Shiozawa (7.6 seconds); barrel racer Michelle Darling (16.88 seconds); and bull rider Gavin Michel (89 points on Macza Pro Rodeo's Ugly Wish).
Courtesy of PRCA