The California Rodeo's Carnival Returns July 15th-24th
By: Mandy Linquist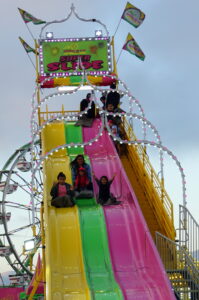 SALINAS, CA – The California Rodeo Salinas Carnival kicks off on Friday, July 15th and is open daily from 3pm to 11pm until Sunday, July 24th at 295 Sun Way in Salinas. The carnival is presented by Smoot Family Chiropractic and offers affordable entertainment during Big Week. "We are very excited to bring the carnival back during Big Week. It's a huge part of the Rodeo's festivities and annual fundraisers and we can't wait to see everyone out here enjoying rides, games and more," said Danny Little, chairman of the carnival committee. Admission and parking are just $5 and unlimited ride wristbands can be purchased for $25* until July 14th at the Salinas Sports Complex Box Office (1034 N. Main Street, Salinas) or for $35* at the carnival site July 15TH through the 24th. Tickets can be purchased, and more information can be found here: https://www.carodeo.com/events/2022/rodeocarnival-2022.
Save the dates for the first annual California Rodeo Salinas Fall Round Up at the Salinas Sports Complex October 13th through 16th. The event is presented by Brent Eastman Insurance Services and will include a carnival, pumpkin patch, vendors, food, drink and more. Information about the Fall Round Up can be found here: https://www.carodeo.com/events/2022/fall-round-up.
*Tickets subject to additional fees. Fees are the same for online and in-person purchases.
About California Rodeo Salinas
The California Rodeo Salinas will take place July 21st-24th, 2022. The California Rodeo Association is a not-for-profit organization that strives to preserve and promote the traditions of the California Rodeo Salinas and the West. We support the community and other non-profit organizations through the staging of the annual California Rodeo Salinas and other year-round operations of the Salinas Sports Complex. Through donation of our facility, vending and fundraising opportunities during Rodeo and other events, the California Rodeo Association returns over $500,000 annually to local non-profits. For more information about the California Rodeo Salinas, log on to www.CARodeo.com or call the California Rodeo Office at 831-775.3100. 'Like' the California Rodeo on Facebook at www.facebook.com/CARodeoSalinas or follow us on twitter @CaliforniaRodeo for updates, photos and more.