The World's Best Bull Riding Comes to Brazilian Television on SporTV
By: Andrew Giangola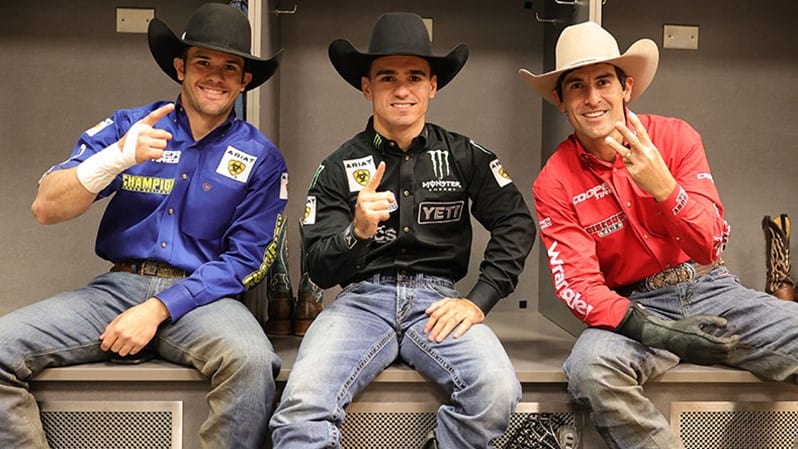 The first PBR World Champion, the only two three-time PBR World Champions, the cowboy with the most qualified rides on the premier series and the reigning PBR World Champion all have one thing in common.
They're all from Brazil.
Adriano Moraes, Silvano Alves, Guilherme Marchi and Jose Vitor Leme, who earned those accomplishments, respectively, are certainly not anomalies.
They were born, raised and learned their profession in a nation with a rich cowboy heritage, where bull riding reportedly draws more fans for live events than even soccer.
Brazilian riders continue to travel to the United States to get on the best bulls and tap into the largest purses, including the $1 million PBR World Champion bonus. Six of the current Top 10 PBR riders, including the Top 3, all hail from Brazil.
In 2017, current World Champion Jose Vitor Leme famously got on an airplane for the first time and headed for Las Vegas. He set foot on U.S. soil, and 10 days later walked off with the PBR World Finals event and Rookie of the Year titles.
Yet despite this success, including Brazil being the only nation to win the PBR Global Cup in back-to-back seasons (in 2018 in Sydney, Australia, and 2019 in Arlington, Texas), the PBR's elite Unleash The Beast series has not been available on Brazilian television.
Until now.
PBR and Rede Globo de Televisão have signed a partnership to broadcast bull riding events held in Brazil and the U.S., starting today and continuing throughout 2021. Fans can follow the events on Tuesdays on SporTV 3.
"Every year we have more and more great riders emerging from Brazil. PBR's mission is to professionalize and perpetuate the sport, which will be helped by this new partnership," said Adriano Moraes, who will be a commentator on the SporTV telecasts working with announcer Luiz Felipe Prota.
Since Moraes took the first PBR belt buckle in 1994, Brazilian riders have won 10 more World Championships. Moraes won two additional titles in 2001 and 2006, and Alves was the world's best in 2011, 2012, and 2014.
Other Brazilian champions are Ednei Caminhas (2002), Marchi (2008), Renato Nunes (2010), Kaique Pacheco (2018) and reigning World Champion Leme (2020).
"On a global scale, this deal with Globo is a game-changer in the world of bull riding," said PBR Commissioner and CEO Sean Gleason. "All Brazilians should be very proud of the great accomplishments of their countrymen in PBR. Even more important than winning events and championships, the mark of these athletes is the outstanding way they represent their culture and homeland. We are thrilled to now have the opportunity to bring their performances to even more Brazilians."
SporTV will carry 15 events in total, including the 2021 PBR World Finals in Las Vegas. PBR events held in Brazil, which produce world points valid for the World Championship, will also be broadcast upon their return to competition.
PBR, which holds events in five countries, has been hosting competitions in Brazil since 2006. Working with the Access Division and Monster Energy PBR, there are approximately 15 PBR Brazil events per year, and the organization visits cities such as Brasília, Americana, Jaguariúna, Divinópolis and Goiânia, as well as other important regional cities.
For more information, visit www.pbrbrazil.com.br or follow on Facebook (www.facebook.com/pbrbrazil), Instagram (www.instagram.com/pbrbrazil) and Twitter (www.twitter.com/pbrbrazil).
© 2021 PBR Inc. All rights reserved.