Unleash The Beast Returns to Tulsa for 17th Consecutive Season July 31-August 1
By: Kacie Albert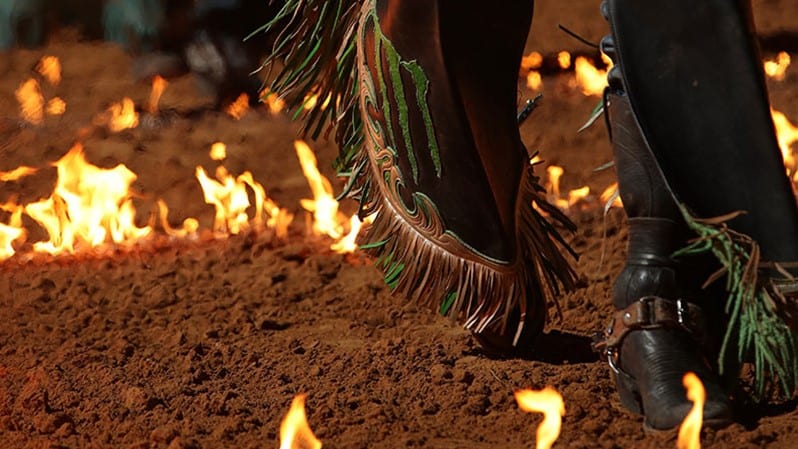 TULSA, Okla. – For the 17th consecutive season, PBR's (Professional Bull Riders) elite Unleash The Beast will buck into Tulsa, Oklahoma, welcoming fans to the BOK Center for the PBR Express Ranches Classic on July 31-August 1.
The PBR premier series event in Tulsa will abide by all protocols set forth by ASM Global's industry-leading VenueShield program, along with city and state guidelines and the league's own Be Cowboy Safe plan. Those fan safety protocols include:
• Face masks will be encouraged for all guests age 10 and older when inside BOK Center, except when eating or drinking.
• All PBR personnel will undergo Centers for Disease Control and Prevention (CDC)-informed screening.
• All BOK Center staff and third-party vendors will be required to wear and mask and subject to daily temperature checks.
• Social distancing will be encouraged whenever possible, including at venue entrances and exits, concourse spaces, restrooms, food service areas and restrooms.
• Signage will be placed throughout the BOK Center to promote hand hygiene and encourage social distancing.
• Increased sanitization of high-contact areas, including doors, railings, concession counters, merchandise stands, bathrooms and elevators.
• Hand sanitizer stations will be placed throughout the venue at high-volume areas to promote hand hygiene.
When the PBR last traveled to Tulsa in 2020, three-time PBR World Champion Silvano Alves (Pilar do Sul, Brazil) went a perfect 3-for-3 to capture his first elite tour victory in four years and cement his 11th consecutive berth to the PBR World Finals.
Last season's event in the Sooner State also included a breakthrough performance from two-time PBR World Champion J.B. Mauney (Statesville, North Carolina), who finished fourth to crack the world's Top 30. Mauney's efforts were headlined by his 90.5-point, Round 2-winning ride on Concealed Carry (Gene Owen/Jerry Rush). The 90-point effort marked the 75th of Mauney's career, allowing him to overtake fellow two-time PBR World Champion Justin McBride (Elk City, Oklahoma) for second-most all-time by any rider in the PBR.
Historically, of the past 12 World Champions, seven have won the Tulsa event en route to capturing the coveted gold buckle. Those riders are: Jess Lockwood (2019 and 2017); Cooper Davis (2016); Mauney (2015, 2013); Renato Nunes (2010); and Kody Lostroh (2009).
Lockwood is one of just three riders to win the Tulsa event in multiple seasons, joining Mauney, who won in 2015 and 2013, and Lostroh, who claimed titles in 2012 and 2009.
Other past winners in Tulsa include: Jose Vitor Leme (2018), Gage Gay (2014), Lostroh (2012), Fabiano Vieira (2011), McBride (2008), Adriano Moraes (2007), Kasey Hayes (2006), and Edgard Oliveira (2005).
In addition to holding the main Unleash The Beast event, the PBR elite tour stop in Tulsa in 2020 also featured an American Bucking Bull Inc. (ABBI) Classic event, showcasing some of the sport's top-rising bovine athletes between three and four years of age.
As the competing bulls went head-to-head for a prize purse of more than $35,000, Dodge 6117 (Halpain Bucking Bulls) emerged supreme, earning approximately $9,000. As the last bull out of the night, Dodge 6117 dispatched then-world No. 1 Jose Vitor Leme (Ribas do Rio Pardo, Brazil) in a swift 2.16 seconds to earn an impressive 91.2-point score.
Positioned in the second half of the 2021 season, the PBR Express Ranches Classic, which will again feature an ABBI Classic competition this year, is crucial in the championship race to the PBR World Finals in early November, awarding a gold buckle and million-dollar bonus to the world's best bull rider.
With 14 Unleash The Beast events already complete, the 2021 PBR World Championship race is one of the most fiercely contested in league history, with No. 1 Kaique Pacheco (Itatiba, Brazil) and No. 2 Leme separated by a mere 16 world points. Looking further down the standings, No. 3 Davis remains hot on their spurs, within 164.5 points of No. 2 Leme and 180.5 points of No. 1 Pacheco.
This season's current top three riders – 2018 PBR World Champion Pacheco, 2020 World Champion Leme and 2016 World Champion Davis – are all attempting to become just the seventh rider in league history to have won the coveted gold buckle in multiple seasons.
Of the trio, reigning World Champion Leme is looking to make further history, becoming just the second rider in the PBR to win the World Championship in consecutive seasons, joining Alves, who won his first two titles in 2011 and 2012.
In addition to Pacheco, Leme and Davis, the draw for the Tulsa event is also anticipated to be led by Oklahoma's own Colten Jesse (Konawa) and Brennon Eldred (Sulphur).
The bull riding action begins with Round 1 at 6:45 p.m. CST on Saturday, July 31, concluding with Round 2 and the championship round at 1:45 p.m. CST on Sunday, August 1. All 30 bull riders will get on one bull each in Rounds 1 and 2. Following Round 2 on Sunday afternoon, the riders' individual two-round scores will be totaled, with the Top 12 advancing to the championship round for one more out and a chance at the event title.
Additionally, Saturday evening's event will feature the ABBI Classic Round in tandem with Round 1, followed by the eighth 15/15 Bucking Battle of the season, which will pit the top 15 riders in the world against the event's Top 15-ranked bulls as they compete for both a separate prize purse and world points.
Tickets for the two-day event go on sale Monday, June 7, and start at $15. They can be purchased at the BOK Center box office, online at Ticketmaster.com and PBR.com, or by calling PBR customer service at 1-800-732-1727.
PBR Elite Seats are available for avid fans who want an exclusive VIP experience while enjoying the world's top bull riding circuit. These tickets offer premium seats, a question and answer presentation with some of the top bull riders and stock contractors in the world, a special photo opportunity after the event on the Can-Am Cage, and souvenir credential and lanyard.
For an enhanced PBR experience, fans can now purchase add-on PBR Premium Experiences which will include the Elite Experience on both Saturday, July 31 and Sunday, August 1, and Bull Housing Tour on Saturday, July 31 in Tulsa.
The Elite Experience, available for $75, will include a Q&A session with a select group of the league's top riders, bullfighters and stock contractors, exclusive merchandise item, arena concession voucher and commemorative lanyard.
The Bull Housing Tour, also available for $75, will get experience-purchasers up close and personal with the league's top animal athletes and include a commemorative lanyard and Bulls of the PBR book.
For more information on PBR Premium Experiences and to purchase the Elite Experience and Bull Housing Tour for the PBR Express Ranches Classic in Tulsa, visit https://pbr.com/tickets/premium-experiences/.
© 2021 PBR Inc. All rights reserved.