Upcycling for Sustainability
By: Sara Gugelmeyer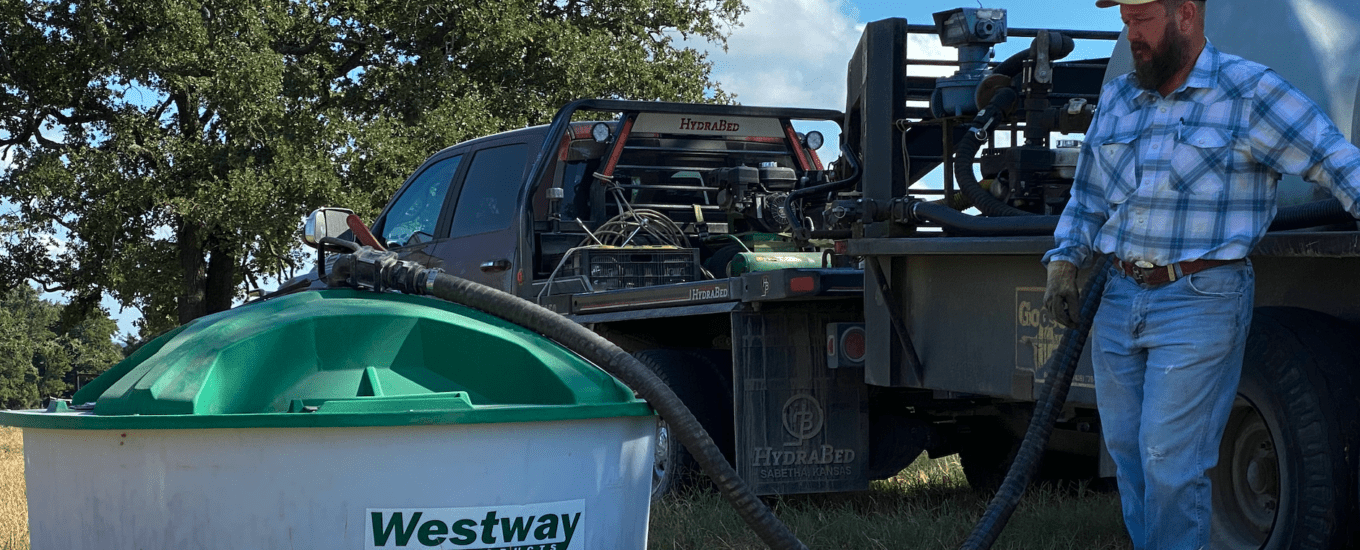 In the cattle industry, Westway Feed Products is probably most associated with the high-quality molasses-based liquid feed supplements it produces, but the company is much more than this. It's part of a global corporation and has 25 American manufacturing facilities. Even with the company's expansive reach, the employees still believe in helping ranching families, which is why Westway Feed is a proud sponsor of WRCA.
Money in molasses
Beginning in the 1940s, Westway Trading Corporation was started in the Northeast as Industrial Molasses Company, which was family-owned and strictly in the molasses trading business. In the last six or so decades, Westway has since become the world's largest liquid feed company.
Since 1995, Westway has been a subsidiary of ED&F Man, which is a centuries-old employee-owned agricultural commodities merchant with 7,000 people in 60 countries. Ever since, Westway has continued a path of growth and diversification by purchasing Cargill Molasses in 1997 and Tate & Lyle PLC's United Molasses Company in 2002.
These strategic investments have been instrumental in growing the business' bulk liquid storage capacity and liquid feed manufacturing capabilities.
Westway's formulations, research and sales team members throughout the country understand regional forage differences, industry challenges and production practices throughout the cow-calf, stocker, feedyard and dairy industries. And Westway sales representatives offer customers a wide-ranging knowledge base to formulate effective rations, resolve problems and create opportunities wherever possible.
Real-time research
Westway Feed Products Director of Research and Technical Services Dr. Kelly Sanders emphasizes that the company offers much more than liquid molasses.
"My role is new and we are really focusing on innovation and research going forward. We are looking at new products and product development," he says. "We are looking at progressive nutrition programs for our cattle feeders as well as ranchers across the country. We are continuously developing formulations based on cattle needs and requirements."
Research is a huge part of Westway's success. The company has an in-house laboratory at their Houston manufacturing plant which allows the scientists on staff to develop and test ingredients and products constantly. Because of this commitment to innovation, Westway has received an industry-leading eight U.S. patents in the last 20 years. These new products and ingredients have been used in dairies, feedyards, mills and ranches all over the United States and other countries. 'Upcycling' is a new industry buzzword and Sanders says Westway is one of the original upcyclers.
Adding value
"What we call co-products today—10 years ago we would call them byproducts—are products that don't have a lot of value at the end of a particular production process. We take those co-products—such as molasses, glycerin, distillers grains, whey, etc.—and incorporate them into formulations for liquid feed and tub supplements. So we create value out of what was a minimal-value product and utilize it in a way that it helps increase forage digestibility. This is the foundation of Westway's sustainability story," Sanders says.
Sanders says an annualized nutrition program is one that considers the cow's needs 365 days a year. "The cool thing about liquid feed is we use molasses and there is so much sugar in those products. Sugar is a great nutrient. You put it with some available protein and we can really enhance the fermentation of forages that are deficient. Any time you can increase the forage utilization in a cow herd, you can help increase herd performance and we see benefits like increased body condition scores, better breed up and heavier calves."
He gives an example of how one of Westway's customers has used an annualized nutrition program to enhance cattle performance without reducing profitability.
"We have a customer in Arizona who has made the commitment to leave supplement out year-round," Sanders explains. "One year those cows were consuming about 1.5 lbs. per day on average throughout the entire year. The next year, a good rainfall year, the cows consumed less than 1 lb. Performance was the same, cows bred up about 95%. When I look at that I think that's a profitable proposition for our customers, who want to be sustainable and pass the ranch onto the next generation."
Cattle industry sustainability is important to the Westway Feed team, says Cheramie Viator, Westway Feed Products' marketing manager, which is one reason the company supports groups like WRCA. "We believe WRCA and the Foundation provide opportunities and support for folks who are integral to the ranching community across the country. WRCA events offer a great way for ranch teams and families to compete and the Foundation offers support when those same folks are in need."
Westway Feed has been a longtime sponsor of WRCA. Viator adds, "It's very simple: we believe in ranchers, ranch cowboys and ranch families. WRCA events offer the Westway team a chance to get to visit with and support these folks. This is important to us as a company."
For more on Westway Feed Products and to find a sales rep in your area, visit WestwayFeed.com.
Courtesy of WRCA