UTB Countdown: No. 5 Jose Vitor Leme
By: Justin Felisko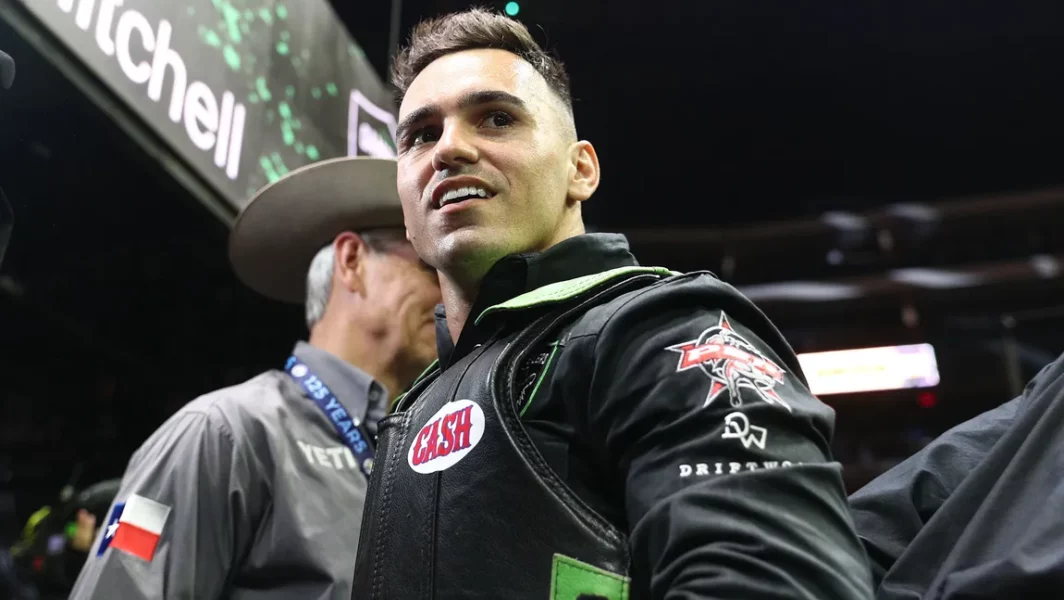 PUEBLO, Colo. – The 2023 Unleash The Beast series begins this weekend with the PBR Monster Energy Invitational in Tucson, Arizona (Nov. 26-27).
Round 1 from Tucson Arena airs exclusively on RidePass on Pluto TV at 8:45 p.m. ET before CBS Sports Network carries all the action on Championship Sunday (4 p.m. ET).
PBR.com will be counting down the final days leading up to the UTB season opener by looking back at the Top 5 bull riders at the conclusion of the 2022 season.
Today, we look at No. 5, Jose Vitor Leme
No. 5 Jose Vitor Leme
World Championships: 2 (2020, 2021)
Best World Standings Finish: 1 (2020, 2021)
2022 Premier Series (UTB) Stats
Rides: 23
Attempts: 43
Riding Percentage: 53.49%
Top Ride: 94.75 points on 2022 YETI World Champion Bull Ridin Solo (Oklahoma City)
Average Ride Score: 88.98
Wins: 2 (Little Rock, Arkansas | Tulsa, Oklahoma)
15/15 Bucking Battle Victories: 1, Oklahoma City (94.75 points on Ridin Solo)
Round Wins:
Top 5: 6
Top 10: 9
90-point Rides: 7
2022 UTB/Team Series Recap: For the first time in four years (2018), two-time World Champion Jose Vitor Leme did not hold the No. 1 ranking at any point. Leme was the hunter instead of the hunted for the first time in years. His pursuit of a third consecutive world title came up just short in 2022, but he remained in contention all season long despite missing five events because of a core muscle injury and a concussion. Leme was still very much in the hunt on the final days of the World Finals until he broke four of his ribs and sustained a collapsed lung when Crossover bucked him off in 6.24 seconds during Round 6 of the PBR World Finals.
At the time of his injury, Leme was fourth in the world standings and fourth in the World Finals event average. He would have essentially been only one bull ride behind eventual World Champion Daylon Swearingen heading into Championship Sunday at Dickies Arena if he had not been knocked out of the competition.
If healthy, could Leme have won a third consecutive World Championship? It is very possible. Still, Leme came back down to earth in 2022, aligning himself closer to the championship-contending pack, winning two events and riding 53% of his bulls. Those are certainly respectable numbers, but it was a vast difference from his historic, record-setting and championship-winning season the year before. In 2021, no one could keep pace with Leme. In 2022, his pursuit ran out of time.
The injuries did not prevent him from being the No. 1 pick at the 2022 PBR Team Series Draft, presented by ZipRecruiter. Leme (19-for-26) would lead the Austin Gamblers to a 16-12 record and the No. 1 seed for the PBR Team Series Championship. However, the Gamblers would shockingly get upset in the second round of the playoffs by the Nashville Stampede as Leme stunningly lost his bull rope at 7.62 seconds aboard Show Me Homie and came crashing down on his ribs. Leme would be unable to compete in the Last Chance Game, and Austin was then eliminated by Texas.
2023 Outlook: Leme begins his 2023 UTB season in a similar spot to how he ended the 2022 World Finals – attempting to recover from broken ribs. He has already been ruled out for the season opener in Tucson, and Leme, who is visiting family in Brazil, has yet to determine a return-to-competition timeline. Leme's ribs have never fully healed since the PBR World Finals in Fort Worth, and his injury in Las Vegas during the PBR Team Series finale was at least the third time in six months that he has re-aggravated that original injury.
The biggest question mark for Leme coming into 2023 is just how much time off he needs to take for the ribs to finally heal, with or without surgery. Leme has proven time and time again, including his MVP performance during the PBR Team Series regular season, that he can overcome the injury. But it has also become clear that if he takes the wrong hit or buckoff, he could set himself back in his recovery.
Taking injuries out of the equation, Leme should be considered one of the top contenders for the 2023 PBR World Championship. You can bet on him being extremely motivated after coming up short of winning a third consecutive gold buckle and then having his Austin Gamblers not even make it to Championship Sunday during the PBR Teams postseason.
Leme remains in the upper echelon of the sport and is still considered by many to be the No. 1 bull rider in the world. Don't be surprised if Leme is right in the mix for a third world title on the final day of the 2023 PBR World Finals inside Dickies Arena.
Follow Justin Felisko on Twitter @jfelisko
Photo courtesy of Todd Brewer/Bull Stock Media
© 2022 PBR Inc. All rights reserved.