Vieira Becomes Eighth Rider in PBR History to Record 400 Qualified Rides
By: Darci Miller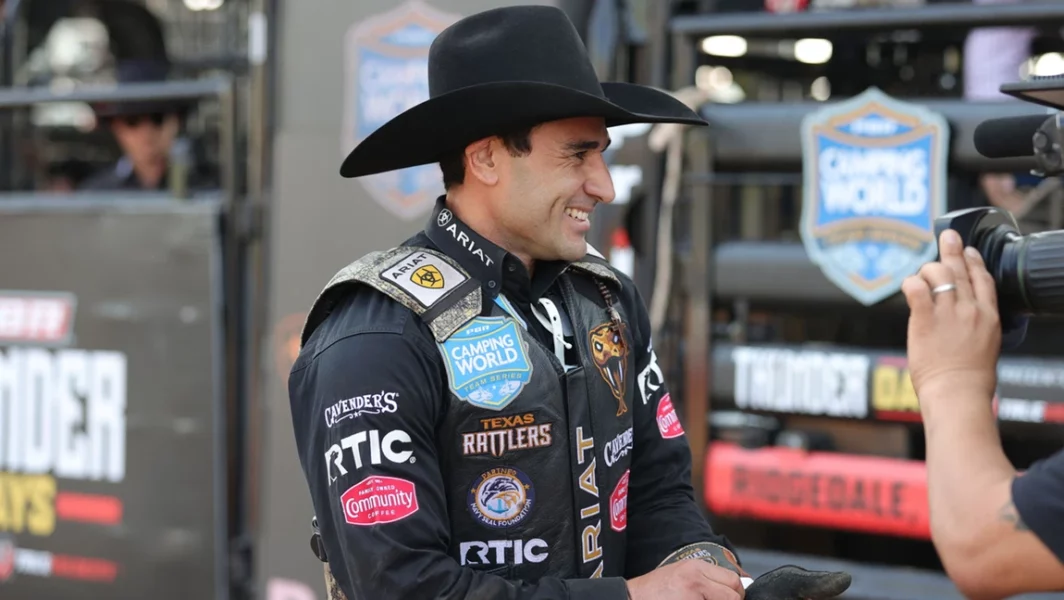 PUEBLO, Colo. – On paper, Joao Ricardo Vieira had no business being successful in the PBR.
He came to the United States from Brazil in 2013 as a 28-year-old veteran, an age when many bull riders are thinking about when they should hang up their spurs.
But bull riding doesn't happen on paper.
A decade later, Vieira is arguably the best rider ever in the PBR to have not won a World Championship.
On Sunday, at PBR Thunder Days in Ridgedale, Missouri, Vieira joined an elite club of eight riders with 400 career rides on the premier series.
"It's so special for me," Vieira told Flint Rasmussen on the dirt following his ride. "I never imagined this. Four hundred here in the top is too hard, and I'm so grateful for God giving me this opportunity to stay here, to show my best riding."
No. 400 was an 87.5-point aboard Whip, after which Vieira thrust his fists in the air, his famous smile on his face.

"It's very easy to get repetitive when you talk about JRV, and of course, Silvano Alves (who's approaching career ride No. 500), but they're very much alike," 10-time PBR World Finals qualifier Brendon Clark said on CBS Sports Network. "They're at the end of their careers. They've been here, and they've had very, very successful careers. And this guy here might be the best bull rider that's ever gone through the PBR that hasn't won a world title, and he is literally doing what he needs to be able to ride like a World Champion. And it's unbelievable. I go back to saying 399's a big one, but 400 is a massive number to be able to say that you've ridden 400 bulls at the PBR level alone."
The only other riders with that distinction are 2008 World Champion Guilherme Marchi (635 rides), two-time World Champion J.B. Mauney (538), 2004 World Champion Mike Lee, three-time World Champion Silvano Alves (497), Valdiron de Oliveira (430), two-time World Champion Chris Shivers (411), and current Missouri Thunder co-coach Ross Coleman (402).
Vieira wasted no time making an impact on U.S. soil, winning the Rookie of the Year title in 2013 – yes, at 28 years old – and recording his first qualified ride at his first event, 83.75 points on Coats Big Bend.

He nearly won the world title in 2014, sitting at No. 1 in the world standings until the final day of the 2014 PBR World Finals, where he went 2-for-6 and ultimately finished No. 2 to Alves.
Vieira finished the 2015 season ranked No. 3 but then fell into a bit of a drought. After being ranked No. 1 in the world in September 2015, he wouldn't find himself atop the standings for any period of time until January of 2020, when he was 35.
"I am older," Vieira said in 2020, "but I come, and I love to ride bulls. I am here to have fun. I love my job and riding bulls. It don't matter if I win or buck off. I come here to ride bulls. 8 seconds. Get a score. This makes me better and makes me happy."
He was in the thick of the four-man 2019 world title race, ultimately unable to keep up with Chase Outlaw, Jose Vitor Leme, and eventual World Champion Jess Lockwood – the oldest of the group, Outlaw, is eight years younger than Vieira.
But Vieira was right back in it in 2020, spending much of that season ranked No. 1, but was forced to withdraw from the 2020 PBR World Finals due to a positive COVID test.
He finished the 2022 season again ranked No. 2, falling just short after a heavyweight battle with eventual World Champion Daylon Swearingen at the World Finals.
So, sure, maybe Vieira doesn't have the luxury of wearing a gold buckle, but the years since his debut have been full of other accolades, including 11 PBR World Finals qualifications.
He joined the 300-ride club in March of 2021, riding Poncho Villa for 87.25 points to become the 19th rider to eclipse the 300 mark.
"This is so fantastic," Vieira said at the time. "I never dream about this—three hundred here. When I come to the United States, I was a little old. I am so glad for this story in my career. It is a big one.
"I do think if I come early here, I would have about 500 or 600 rides because I work a lot to ride strong. I love this. I ride just for fun now, and it is so good."
Vieira is No. 11 on PBR's all-time money-earners list – the most of any rider without a world title – with $3,471,974. He also has 17 premier series event wins and has the most career 15/15 Bucking Battle victories with eight.

Vieira has also just kept riding better, setting career-high scores in 2021 (93 points on I'm Legit Too) and 2022 (94.25 points on Woopaa).
"I'm better now than when I first come to the United States," Vieira said after his ride on Woopaa. "Every year, I learn more, and now I'm more calm. Before, I was so excited and (put) so (much) more pressure on myself. These later years, I learn a lot. Now I'm just relaxed. More relaxed, and just enjoy the time to ride."
In the 11 seasons since his debut, Vieira has only finished outside of the Top 5 in the world standings three times – 2017 (12), 2018 (21) and 2023 (15).
While his Unleash The Beast performance this year was far from his usual pace, he's right back to his title-contending self in the PBR Camping World Team Series.

The leader of the Texas Rattlers, Vieira is 8-for-16 (50%) this season, with ride No. 400 securing his squad the win over the Arizona Ridge Riders. The Rattlers would go on to win Thunder Days for their first event win of the season.
Now a spry 39 years old, Vieira will continue his quest to become the oldest PBR World Champion, besting three-time World Champion Adriano Moraes's record of 36.
"I tip my hat to him because I was there," Moraes said at the 2022 PBR World Finals. "I have been there at 37. At 37, I was going downhill due to my physical condition, my psychological stress, and age.
"At 37, he is going uphill. He is improving his riding. He is improving his physical condition. He is getting better and better. No one has ever done that. No one. I am a fan of the sport, but because I have been there and rode at 37, to see that guy riding and increasing his physical condition at 37, I am rooting for him. I will be happy if he wins. I am very proud of him. I have been there. I can say that this is not an easy feat. What he is doing has never been done before."
Photo courtesy of Andy Watson/Bull Stock Media
© 2023 PBR Inc. All rights reserved.