Vieira Family Thankful for all of the Prayers and Support as Fabiano Vieira Remains Hospitalized in Texas
By: Justin Felisko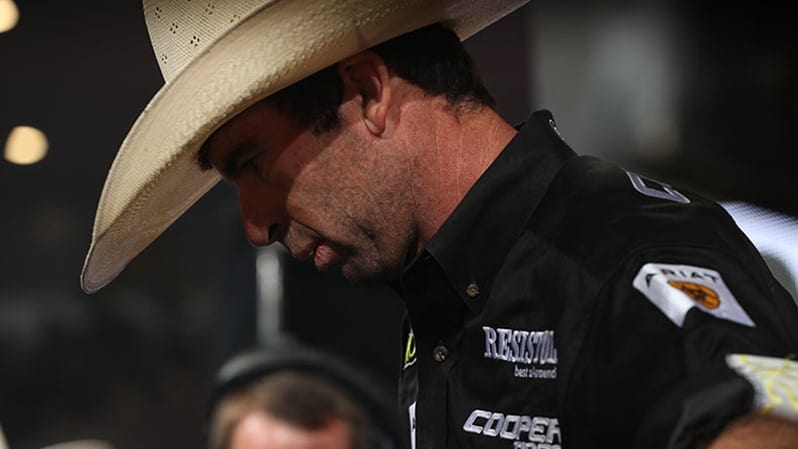 PUEBLO, Colo. – Eight-time PBR World Finals qualifier Fabiano Vieira remains hospitalized at Hendrick Medical Center in Abilene, Texas, following injuries sustained on July 1 at the PBR Touring Pro Division event in Stamford, Texas, at the 90th annual Texas Cowboy Reunion rodeo.
Vieira is continuing to receive treatment, and doctors have continued to monitor his progress since he was diagnosed with a skull fracture and underwent brain surgery on July 2.
Jilian Vieira, Fabiano's wife, has received numerous messages on social media and phone calls asking about her husband. Jilian told PBR.com she is thankful for all of the support and prayers people have sent her way in the past two weeks.
"It's been giving me strength these two weeks here in the hospital with him," Jilian said. "All of the affection and prayers, when I'm surrendering and losing my strength, there always comes someone with a word that helps me. From the nurses to the cleaning people here at the hospital, everyone comes helping me to not feel discouraged and not lose hope.
"It is difficult to accept and understand God's plans. But I've been learning these days that Fabiano is very loved here in the United States, as well as in Brazil. I have received messages even from people all over the world."
According to Jilian, doctors may transfer Fabiano, who has two head injuries and cerebral edema, to Baylor University Medical Center in Dallas next week for further treatment and rehabilitation.
Stock contractor Renato Teixeira and his family along with bullfighter Lucas Teodoro and his wife, Ingrid, created a GoFundMe for Fabiano earlier this week.
Teixeira and his family have known the Vieiras since about 2012.
"We are very good friends with them," Teixeira said. "Every time we go to Texas we stay at his house. He helped me a lot with hauling bulls, and he gives me thoughts about what to do. We have become real close friends. Not just because of rodeo, but because of our families. We want to try to help them out for the future. They will have bills and this is a hard time. This is what friendship is about."
Multiple riders have shared the GoFundMe on social media and some, such as 2016 PBR Brazil champion Dener Barbosa, have already made a donation.
Fans wanting to make a donation can do so HERE. (Fans in Brazil can also make a donation on the Vakinha platform HERE).
"He is my great friend," Barbosa said. "I pray for him every day that he will be well, and that everyone will donate to help him because he is a great bull rider and a great person with a good heart."
Marco Eguchi took a moment on Saturday night during the Monster Energy Team Challenge, presented by U.S. Border Patrol, to ask fans inside the Denny Sanford PREMIER Center and those watching on CBS Sports Network to pray for his friend.
"Since this happened, I have been thinking a lot about him," Eguchi later explained. "This has been hard for everybody, especially for his family and me. I live right across the street from him, and it is hard to know he was hurt bad. He is getting better, but this is a tough injury to recover from. I know he needs our help, and I want to visit him at the hospital when the time is right."
Vieira was the No. 10-ranked bull rider in the world at the time of his injury attempting to ride Stone Cold Crazy.
The 37-year-old became the fourth oldest bull rider to win a premier series event this past April when he won the PBR Las Vegas Invitational, presented by Union Home Mortgage at the Lazy E Arena in Logan County, Oklahoma. Vieira concluded the first half of the season 13-for-32 (40.63%) with a victory and three Top-10 finishes.
The Perola, Brazil, native made his PBR debut in the United States in January 2010 and qualified for his first World Finals the following season, beginning a stretch of eight consecutive World Finals appearances.
Vieira and his family's well-being remain on all of our minds at the PBR, and we will provide additional updates as they become available.
Follow Justin Felisko on Twitter @jfelisko
© 2020 PBR Inc. All rights reserved.