Vieira's Faith, Family and Friends Continue to Fuel his Remarkable Ongoing Recovery
By: Justin Felisko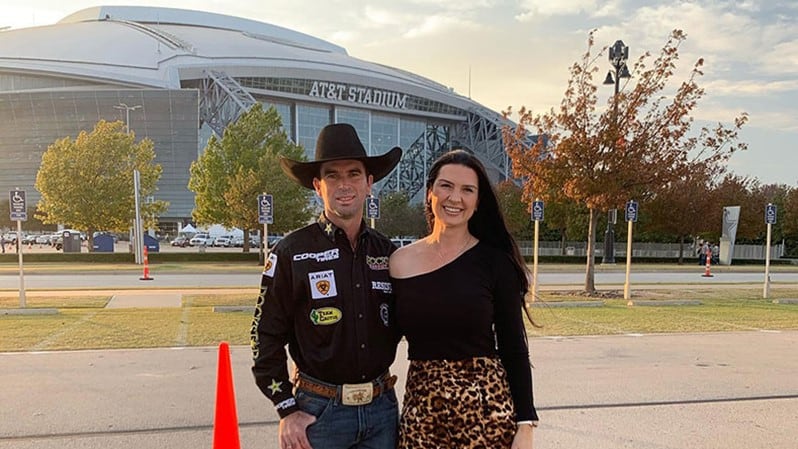 PUEBLO, Colo. – Every morning Marco Eguchi can usually peer outside his window, look across the street and see his good friend Fabiano Vieira heading into a car or truck to go to physical therapy at Fit-N-Wise Rehabilitation and Performance Center in Decatur, Texas.
Eguchi has lived within earshot of Vieira's ranch since he purchased his house following his 2018 PBR World Finals event victory two years ago. The two Brazilian natives have grown extremely close since Eguchi moved to the United States in 2012, two years after Vieira made the trip from South America to pursue his American dream.
There is no greater victory, though, than the one Vieira has accomplished in the past five months.
"It is truly a miracle," Eguchi said during the 2020 PBR World Finals before pointing at Vieira, who was laughing and joking around with his fellow bull riders inside the locker room.
View this post on Instagram
Vieira has continued to show tremendous determination in his pursuit of overcoming two severe brain injuries and a skull fracture that he sustained on July 1 at the Touring Pro Division event in Stamford, Texas and led to a 56-day stint in the hospital.
The 2020 PBR World Finals was the first time that many of Vieira's fellow bull riders who don't live in Decatur had a chance to see Vieira in person since his life-threatening wreck.
"I am so happy today because I am seeing my friends here," Vieira said. "I told them all good luck and to have a nice Finals. I am feeling better every day. I am very happy that everybody missed me. Everybody kept talking to me. So many people visited me. My friends. Everything. Everybody talk to me."
Vieira has continued to make a remarkable recovery from his injuries, which prevented him from competing at his ninth PBR World Finals. He has regained his ability to walk and run, and his memory has returned since his July injuries.
The 38-year-old normally spends around four hours per day at Fit-N-Wise working under the watchful care of rehab and training facilities staff, including Jim Bui and Fernando Escobar.
"I am taking medicine every day," Vieira said. "My head is getting better every day. I don't live the same life that I did before I hurt my head, but I still try to do everything. I work a little bit at my house. I am taking good first steps. My body feels like everything is good. Fit-N-Wise, those guys help me. They are my friends. Every day I get there at 8 for physical therapy and I leave at 12. I am getting more stronger."
An outsider in Arlington would have had no idea how close Vieira came to losing his life on that fateful summer night when his head collided with Stone Cold Crazy.
Medical professionals on site immediately transported Vieira to Anson General Hospital in Anson, Texas, before doctors transferred him to Hendrick Medical Center in Abilene for additional care later that night. Doctors then elected to perform emergency surgery on one of Vieira's brain injuries on July 2.
Vieira spent 10 days in the ICU, and was in a coma for a week.
"I believe God put me back together," Vieira said. "I told my wife, 'I went to heaven, but God told me to come back and take care of my family.'"
View this post on Instagram
Three-time World Champion Silvano Alves rode with Vieira in the ambulance to the hospital. Alves saw firsthand how dire the situation appeared, and he was beaming with pride to see his friend laughing and talking inside AT&T Stadium last month.
"Fabiano's recovery is a miracle. Thanks to God," Alves said. "If you believe in God, He can do amazing things. Fabiano was given another a chance. He is a man of such strong faith. I stayed with him for the first week at the hospital. I just prayed and prayed. This was hard. All of my career in Brazil, I stayed with him. I ride with him. Then I come here to the United States with him. After I saw him move a little when I talked, but when he said my name and stuff like that, I was so happy."
During the Monster Energy Team Challenge Championship Weekend in Sioux Falls, South Dakota, Eguchi took a moment following his team's victory to ask fans in Sioux Falls, and those watching on CBS television, to pray for his best friend.
At the time, it had been less than two weeks since Vieira was injured.
Those prayers, and many more from all over the world, were heard loud and clear.
Vieira was eventually transferred to the Baylor Scott & White Institute for Rehabilitation in Dallas on July 27, where he would spend an additional 29 days working toward regaining his motor skills and participating in an intensive rehabilitation process.
On Aug. 25, Vieira returned home alongside his family.
Across the street, Eguchi was able to go to bed later that night with peace and grace in his heart.
View this post on Instagram
"He is tough guy," Eguchi said. "He has a lot of determination. He is working hard to get back as a bull rider. I live just across the street from him. I see him going to the gym, physical therapy every day with a lot of focus and determination. I hope he will be back. He has a normal life, which is a victory already. I don't think he is going to stop there. Of course, he has challenges ahead of him. Not just because of his injuries to recover, but his age. I think he will be there. I think he will ride again."
Vieira is quick to credit someone else in his family for their toughness – his wife, Jilian.
Jilian was in the stands when her husband was injured in Stamford, and she has been a pillar of strength and hope for her family, especially for the couple's two children, as she stood by Fabiano's side throughout his recovery.
She did her best to handle the outpouring of support on social media, and she helped keep fans in Brazil and the United States up to speed with her husband's condition.
Fabiano teared up at the World Finals discussing all that his wife had done for him and their family during these last five months.
"My wife is a lion and my World Champion," Vieira said. "She is a lion because she stayed with me 56 days in the hospital. She is my best help. First, I believe in God. The second, I believe in my wife. She is the best and she is my life.
"The first, I thank God for putting my life back. Second, I thank my wife and my friends and everyone to help me come back."
View this post on Instagram
Vieira, of course, says he would love to one day return to competition. At the time of his injuries, he was the No. 1 rider on the Pendleton Whisky Velocity Tour, and the No. 10-ranked bull rider in the world. Less than three months earlier, Vieira became the fourth-oldest bull rider in PBR history to win a premier series event when he won the PBR Las Vegas Invitational, presented by Union Home Mortgage.
However, Vieira knows he has to put any talk of a return to competition on the backburner for quite some time. His focus for now is simply continuing to rehab, letting his injuries heal and to enjoy spending time with his wife and kids.
"Every night I dream about riding bulls," Vieira admitted. "Doctors were not sure if I would ever walk again, or ride a horse, when I got hurt. Riding bulls again? I don't know. Doctors understand everything. I am 38. The doctors say it will be a long time before, or if, I can ride again, but for me, no. In my mind, I could ride tomorrow."
Follow Justin Felisko on Twitter @jfelisko
© 2020 PBR Inc. All rights reserved.