VISIT FORT WORTH: Where to Eat in the Fort Worth Stockyards
By: Sarah Covington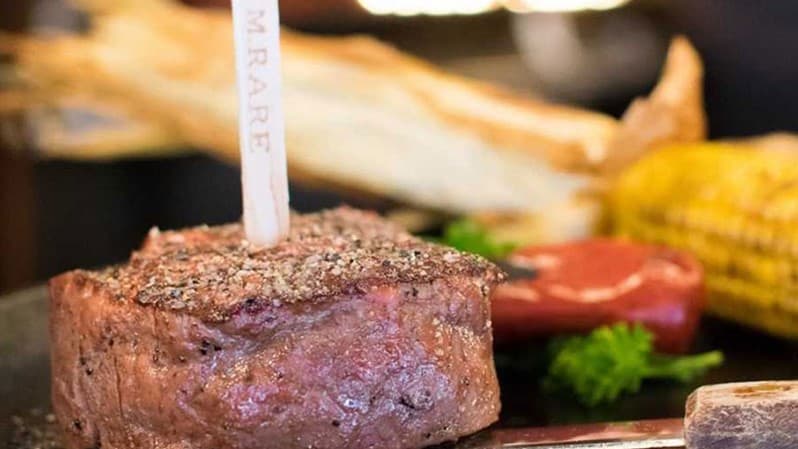 Check out this blog from Visit Fort Worth on FortWorth.com.
Hungry after a day of exploring the Fort Worth Stockyards National Historic District? Here are a few of our favorite places to dine at. Reservations recommended.
97 West Kitchen and Bar: 200 Mule Alley, Fort Worth, TX
97 West Kitchen & Bar is located inside the newly opened Hotel Drover in Mule Alley and explores new takes on American classics. The menu features contemporary Texas fare, Southern comfort foods and a selection of beer, wine and cocktails from the elegant bar. Stroll the property grounds with a drink in hand from the lobby or pool bar before settling into a dinner to remember. Reservations are open to the public so no worries if you're not a hotel guest.
H3 Ranch: 109 E Exchange Ave. Fort Worth, TX
A beloved Fort Worth classic, H3 Ranch serves visitors and locals mouthwatering, wood-fired steaks, barbecue and more from The Stockyards Hotel. Take a seat at Booger's Reds Saloon next door for some good convo and cold Rahr & Sons Buffalo Butt beer from a saddle barstool. Bonus: Valet is free.
Cattleman's: 2458 N Main Street Fort Worth, TX
Cattlemen's Steak House still serves many dyed-in-the-wool cowboys and international tourists. Get the signature Heart o' Texas rib-eye, a nicely marbled slab, and watch the cook sear it over an open fire that serves as the dining room's focal point.
View this post on Instagram
Provender Hall: 122 E Exchange Ave. Suite 110 Fort Worth, TX
Chef and restaurateur Marcus Paslay (Clay Pigeon, Piattello Italian Kitchen) brings his beloved culinary style to the Stockyards' Mule Alley development. Think: chicken fried steak, oysters on the half-shell, chicken gumbo and buffalo tenderloin in a chic western atmosphere split between two floors.
Atico: 2315 North Main Street Fort Worth, TX
Ático, a tapas bar, owned by local Chef Tim Love, is located at the Springhill Suites by Marriott on the hotel's rooftop bar overlooking the Fort Worth Stockyards and the Downtown Fort Worth skyline. The menu boasts Spanish favorites like patatas bravas and Iberico Secreto, local beverages. and Spanish-inspired cocktails.
Second Rodeo Brewing: 122 E Exchange Ave. #340 Fort Worth, TX
Second Rodeo Brewing offers daily live music, great beer, and comfort grub from a sprawling 14,000-square-foot space that includes an open-aired beer garden, yard games and so much more in the heart of Mule Alley. The joint is open until 2 a.m. on the weekends.
Joe T Garcia's: 2201 N Commerce Street Fort Worth, TX
This Stockyards institution serves up potent margaritas made with silver tequila and fresh lime juice, along with old-school Mexican combo plates and fajitas in a gorgeous hacienda-style garden courtyard. Cash only.
View this post on Instagram
Los Vaquero's: 2629 N Main Street Fort Worth, TX
Owned by the Cisneros family for over 30 years, Los Vaqueros serves fresh, authentic Mexican cuisine for Sunday brunch, lunch and dinner service.
Lonesome Dove: 2406 N Main Street Fort Worth, TX
Another Chef Tim Love restaurant, Lonesome Dove Western Bistro elevates western cuisine like never before. Signature dishes include his famous rabbit-rattlesnake sausage and classic roasted garlic stuffed beef tenderloin. If you're in search of a fancy night out, this is your place.
Avoca: 128 E Exchange Ave Suite 560, Fort Worth, TX
A local coffee shop with locations in the historic Near Southside and buzzy West 7th Street district, Avoca expanded its footprint to the Stockyards in 2021. The early morning spot serves artisanal coffee and local baked good and tacos from Pearl Snap Kolaches.
Taco Heads: 2349 N Main Street Fort Worth, TX
The taco truck turned brick-and-mortar has a cult following in Fort Worth. Enjoy tacos (vegan and vegetarian options available) and margaritas seven days a week.
Love Shack: 110 East Exchange Ave. Fort Worth, TX
Chef Tim Love's namesake restaurant serves delicious food in a simple outdoor setting. Belly up to a juicy burger, hot dog, nachos, hand-cut fries or onion rings with a beer in hand while watching a local musician from the outdoor stage.
View this post on Instagram
Biscuit Bar: 128 E Exchange, #6460 Fort Worth, TX
The Biscuit Bar is a fast-casual restaurant serving up delicious breakfast, lunch and dinner options on a biscuit! The menu features an assortment of savory and sweet biscuit sandwiches made from scratch, in-house, daily. Looking for something lighter? Tasty salads grace the menu as well.
The Railcar Coffee and Spirits: 112 W Exchange Fort Worth, TX
Whether you need a jolting cup of coffee or a glass of wine as the sun is setting, the western travel-inspired cafe is open daily on West Exchange next to M. L. Leddy's.
EDITOR'S NOTE: If you're looking for a PBR experience, look no further than Texas Live!, home of PBR Texas, the flagship PBR bar. The venue is a powerhouse concept that brings an authentic country experience to Arlington, marrying an electric combination of "cowboy cool" and big-time, Texas-sized entertainment.
© 2022 PBR Inc. All rights reserved.