Weekly Recap: Chad Rutherford Wins Rematch With Rafter G Rodeo's Assault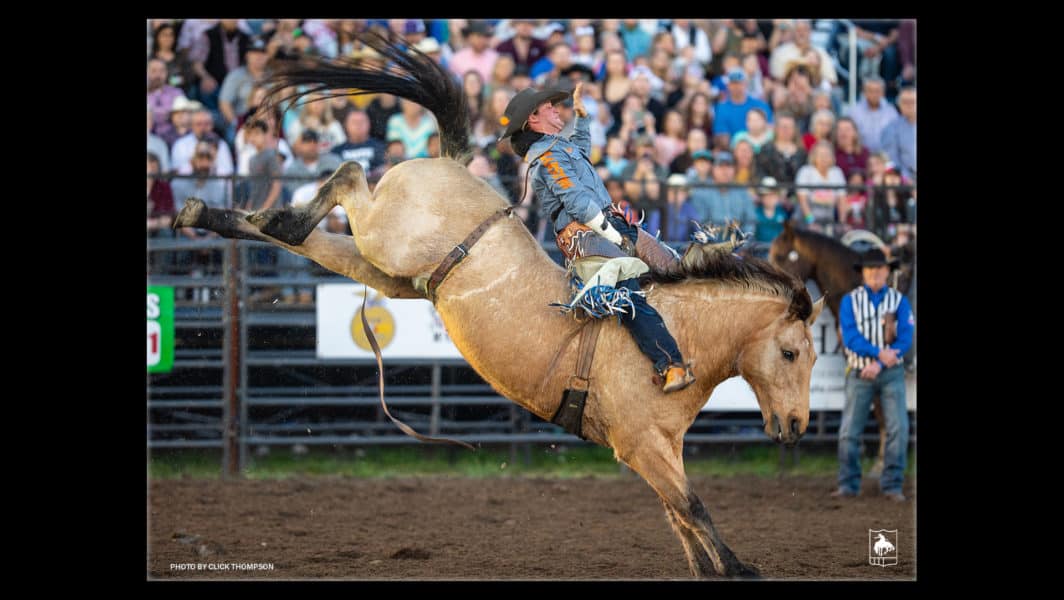 Bareback rider Chad Rutherford was more nervous about the Ellis County Livestock Show & Rodeo on March 27 than he was before making his debut at the National Finals Rodeo in December.
The Waxahachie, Texas, rodeo was set to be a rematch between Rutherford and Rafter G Rodeo's Assault, a bronc that got the best of him in Amarillo, Texas, in 2016.
"She put me on my head on the third jump a few years ago in Amarillo," said Rutherford, 29. "I was more nervous about getting on her than I was getting on for the first round of the NFR this year. It was just from my past experience and knowing how she is."
The Hillsboro, Texas, cowboy has risen through the ranks since his rookie year in 2014. Winning the 2020 Cody (Wyo.) Stampede propelled him into his first NFR qualification where he placed in two rounds to finish 10th in the average.
He finished 13th in the 2020 PRCA | RAM World Standings with $77,874.
Three months later, he drew Assault.
"This time around, it was a dog fight," Rutherford laughed. "That's a rank horse."
Not only did Rutherford come out on top with 90-point ride to win the rodeo, he also was the top-scored ride across all 113 bareback riding attempts made between the ProRodeo events held March 22-28.
"She stayed true for me and it worked out well," Rutherford said. "When I got off I knew it (the score) would be up there."
Rutherford wasn't the only one to improve in recent years. Assault has spent some time in saddle bronc riding, which had an impact on her in bareback riding.
"She was a lot more rider-friendly for me this time," Rutherford said. "They've had her in the bronc riding and that really freed her up. She can be a little bit treacherous, so when I was riding her I was begging for her not to take a hard left since that's how she gets a lot of guys in trouble."
Rutherford was 14th in the 2021 world standings before his $1,070 win in Waxahachie.
"I feel like I'm riding better than I ever have in my life and I'm at the top of my game and in the best shape of my life," Rutherford said. "It's a great push forward – I'm not only planning to make the NFR but I'm expecting that of myself."
Here's a look at the rest of the top rides and runs from the week:
Steer wrestler Denver Berry stopped the clock in 3.7 seconds at the Nacogdoches (Texas) Pro Rodeo & Steer Show, March 26.
Team ropers Clay Tryan and Jake Long posted a 3.9-second run in Nacogdoches, March 26.
Two saddle bronc riders had 88.5-point rides last week. Ben Andersen won Osage Xtreme Bronc Days in Pawhuska, Okla., with an 88.5-point ride on Dakota Rodeo's Cash Deal, March 26. The next day, Cort Scheer won Waxahachie with an 88.5-point ride on Rafter G Rodeo's Three Belles.
There was a three-way tie for the fastest tie-down roping run last week. Blane Cox made a 7.7-second run in Waxahachie, March 26, as did Tyson Durfey and Charlie Gibson in Nacogdoches, March 26 and March 27, respectively.
Breakaway roper Syerra Christensen made a 1.7-second run at the Springfield (Mo.) Breakaway Roping, March 27.
Barrel racer Michelle Alley had a 12.77-second run at the Ozark Empire Pro Rodeo, March 27 in Springfield, Mo.
Bull rider JR Stratford had a 90.5-point ride on Championship Pro Rodeo's Big Shot in the final round of the Ultimate Challenge PRCA Xtreme Bulls in Enid, March 27.
Courtesy of PRCA