What to Watch for: Souza Enters Okeechobee as World No. 1 Rider
By: Justin Felisko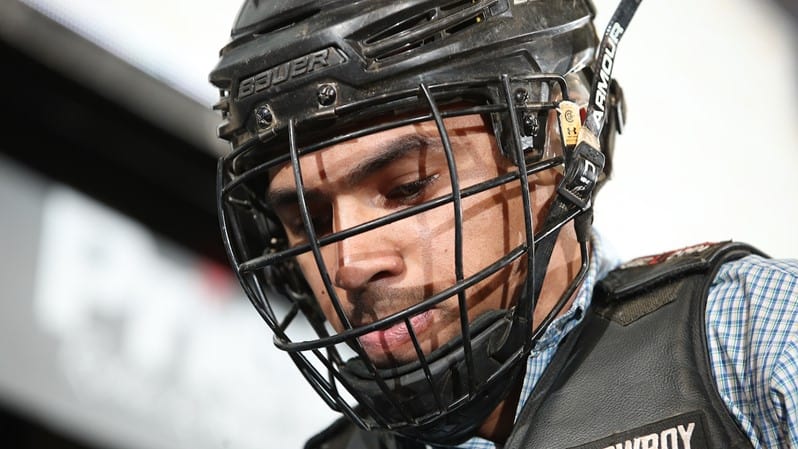 PUEBLO, Colo. – The 2021 Unleash The Beast: American Roots Edition has already brought with it a rollercoaster of unexpected twists, turns and injuries, and we are still just two events into the new season.
Through the first two weeks of the season there has been two second-year riders from last year's rookie class atop the world standings in Mauricio Moreira, who won the Ocala season-opener, and current world No. 1 Junior Patrik Souza.
Souza took over the world ranking for the first time in his career last weekend in Arcadia, Florida, by going 2-for-3 and earning 36 world points. The 27-year-old's Top-5 finish was headlined by a 73-point score on Not Today in Round 1, and an 83-point effort on Bad Decisions in Round 2.
The Sonora, Brazil, native leads 2018 World Champion Kaique Pacheco by 12.5 points in the world standings. Souza has drawn Bullseye for Round 1 (2 p.m. ET RidePass / midnight ET CBS Sports Network. Bullseye is 5-0 on the premier series and 9-0 at all levels of competition.
Souza then will turn his focus to his first career 15/15 Bucking Battle (Sunday, CBS national television, noon ET) where he has a rematch against Young Man's Blues. Souza lasted 2.72 seconds against Young Man's Blues in Tulsa, Oklahoma, last October.
Souza first began competing in the United States in 2019 before earning a full-time spot on tour last season, ultimately finishing No. 43 in the 2020 world standings after being unable to compete at the world standings.
Originally, Souza was not even on the UTB to begin this season. He did not qualify for the first day of competition at the season-opener in Ocala, but he then cashed in when he was given a last-second, alternate spot for the final rounds in Ocala after 2020 World Champion Jose Vitor Leme was injured.
Now Souza heads to Okeechobee tied with Moreira, Pacheco and Cooper Davis for the most qualified rides (4) on the UTB.
Two-time World Champion and CBS Sports analyst Justin McBride said Thursday Souza reminds him of a rider who debuted in the United States during his 2007 gold buckle season.
"That Junior guy reminds me so much of Valdiron (de Oliveira) the first time I had seen him," McBride said. "He is big and he is strong and he don't make no bones about. He is going to sit down and pick up on his bull rope, and if the bull goes left then the bull is screwed. He has perfect posture and everything. Valdiron tucked his chin like that."
WHO'S IN & OUT THIS WEEKEND
Daysheet for Competition Round 1
Riders from last year's Top 30 that are not competing
2020 World Champion Jose Vitor Leme (broken ankle)
Two-time World Champion Jess Lockwood (broken jaw)
No. 3 Boudreaux Campbell (right hand/wrist surgery)
No. 9 Daylon Swearingen (right shoulder surgery)
No. 11 Lucas Divino (knee)
No. 14 Colten Jesse (hip)
No. 22 Fabiano Vieira (head injury)
No. 23 Ramon de Lima (travel issues)
No. 24 Matt Triplett (hip surgery)
No. 26 Andrew Alvidrez (broken neck)
No. 27 Aaron Kleier (remaining in Australia)
No. 29 Stetson Lawrence (left shoulder surgery)
Alternates this weekend
Junior Patrik Souza
Claudio Montanha Jr.
J.T. Moore
Joao Henrique Lucas
Marcelo Procopio Pereira*
Taylor Toves
Colten Fritzlan*
Dakota Louis
Cody Casper
Rafael Henrique dos Santos
*Making premier series debut
Pereira heads into Okeechobee following his first Pendleton Whisky Velocity Tour victory last weekend in Greenville, South Carolina. The 25-year-old went 2-for-3, highlighted by an 88-point ride on Wine Time in Round 2. Pereira hadn't competed in a PBR event since one TPD event in 2019. He went 2-for-6 last year at six PRCA events in Texas.
With the changes to the Unleash The Beast announced earlier this week, riders ranked No. 1-25 in last year's world standings will be guaranteed eight 2021 events (retroactive to Ocala) before facing the cutline. Riders No. 26-30 will receive five.
Cody Nance making 2021 UTB debut
11-time PBR World Finals qualifier Cody Nance missed his first World Finals last season as he never could fully rebound from nerve damage in his right shoulder, and Nance will use his final injury exemption this weekend in Okeechobee.
The 33-year-old is ranked 51st in the world standings with four points after beginning the year 1-for-5 at two TPD events.
Nance will look to work his way back onto the premier series against King Richard (7-2, UTB) in Round 1.
Fellow PBR Rookie of the Year Dalton Kasel is also down to his last injury exemption. Kasel is in a good position, though, as the No. 11 ranked rider in the world, which would make him the No. 2 alternate in the future.
Kasel takes on Crazy Times (19-4, UTB/METC) in Round 1.
Davis highlights Round 1 rematches
There are four rematches in the first round Saturday, including a savory one for Cooper Davis against Stretch. Davis is a perfect 2-for-2 aboard Stretch. He most recently rode Stretch for 89.25 points two years ago in Green Bay Wisconsin, but he also was 90.5 points on him at the 2018 World Finals.
Here are the other rematches:
Cody Teel vs. Skeeter Peter (1-1, 88.25 points at the 2019 World Finals)
Dener Barbosa vs. Talking Smack (4.84 seconds at the 2018 event in Springfield, Missouri)
Keyshawn Whitehorse vs. Shark Bait (3.62 seconds at the 2017 Velocity event in Biloxi, Mississippi).
© 2021 PBR Inc. All rights reserved.