Zip Recruiter Top Recruit: Halverson Earns Opportunity With Gutsy Effort on USS Lexington
By: Justin Felisko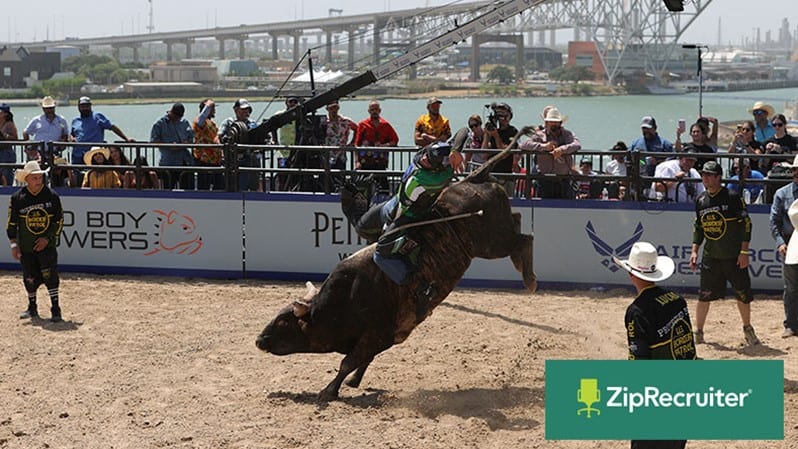 PUEBLO, Colo. – Conner Halverson did not even know he was competing at the PBR Air Force Reserve Cowboys for a Cause team bull riding event until he found out that morning that he would be riding for Team Zip Recruiter.
Halverson hoped he would get the opportunity to ride on the famed USS Lexington aircraft carrier when he was asked to show up in case the PBR needed an alternate. The young 20-year-old did not let any inexperience get in the way once he got the call Saturday morning.
The two-time Nebraska High School Rodeo Association bull riding champion wound up showing extreme mental toughness during the event when he had to get on three bulls during the first round of competition in 100-degree temperatures.
Halverson cashed in on this third bull when he rode Tested & Bruised for 87.5 points for Team Zip Recruiter after receiving two re-ride options earlier in the day.
The Gordon, Nebraska native's brown hair was soaked in sweat as he walked across the flight deck, and there was something else on his mind beyond the extreme heat and humidity.
"It's a battle, it's hot out, but this gets you to Vegas," an exhausted Halverson, who also wrestled all four years of high school, said.
Halverson earned 28 world points with that ride to move up four spots in the world standings to No. 36 as he attempts to qualify for his first PBR World Finals on Nov. 3-7 at T-Mobile Arena in Las Vegas.
"I have felt better," Halverson said with a smile in Corpus Christi, Texas. "This heat is brutal, but it is just part of it. I love doing this, and I am having fun. I will go drink a couple of bottled waters. Just getting points every chance I can is important."
The young gun now heads into this weekend's PBR Monster Energy Invitational, presented by Cooper Tires, on the cusp of cracking the Top 35 and being one step closer to finally fulfilling his World Finals dream.
Halverson is one of nine alternate riders who need to post a qualified ride Friday to advance to Round 2 on Saturday night.
Alternates for this weekend (Need a qualified ride to advance to Round 2)
No. 35 Andrew Alvidrez (161.75 world points)
No. 36 Conner Halverson (-6.25 points behind Alvidrez)
No. 38 Lucas Divino (-13.75 points)
No. 44 Dakota Louis (-53.25 points)
No. 45 Manoelito de Souza Jr. (-55.25 points)
No. 48 Leonardo Lima (-71.92 points)
No. 55 Ramon de Lima (-96.75 points)
No. 57 Cole Skender (-97.75 points)
No. 69 Fernando Henrique Novais (-118.75 points)
No. 80 Clayton Sellars (-130.75 points)
It is a major opportunity for all nine riders, especially Halverson, who is only one qualified ride away from passing Alvidrez for that crucial No. 35 ranking – the final guaranteed spot to the World Finals.
"When you are not getting points, you aren't making any adjustments," Halverson said. "When you can get any kind of points, it is a good day."
Halverson has drawn Buck Norris (1-0, UTB) for Round 1, which airs exclusively LIVE on RidePass on PlutoTV beginning at 11 p.m. ET.
Halverson is one of 11 riders competing in Anaheim who has never ridden at the PBR World Finals, joining Chase Dougherty, Junior Patrik Souza, Eli Vastbinder, Marcelo Procopio Pereira, Thiago Salgado, Manoelito de Souza Jr., Leonardo Lima, Adriano Salgado, Cole Skender and Clayton Sellars.
Halverson – the No. 2-ranked rider on the Pendleton Whisky Velocity Tour – is also already qualified for the Velocity Tour Finals on Oct. 30-31 at the South Point Arena & Equestrian Center. If Halverson were to win the $50,000 Velocity Tour championship, that would also punch him a ticket to the World Finals.

Anaheim is the next chance for Halverson to step up and show he is ready to ride alongside the PBR's best. This will be his sixth Unleash The Beast event of his career, and a strong weekend could cement him a full-time spot on the premier series for the final two months of the season.
Halverson, though, has bucked off seven in a row on the UTB and is only 2-for-8 on the premier series since debuting at the Las Vegas Invitational in June.
"You just have to have faith in yourself every single time, and if you don't, you are going to end up on the dirt," Halverson concluded.
Follow Justin Felisko on Twitter @jfelisko
Photo courtesy of Andy Watson/Bull Stock Media
© 2021 PBR Inc. All rights reserved.