Cassio Dias Re-Writing the Script as Kansas City Outlaws Continue their Climb
By James Youness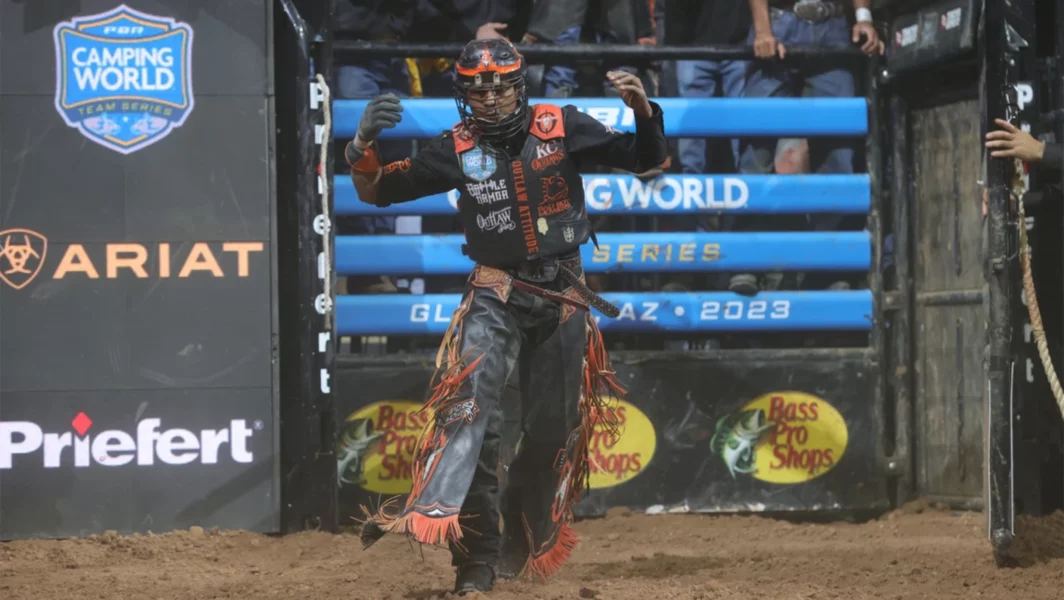 GLENDALE, Ariz. – In an age where fans and sports leagues around the world alike have joked about the idea of pre-determined "scripts" potentially laying out games within a season as episodes playing into one grand story …
… PBR is turning the page on that narrative as a number of enticing storylines continue to heat up heading into the 2023 PBR Teams Championship in Las Vegas, Oct. 20-22.
Fans may have an idea that the Austin Gamblers have produced the most dominant regular season run in PBR Teams history.
But after seeing the green and black squad drop a dramatic 173.75-173.25 final to the Oklahoma Freedom Friday night, the organization's plans of running away with the regular season title and satisfying their "Magic Numbers" (needing one win to secure a bye in Las Vegas and two total wins to clinch the regular season honors) have hit a bump in the road.
All while breathing life into the league's No. 2 squad, which happened to pick up a big win.
A convincing 263-82.25 final over the struggling Carolina Cowboys.
Now just four games back of the circuit-pacing contingent at 13-10 on the season, the Kansas City Outlaws have kept their hopes alive of securing the regular season championship themselves.
Competing within the 5-on-5 world, it's very much a team sport, but with an impressive 15-for-20 record during this year's PBR Camping World Team Series, J.W. Hart and company have seen a man rise to the occasion for the Outlaws more times than not.
Trailing two-time World Champion Jose Vitor Leme by a mere 166.5 points (two ride scores) in this year's individual aggregate score MVP race, Cassio Dias wouldn't have read the script even if there was one.
He's busy writing, and living, in his own version of Hollywood.
Stepping up, yet again, for his No. 2 squad as Kansas City attempts to secure a first-round bye in Las Vegas of their own, Dias laid down another electric ride Friday night.
This time paired against Sky Walker, he quickly exited the chutes, only to be met with an immediate change of direction. That's nothing for the world's hottest rider, though.
Lasting the 8 in thrilling fashion, he returned to the chutes for a few helmet taps and shared celebrations with his teammates.
And then he queued the music!
Leaning into his patented dancing routine, he assumed the shark tank stage and put on another show as the Outlaws cruised to victory.
Finding the whistle in five of his last six outs and fresh off his second MVP event title earned last weekend in Greensboro, North Carolina, Dias has been making it look easy.
Even more importantly for Hart and Assistant Coach Guilherme Marchi, he's having fun.
Fun, camaraderie and believing in one another is great in team sports, sometimes motivating others to step up just the same.
Riding a bit of a hot streak himself, now four in a row, Koltin Hevalow added to the team's success courtesy of a quality out atop Happy Hour. Both he and Wingson Henrique da Silva (11-for-19) have done a great job taking turns complementing Dias' heroics throughout the second half of the season.
But perhaps the most intriguing layer of this late-season saga for Kansas City came earlier in the game.
After being acquired by the Outlaws from the Cowboys earlier this week, prior to the league's Trade Deadline and Regular Season Roster Lock, Sandro Batista didn't waste any time in convincing his coaches they had made the right decision.
View this post on Instagram
Just 13 days after teaming up with Boudreaux Campbell to hand the Outlaws a 171.25-89 loss, Batista found himself donning an orange and black jersey, now across the chutes from the team which dealt him for future considerations days before.
Eventually locking in and coming through for his new organization, Batista championed Jasper for 87.25 points.
One hell of a debut for a 24-year-old who brought a 2-for-16 record into the matchup.
Whether Batista is preparing to write a story of his own with the Outlaws, or merely provide a column once in a while, there's something special about Kansas City's locker room and organizational culture.
Heading into a Saturday night showdown with the very squad they'll look to dethrone, can the Kansas City Outlaws (13-10) keep the pen in their hands? Or will the 17-6 Austin Gamblers put an exclamation point on what's already been a historic campaign?
Photo courtesy of Andy Watson/Bull Stock Media
© 2023 PBR Inc. All rights reserved.