Championship Sunday Primer: Title Race Breakdowns
By: Justin Felisko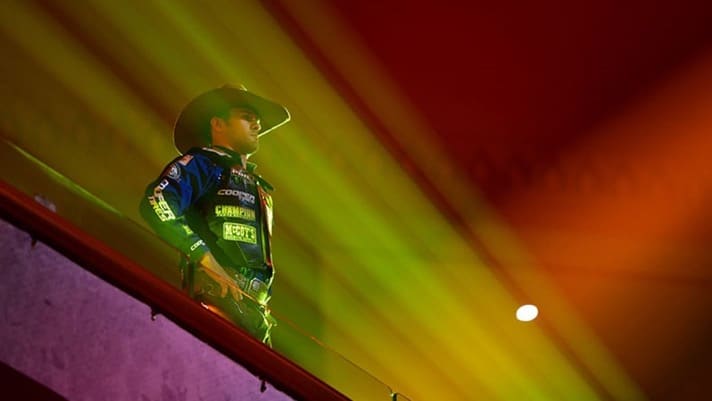 FORT WORTH, Texas – It's bull riding and breakfast on Sunday at Dickies Arena, with Championship Sunday at the 2022 PBR World Finals beginning at 9 a.m. (10 a.m. ET on CBS Sports Network). The championship round then airs live on CBS at noon ET.
The 2022 world title race is down to its final day with world leader Daylon Swearingen in the driver's seat in the World Championship race following his 87.75-point ride on Satan's Seed in Round 6.
"That one was a little all over the place, but it worked out," Swearingen said.
It will be primarily a two-man race between Swearingen and No. 2 Kaique Pacheco on Sunday unless Swearingen bucks off both of his bulls to open the door for the other seven title contenders still mathematically alive.
Swearingen is 5-for-6 at the PBR World Finals and leads the event average heading into Round 7. Swearingen and Cody Jesus, the No. 17-ranked bull rider in the world, are the only two men who have ridden five bulls inside Dickies Arena.
Swearingen is 4.25 points ahead of Jesus in the average. Meanwhile, Pacheco is 4-for-6 and only 86.25 points behind Swearingen in the event average race.
Who is still mathematically alive?

There are still eight riders mathematically alive in the World Championship race, with one rider able to earn a maximum of 738 points toward the world standings with an event average victory Sunday. Those nine riders are: Daylon Swearingen, Kaique Pacheco, Joao Ricardo Vieira, Dalton Kasel, Luciano de Castro, Eli Vastbinder, Cody Jesus and Lucas Divino.
World leader Swearingen can finish no lower than ninth in the event average, which is worth 30 world points, with reigning two-time World Champion Jose Vitor Leme out for Sunday because of four broken ribs.
Here is a look at the Top 5 of the world standings
No. 1 Daylon Swearingen (1,068.49 world points | 1st place in the event average, 5-for-6)
No. 2 Kaique Pacheco (-71.49 points | 3rd place in event average, 4-for-6)
No. 3 Joao Ricardo Vieira (-103.99 points | 10th in the event average, 3-for-6)
No. 4 Jose Vitor Leme (-288.66 points | 4th in the event average, 4-for-6)*
No. 5 Dalton Kasel (-301.99 points | 5th in the event average, 3-for-6)
*Out for Sunday after being injured in Round 6 on Saturday night
Two realistic, heavy frontrunners are left in the title race with Swearingen and Pacheco.
If Swearingen rides both of his bulls, he will win the World Championship. Pacheco needs at least one Swearingen buckoff and a qualified ride worth 86.5 points or more to leapfrog him in the event average. If Swearingen rides in Round 7 and Pacheco bucks off, Pacheco would likely be too far back to catch Swearingen at that point, depending on where Swearingen finishes in the round.
Pacheco's herculean 89-point ride on Wicked Dreams, ending the bull's streak of 34 consecutive buckoffs overall (26 premier series), could go down as the ride that not only keeps him alive in the title race but is a huge reason why he wins a second gold buckle.
"He bucked me off in 2019," Pacheco said. "He didn't have a good trip with me, but either way, he's a hard bull. Sometimes he makes a hop-skipping motion and come to the right, back to the left. Sometimes he come to the left like he did today with me. I'm really happy.
"I just try to make my job each ride, no matter what bull he is. I will try the same thing on each bull."
All eligible riders with three qualified rides – Kasel, Castro, Divino, Vastbinder and Vieira – need to go 2-for-2 and have Swearingen buck off both of his bulls to possibly have a shot at the title, depending on Pacheco.
Cody Jesus could also play spoiler and shake up the standings if he were to win the World Finals and push Swearingen down a spot in the event average.
Can Jesus catch Swearingen for the world title, though? If Jesus wins the average and Swearingen goes 0-for-2, Jesus will need to make up another 131.84 points in world points via round finish.
Round 7 Matchups for Title Favorites
Swearingen selected I'm Legit Too with the ninth pick in the draft. It is a fantastic matchup with Swearingen a perfect 2-for-2 against I'm Legit Too. He rode the bull for 93 points earlier this year at the Ty Murray Invitational in Albuquerque, New Mexico, and two years ago in St. Louis for 91.75 points.
Pacheco elected for Clear Water with the third pick in the draft. Clear Water has primarily been a rodeo bull and has a 32-3 record at all levels of competition. Clear Water bucked Manoelito de Souza Jr. off in 1.05 seconds in Round 6 on Saturday night. However, three-time World Champion Silvano Alves lasted to the 7.46-second mark in this same arena in August 2021. Alves was standing next to Pacheco during the draft on Saturday night.
Jesus takes on Top Shelf (20-9, UTB) as he pursues the event average victory. The two have never matched up before. Top Shelf bucked off Chase Dougherty (4.12 seconds) in Round 3 and Rafael Henrique dos Santos (6.14 seconds) in Round 4.
Rookie of the Year Race

The rookie race remains a tightly contested one between three riders.
Bob Mitchell (335.50 world points | 1-for-6, 22nd event average)
Clayton Sellars (-66.92 points | 0-for-5)
Josh Frost (-166.34 points | 2-for-6, 11th event average)
Frost remains an outside threat to Mitchell if he can sneak into the Top 5 of the event average.
Mitchell selected Oz (38-7, UTB) while Sellars will take on Ground Assault (11-3, UTB). Ground Assault previously bucked Sellars off last year in 5.61 seconds. Frost has a Round 7 matchup against HomeBru (14-5, UTB).
World Champion Bull Race

Ridin Solo (46.22 World Champion Bull Average) takes a 0.44-point lead on reigning YETI World Champion Bull Woopaa (45.78 World Champion Bull Average) into Championship Sunday.
The 2022 YETI World Champion Bull will be the animal with the highest average bull score from their top-six regular-season outs and two outs at the PBR World Finals.
The top bucking bulls competing at the Finals will receive three outs, and World Champion contenders will be able to drop their lowest score in Fort Worth. The 2022 YETI Bull of the Finals will be the top bull based on all three scores and receive a $25,000 bonus.
Ridin Solo is slotted to face the rider in fourth place in the event average in the championship round, while Woopaa will be squaring off against the No. 8 rider in the event.
If Ridin Solo is scored 45 points or less in the championship round, Woopaa will need a 47-point score to take back the No. 1 ranking.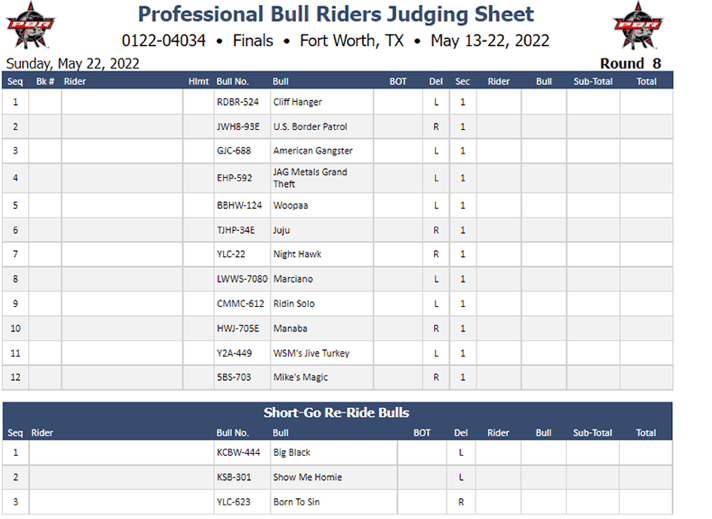 Follow Justin Felisko on Twitter @jfelisko
Photo courtesy of Leo Loera/Bull Stock Media
© 2022 PBR Inc. All rights reserved.