Keeping Gearing Up for Rookie of the Year Race
By: Justin Felisko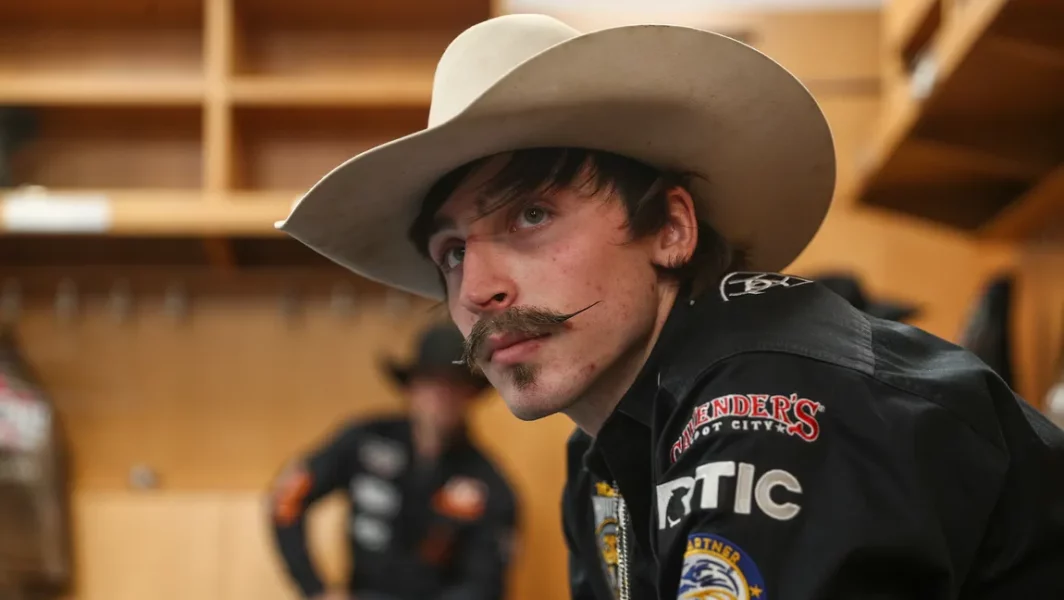 MINNEAPOLIS – The Unleash The Beast can sometimes be an intimidating place for newcomers. Riders who have spent their whole childhoods looking up to their heroes are then sitting next to those same idols competing for thousands of dollars on a weekly basis.
The 2023 season is a tad bit different, though, as many of this year's potential Rookie of the Year contenders will already have spent three months competing at the PBR's highest level of competition via the PBR Team Series.
However, even Daniel Keeping says there were still some butterflies knowing he is embarking upon his first full-time season on the Unleash The Beast despite becoming one of the diamonds in the rough to blossom during PBR Teams.
"I mean, it is still a little nerve racking, and you still have a lot of people cheering you on here and at home," Keeping admitted Friday night in Minneapolis. "It isn't like, 'Oh my God!' It is just doing my job correctly and doing it right. Showing everyone that all the work I am doing at home is paying off finally."
Keeping has shown early on this UTB season that his Teams success with the Texas Rattlers (11-for-16) was no fluke or setup via easy matchups. The 23-year-old is tied with world leader Cooper Davis for the most round wins in the PBR (2) and has begun the UTB season 5-for-7.
On Friday night at the Target Center, Keeping got off to a good start at the Minneapolis Invitational with an 87.25-point ride on Pearl Jam to tie with Derek Kolbaba (87.25 points on Mike's Effect) for second place in Round 1. Wingson Henrique da Silva, another PBR Team Series breakthrough rider as a member of the Carolina Cowboys, took the round win via 89 points aboard Blown Away.
Keeping has drawn MagicBru (11-1, UTB) for Round 2 on Saturday night (8 p.m. ET CBS Sports Network).
"Just taking it one by one and eventually I will get them all," Keeping said. "I'm ready for the second round and see what they got for me."
Keeping understands how he is quickly becoming a household name because of his time with the Rattlers, but he also says he doesn't worry about what people's expectations may be for him now. Instead, it is about the belief he has in himself that is more important.
"Everybody is going to have expectations of other people," Keeping said. "That is human nature. Personally, me, I have no expectations for me. It is only belief. The belief I have in myself is riding one bull at a time and doing your job. That is all I am worried about.
"That is how you get paid and move up. If you don't, you are just sitting and waiting for the last one."
Keeping credits his inner circle for also feeding that belief.
Rattlers head coach Cody Lambert called him on Friday morning to "get my engine running." Keeping also has the support of three-time PBR World Finals qualifier Pistol Robinson, stock contractor Danny Mason, his girlfriend Shelby Baker, and a slew of others in his corner keeping him focused and not overthinking his goals.
"Just like everybody else, I want to get that gold buckle and win Rookie of the Year," Keeping said. "But right now, honestly, I talked to my good buddies Danny Mason and Pistol Robinson. You can't worry about World Finals right now. You worry about World Finals when it shows up. They both give me a lot of not just words of wisdom, but encouragement."
Keeping is prepared to climb the 2023 PBR ladder. If he rides his bull, he may win a round. If he wins rounds, he may win an event. Win an event and that could lead to a Rookie of the Year title and a spot at the World Finals. Get to the World Finals, then make a push for the world title.
"You can't just jump to the highest step without going up a couple steps first," he concluded.
Photo courtesy of Todd Brewer/Bull Stock Media
© 2022 PBR Inc. All rights reserved.