Mitchell Building Friendship with Frost in Rookie of the Year Race
By: Justin Felisko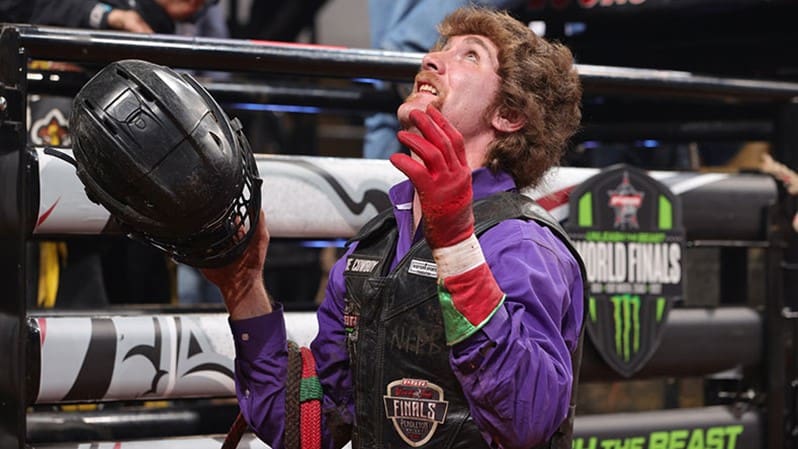 FORT WORTH, Texas – Bob Mitchell has found himself a new pal during the 2022 PBR World Finals in 2021 Wrangler National Finals Rodeo event winner Josh Frost.
Mitchell has been sitting next to Frost in the locker room, and Frost even let Mitchell use one of his bull ropes and riding gloves Friday night during Round 5 inside Dickies Arena.
The equipment switch paid off as Mitchell knocked down his first ride at the Finals with 88.75 points aboard Big Wave.

"I was tipped into my hand, tipped out. Just thankful," Mitchell said while checking his teeth to ensure he didn't break any. "Josh let me borrow his glove and his rope. Good guy."
Mitchell had bucked off his first four bulls at the Finals, including American Gangster in Round 4 – the same bull he rode for his first round win in Milwaukee in February.
"The bull I got on last night, I won the round on him (in Milwaukee), and I got on him last night, and he pulled me down," Mitchell said. "This bull just kept pulling me down, kept pulling me down. I was riding good, but my rope was too soft. It was just time.
"The good Lord made it work for me. I was praying to God. If I were to come here, to make it here, and then fall off everything? That would have been horrible. I've wanted to be here since I was a kid."
The 19-year-old is the youngest competitor at the Finals this week, and he is clinging to a 66.92-point lead on Clayton Sellars (0-for-4) in the Rookie of the Year race.
Oddly enough, Mitchell's new friend could become his enemy in the Rookie of the Year race.
Frost is 2-for-5 at the World Finals, and he could become eligible for the Rookie of the Year title if he cracks the Top 30 of the world standings.
Frost is 166.34 points behind Mitchell in the standings heading into Round 6 on Saturday night at CBS Sports Network (10 p.m. ET).
"He was saying his rope didn't feel good, and I told him I had two brand new ones if he wanted to try one," Frost said. "He found one he liked. Ended up borrowing a glove from me, too, then used my rosin and rode the bull I rode in the first round. He came and gave me a hug after he stuck him, too. Sometimes changing one thing can get a guy out of his head and get him riding. I was happy to see Bob get it done."
Frost is not your standard rookie, especially compared to Mitchell.
The Randlett, Utah, native is 26, seven years older than Mitchell, and is the No. 3-ranked bull rider in the PRCA standings, and he has won the NFR.
Mitchell said he "loves" having Frost in the rookie race, and it was a wake-up call when he saw Frost beginning to make a move up the standings.
"I needed somebody to push me, and to know that he was right there riding too, I knew it was time to freaking turn it on," Mitchell said.
Follow Justin Felisko on Twitter @jfelisko
Photo courtesy of Andy Watson/Bull Stock Media
© 2022 PBR Inc. All rights reserved.