New PBR Licensed Products Launch in Time for the Holidays
By: Andrew Giangola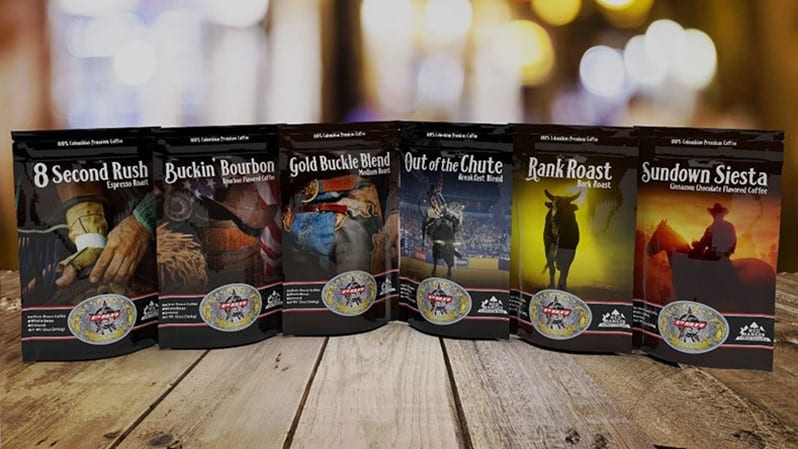 What do Columbian coffee, boom boxes, bouncy houses, and 3D paperboard toys have in common?
They're all licensed products joining the growing PBR family.
Here's a brief breakdown of these great additions to the expanding PBR licensing portfolio.
Red Ranger Coffee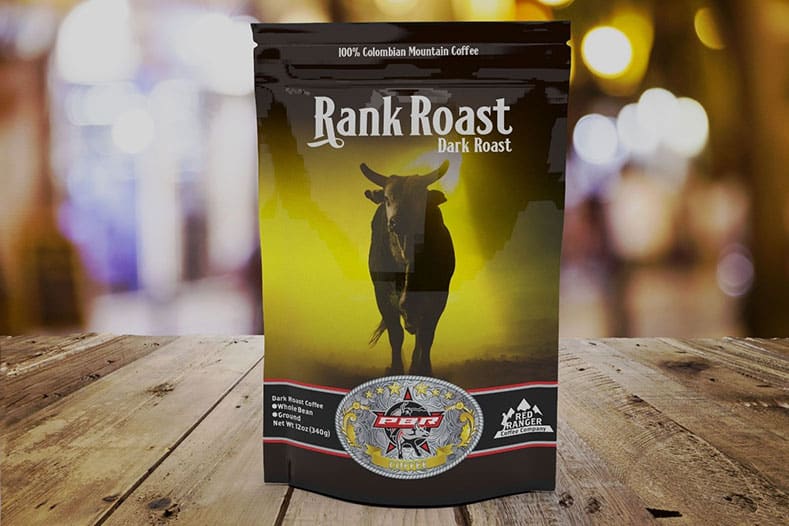 PBR and Red Ranger Coffee Company are brewing league-branded "cowboy coffee" under brand names including Gold Buckle Blend, Rank Roast, Out of the Chute Breakfast Blend, and 8 Second Rush Espresso Roast.
Red Ranger Coffee sources its coffee in a way that's much different than traditional coffee roasters. They work with their own farms – exclusively run by women – in the beautiful mountains of Colombia, where the U.S.-based Red Ranger Coffee Co. has family living and working.
This unique "origin-produced" coffee from the finest coffee-growing part of the world is hand-harvested and immediately roasted, resulting in a delicious cup every time while increasing the direct compensation to the farmers who grow and cultivate this unique product.
In fact, as one of the only coffee companies in the world pursuing "origin production," Red Ranger Coffee's female growers receive three to four times more revenue than traditional sourcing models channel to farmers.
"PBR has been a very strong supporter of women's rodeo and greater opportunities for all female athletes, so we're especially gratified that our new coffee is sourced from women-owned farms," said John Sohigian, VP of Consumer Products, PBR.
Fans can purchase the PBR coffee at www.PBRcoffee.com. Later this year, the cowboy coffee will be available at PBR's online shop and various retailers across the country.
Brave the Bull Bouncer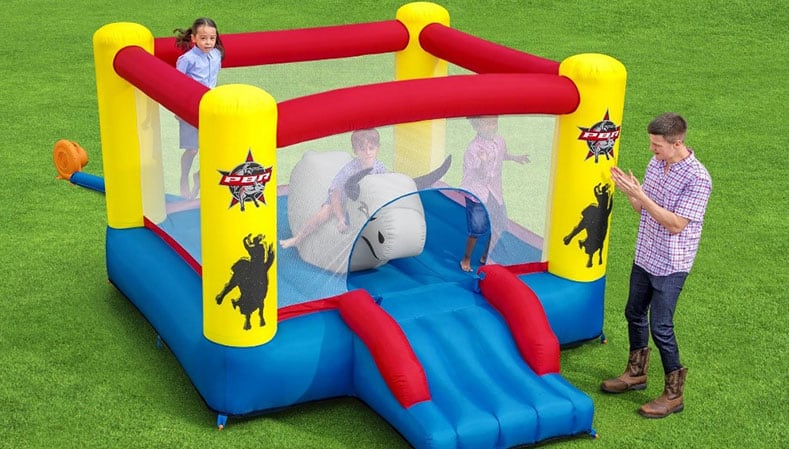 PBR has partnered with Bestway® to release the Brave the Bull™ Bouncer, a new inflatable bounce house with a bull in the middle that bounces and bucks as kids jump around on it. There's even an 8-second clock built in so they can "play PBR."
"With plenty of built-in convenience and safety features, parents will love the bouncer just as much as the kids will," Sohigian said. "The bouncer quickly goes from box to backyard party, with the included blower inflating it in less than two minutes."
Brave the Bull is built cowboy tough, with durable double-stitched fabric and mesh safety walls, so even the rowdiest group of buckaroos will have safe fun bucking and sliding all day long. With only one opening for entry and exit, it's easy to keep an eye on the most rambunctious kids.
Brave the Bull Bouncer, for kids ages 3 and up, is available on PBRShop.com, Walmart.com and will also be sold at Academy and Big 5.
PBR Bumpboxx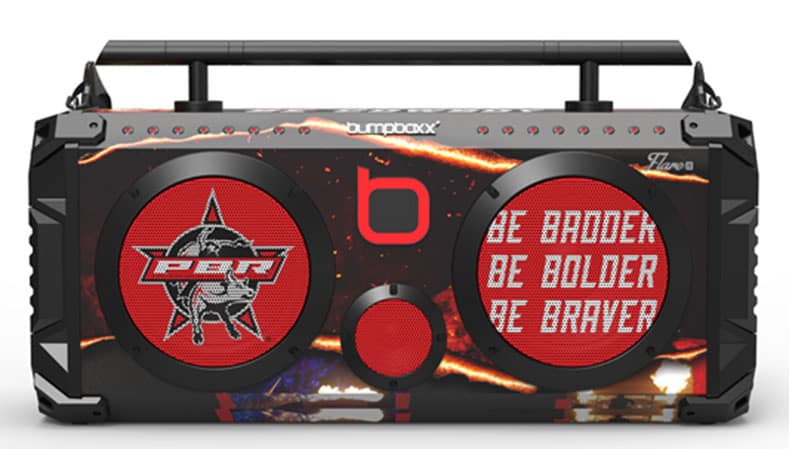 Anyone who's been to a PBR event knows music is a key part of the experience. At Unleash The Best events, PBR brings in about 135,000 additional watts from speakers trucked into each venue.
And now the sport that loves to crank it up has its own boom box.
Cranking up to 200 watts, the PBR-branded Bumpboxx Flare8 Bluetooth Boom Box packs some serious punch with two 8" woofers and a 3" tweeter for 118 dB. It looks as good as it sounds with art including the PBR World Championship trophy and buckle, American flag, PBR logo and the #BeCowboy mantra "Be Badder, Be Bolder, Be Braver."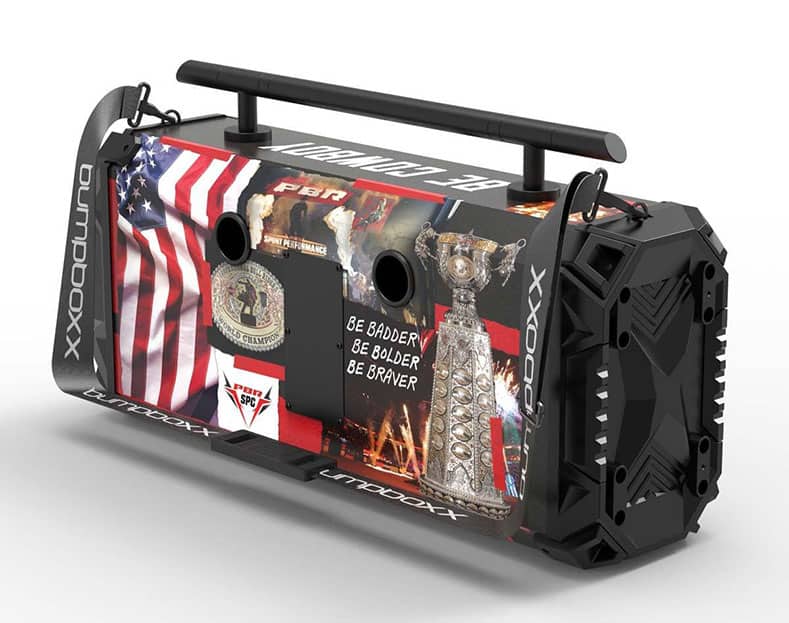 "Bumpboxx" also connects the sport with agrarian roots to an urban lifestyle. PBR joins UFC, DMX, Notorious BIG and MLS as the newest license for Bumpboxx.
This blast of nostalgia with the latest audio technology is available at Bumpboxx.com and PBRShop.com.
Cubles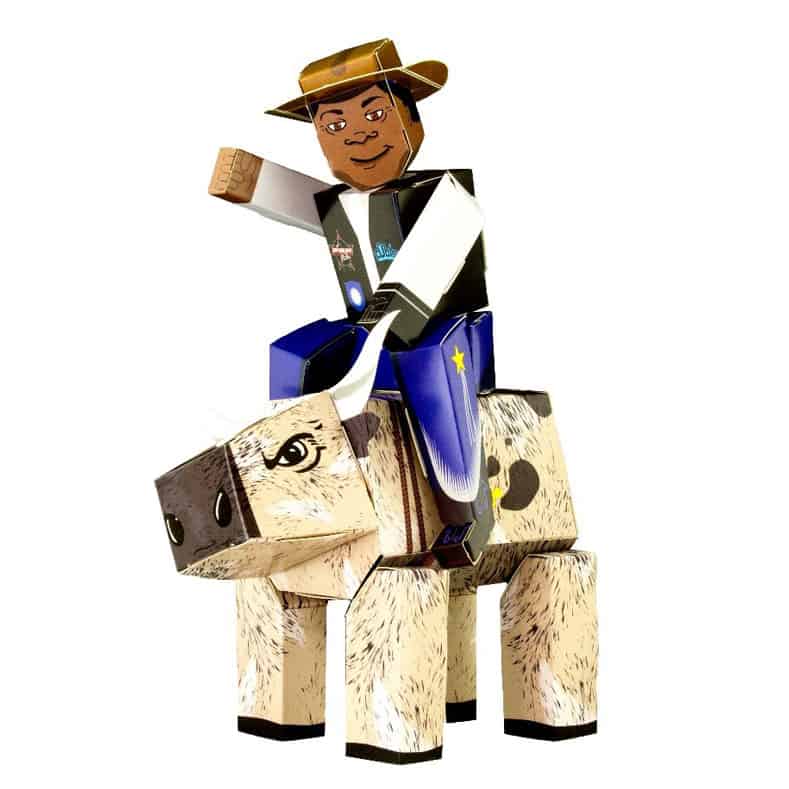 Through a partnership with Cubles, a Minnesota-based company that has turned 3D paperboard characters into a fun-filled play category and fan collectible, fans now can purchase bull riding-themed card stock figures.
Described as "where a puzzle meets origami," Cubles are challenging fold-and-snap-together three-dimensional toys that don't require scissors, glue or tape. The 3D mash-up of puzzles, origami, action figures and collectibles are made in the USA and 100% recyclable,
Each bull and rider PBR Cubles is highly detailed with 30 pieces and articulated to create a bucking action. A western arena-style diorama included with each set helps set the scene for the PBR Cubles, putting the rider and bull in the middle of the arena's action.
The Cubles PBR lineup is comprised of: Johnny Hollywood riding Afterburn; Laramie Larry on Turbo Twister; Mean Manny aboard Blackie Bad Wreck; and T.N. Tina riding Strike Force.
Cubles, recommended for ages 6 and up and priced at $15 each, are built with color-coded and numbered instructions. For every tree used to make Cubles, the company plants 100 more.
The PBR-branded line of four collectible paper craft collectibles is available on PBRShop.com, Cubles.com and select retailers.
© 2021 PBR Inc. All rights reserved.