PBR Pick 'Em Morning Line – Cheyenne Round 2
By: Slade Long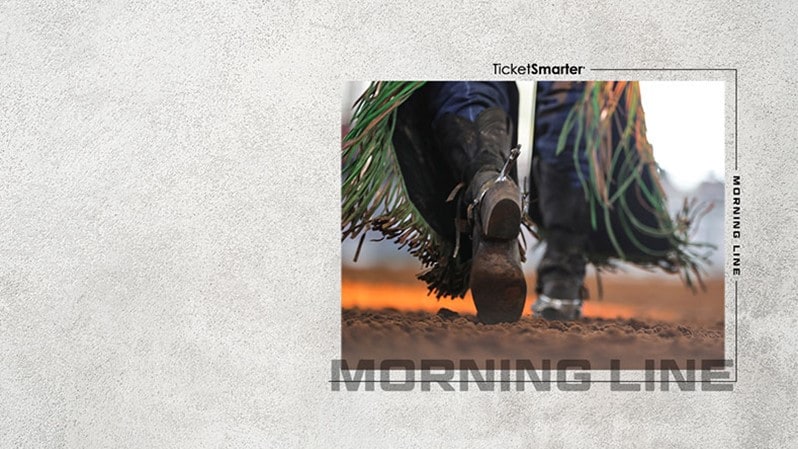 Boudreaux Campbell on 124 Woopaa:
This is certainly the wow factor matchup in this round. Woopaa is hands down the best bull going right now, but he's far from the hardest to ride. He's kept a relatively light schedule this year, but he's a heavy favorite to win World Champion bull in Vegas this fall. The key factor here is that while Woopaa's moves and athleticism are off the charts, he has good timing and can be vulnerable to left-handed riders. Campbell rode him in Kansas City earlier this year for 95.5 points. Before that, Jose Vitor Leme rode him twice for 95.75 points and 94.75 points. At least two of those three rides arguably should have broken the PBR's highest-ever score of 96.5 points. That record is in jeopardy every time Woopaa leaves the chute, so don't miss this matchup.
Chase Dougherty on 72 Hundred Bad Days:
Dougherty looks like the favorite in this matchup on paper, but there's a catch. Dougherty has been riding well this month. Hundred Bad Days is 2-3 against left-handed riders. The catch is that all three rides made on him are by Jose Vitor Leme. Leme has ridden him three times this season, each time for 91 points or more. The problem with the odds is that just because Leme can ride a given bull doesn't mean anyone else can. This won't be a slam dunk for Dougherty, but it is still a good draw, and he has a chance to get a big score here.
Kaique Pacheco on 612 Ridin' Solo:
During the 2020 World Finals, Ridin' Solo and Woopaa – both 4-year olds – went head to head for the ABBI Classic title. Woopaa won by 0.6 points. This year they will likely battle it out again for PBR World Champion Bull in Las Vegas. Solo has been outstanding this year, and he has the same kind of athleticism Woopaa has. Cody Teel was 91.25 points on him back in May, and Cooper Davis was the same on him in January. This won't be an easy matchup for Pacheco, but it is winnable and will be exciting one way or the other.
Jose Vitor Leme on 628 Drago:
Leme is the best rider in the world right now, and despite the back and forth in the standings this season, it isn't that close. His numbers for this season are better than his numbers from 2020, but that's only one way to look at it. At any given single event, Leme has much better odds of success than any other rider. Leme has about a 38% chance at a qualified ride in this matchup, which is the fifth-highest probability in the round. But, he would have a higher probability number against every other bull in the round. This is the toughest bull he could have drawn. The same situation happened in Las Vegas and again last night, and Leme won both matchups. Few PBR riders would overcome drawing as tough as possible two rounds in a row, but the draw is not as important for Leme as it is for most guys. He just dominates whatever they run in there. This is not Leme's round to win or even stay on, but don't bet against him.
Cody Teel on 43C- Chiseled:
Teel had this bull in September of last year and bucked off. But this is a very good matchup for him. Chiseled is a former ABBI Classic Champion and was the PRCA bull of the year in 2020. He's also very vulnerable to right-handed riders. He was ridden in four straight outs earlier this year. Teel has a very good shot and could turn in a huge score.
Daylon Swearingen on 60 Midnight Rock:
This bull is worth keeping an eye on. He looks like he should be helping guys rack up 90-point rides, but he has a little extra that has kept him unridden in his last 12 UTB outs. Swearingen has had a pretty good month of July, but the odds are against him here. This bull should be a better fit for right-handed riders, and Swearingen is a lefty.
Cody Nance on 262 Oilfield Outlaw's Yellow Feather:
Nance rode his first-round bull for 88 points and has a chance to go even bigger here. Yellow Feather has a lot of power, and he can be tough to ride. He does like the left, which works in Nance's favor. Joao Ricardo Vieira was 88.5 points on him earlier this season, but he's the only man to have ridden this bull in 11 career outs.
Keyshawn Whitehorse on 608D Flight Risk:
This bull has been busy lately. J.B. Mauney was 91 points on him a week ago to win a rodeo in Spanish Fork, Utah, and Claudio Montanha Jr. was 90 points on him in Salt Lake City a couple of days later. Flight Risk can be tricky, but he's a good draw for Whitehorse in this round.
Cooper Davis on 623 War Dress:
Like Leme, Davis would have had better odds against most of the other bulls in this round. War Dress is 7-0 in his career, and on paper, he is one of the tougher bulls in the round to ride. Davis had the best odds of a qualified ride in Round 1, and he converted that to 91 points and a round win. If he's going to challenge Leme for the title, he will have to convert when the numbers aren't on his side too.
Jesse Petri on 57 Diddy Wa Diddy
Petri has a big opportunity here. This is one of the best bulls he could have drawn. Diddy Wa Diddy is not a pushover, but he's given up three 90-plus-point rides to left-handed riders this season, and he's only faced three lefties.
© 2021 PBR Inc. All rights reserved.