Q/A: PBR Commissioner Sean Gleason Discusses 2022 PBR World Finals
By: PBR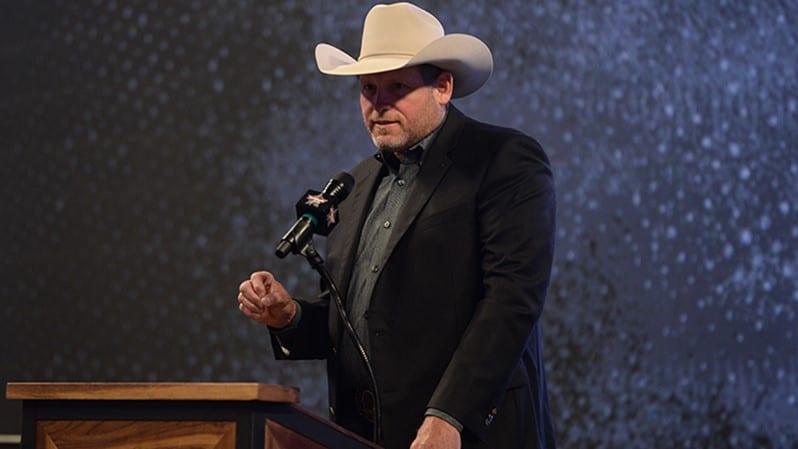 PUEBLO, Colo. – On the heels of the PBR's major announcement that the 2022 PBR World Finals will be held in Fort Worth, Texas, putting the league's championship in a Super Bowl-like environment, PBR CEO & Commissioner Sean Gleason took the time to answer some of the questions that have come up following the groundbreaking news that sets the sport on an even greater path for growth.
If you haven't read the full details of the announcement yet, you can learn about the 2022 World Finals and the exciting changes that are in store for fans HERE.
Why move PBR World Finals to Fort Worth?
Fort Worth will be to PBR what Daytona is to NASCAR. It's the heart of cowboy country and the place where we should be holding the most significant event in our sport — the PBR World Finals.
Is it true that PBR is struggling financially and made this decision to cut costs?
Nothing could be farther from the truth. Despite the challenges of a worldwide pandemic, PBR is having a great year. If we were struggling financially, we wouldn't be in a position to make this exciting move on behalf of our fans, riders, and our business.
I've heard PBR is making this move based on a financial offer?
The decision to move the PBR World Finals to Texas was not predicated on any near-term financial considerations to our business whatsoever. We made our decision without subjecting it to a bidding process and didn't entertain any other offers available that may have been more financially lucrative in the short term. We believe that the long-term opportunities of establishing the PBR World Finals in Fort Worth will benefit our fans, riders, and business, and we decided to move without an immediate financial incentive to do so.
Some have said PBR is making this decision at the expense of our fans. What is your response?
We made this decision with fan interests at the forefront. The window (period of time) that we have to conduct the PBR World Finals in Las Vegas has historically been one of the busiest times of the year, with major conventions and events consuming arenas, convention space, hotel rooms, rental cars, and other travel services. And Las Vegas now has two professional sports teams competing in the November timeframe in addition to the already busy schedule. I am confident that our fans will enjoy the PBR World Finals in Fort Worth more cost-effectively, have similar entertainment options and experiences centered around the western lifestyle, and the overall experience will be more enjoyable.
Should PBR have chosen someplace other than Fort Worth?
Why? Fort Worth is the perfect home for the PBR World Finals. It's a rising city undergoing an incredible transformation with infrastructure investments in places like the historic Stockyards, the Will Rogers complex, Cowtown Coliseum, downtown, and other areas of the city. Everything they are doing to rebuild and expand has been painstakingly planned to preserve the rich heritage and history of Cowtown USA. Fort Worth is committed to maintaining its position as the epicenter of cowboy culture and the western lifestyle. PBR is part of this cowboy renaissance, and fans will be along for the ride.
But isn't PBR moving into a smaller venue a bad thing?
One of the biggest challenges of making this move is reducing the seating capacity at T-Mobile Arena from roughly 16,000 to a seating capacity of approximately 10,000 in Dickies Arena. If we were making this decision purely for financial reasons, that would have been a significant obstacle to choosing Fort Worth as the home of the PBR World Finals. But again, we put the experience for our fans at the forefront of the decision. Dickies Arena was purpose-built to host western sports events; it's an incredible, world-class facility. There isn't a bad seat in the house, and smaller capacity means a more intimate and enjoyable experience for the fans in attendance. As the PBR World Finals continue to grow in the DFW area in future years, we have many options to increase seating capacity and availability for our fans that have all been contemplated and planned.
Why did PBR go to seven performances over two weekends?
We have extended the World Finals format to seven performances, making 70,000 total seats available compared to 80,000 available at T-Mobile Arena over five days. One of the main reasons we extended from five consecutive days to seven performances over two weekends (Fri/Sat/Sun and Thu/Fri/Sat/Sun) was to increase the available seating capacity for those who want to attend and enjoy the PBR World Finals experience. PBR has offered this same format in previous years, with three performances at Mandalay Bay and four at Thomas & Mack. We also decided in consultation with the top PBR riders who appreciate more rounds – and time off to recover in between – given the amount of prize money available and the fact that more rounds give them a better chance to recover from an off day/round.
Fans are sure going to miss Las Vegas. Does this move mean PBR is unhappy with Las Vegas?
This year's World Finals in Vegas will be more of a graduation party than a divorce. We're moving our premier series Championship event in 2022, but Las Vegas' role in PBR's history should be celebrated and revered. PBR would not be nearly the sport we are today if not for the support of Las Vegas over the past 28 years.
And that history will continue to be made. The PBR still loves Las Vegas…and won't be leaving. As we mentioned in our press release, we will announce marque event(s) scheduled for Las Vegas, most likely in the Fall every year.
For those who love visiting Las Vegas and enjoy some PBR while in town, we will have an option for you. For those who love attending the PBR World Finals and find that Vegas adds a few benefits to the entertainment experience, I assure you that the PBR World Finals in Fort Worth will exceed your expectations for an overall experience. In other words, if you like going to Vegas and PBR was an excuse – you'll have it. If you are a fan of PBR who enjoys the best bull riders competing against the best bulls for a gold buckle after a long, grueling season of competition – Fort Worth will be the place for you.
Should PBR World Finals be in a larger venue and not Dickies Arena?
The venue and amenities are spectacular and purpose-built for western sports and western sports fans. We have countless options in and around the arena to provide entertainment, shopping, activation experiences, and we intend to provide a broad curated PBR experience.
As the PBR World Finals are established in Fort Worth and Dickies Arena, we've planned for growth if warranted. We are also confident that those who do attend will have incredible seats regardless of location – an intimate and highly enjoyable experience because there isn't a bad seat in Dickies Arena for the PBR World Finals.
By choosing a smaller arena, PBR must be cutting back on prize money and other costs?
On the contrary, there will be no reduction in prize money for the PBR World Finals event or the season-ending bonuses. In fact, we're adding two rounds of competition to the format, which immediately increases the total prize purse available for the World Finals event.
And as always, as our fans and corporate partners continue to support us, we will continue to increase the prize money available to the best bull riders and stock contractors in the world.
With fewer seats available, prices must be going up?
Fans who have supported us over the years will have an opportunity to buy tickets and pick their seats first. Also, we are not looking to increase the prices they paid for previous PBR World Finals performances. If you paid $100 per performance in Las Vegas, you could expect to pay the same in Fort Worth for the 2022 PBR World Finals. However, those buying for the first time may see nominal increases in some price levels compared to current 2021 prices, but we intend to give a plan for every fan.
How much will tickets cost and when can I buy them?
We will announce prices and seating options for the 2022 PBR World Finals later this Fall. We are working with the venue and select partners on a few final touches for unique seating options. Current World Finals Series ticket holders, who have held seats at some point in the last three (2019-2021) years, will be able to select their seat location and purchase their tickets starting at the PBR World Finals in Las Vegas this November. The order in which fans can choose their seats will be based on their longevity of purchasing PBR World Finals tickets, the number of tickets purchased, PBR Rewards membership, Dickies Arena club seat standing, among other factors. Those not on-site in Las Vegas will have the ability to select seats by phone. And, we are working on a few in-person select-your-seat events inside Dickies Arena. You must provide our team with the correct contact information to get the latest news. Fans who are interested in purchasing seats for our inaugural World Finals in Forth Worth can join the priority list by logging onto pbr.com.
What do the PBR riders think of the move?
The top bull riders in the world are excited and supportive of the move to Fort Worth. Texas is home to many of our PBR riders and closer to home for dozens more. Being closer to home and families will make it easier on our riders to compete and enjoy their PBR World Finals experience. The riders also understand the long-term growth opportunities that a Fort Worth-based Finals offers, translating into more prize money available for the best bull riders in the world.
You said that PBR is a sport for cowboys. What about the rest of us?
There's no "us" versus "them" in PBR. Our Be Cowboy campaign makes that clear. It's not what you drive, what you ride, what you wear, where you live, what you do for a living, your race, your gender, your ethnicity, or any other aspect of your life that defines you. It's how you live your life. If you believe in cowboy values and respect the history and heritage of our great country, then you ARE a cowboy. I can also argue that you have to be a bit of a cowboy or cowgirl if you appreciate the sport of bull riding and love our bull riders and bulls competing on dirt week in and week out for your enjoyment. It takes a cowboy to appreciate a cowboy!
What new experiences can we expect at Dickies Arena?
We will work with the venue and our partners to design custom experiences that highlight the prime premium seating locations and integrate legendary pre- and post-performance events.
What can we expect in and around the Fort Worth area?
We're planning a host of consolidated activities at Dickies Arena and the Will Rogers complex, which Dickies is a part of. The historic Stockyards district will be a hub of activities. The PBR Bar, the flagship of our nationwide chain of cowboy bars, is located right in nearby Arlington at the spectacular Arlington Live! Shuttle service will be available throughout town to help every fan get to and from the various locations of official PBR activities and events.
Will there be other events and activities besides the World Finals performances?
The real estate provided inside Dickies Arena is allowing our team to get creative. Our goal is to create one of the largest sports festivals in western sports, and Dickies Arena, Simmons Bank Plaza/Pavilion, the Fort Worth Stockyards, Will Rogers, and other locations will take center stage for pre- and post-performance festivities for the entire family! Also, we will have numerous other events, championships, and activities throughout Fort Worth, including the WCRA, WRWC, Bill Pickett Invitational Rodeo (BPIR), barrel races, other western events. There will be a range of great music, entertainment, meet & greet, shopping, sponsor activations, and more. Fans will have more to do that's western-themed and more interactions with riders and stock contractors.
What does the Fort Worth Stockyards bring to the experience?
Fort Worth is the epicenter of cowboy culture and western heritage. The Stockyards are the heart and soul of that culture. It's a booming city that's benefitted from investments in development and has lots of new restaurants, bars, and shops. PBR also announced earlier this year a new partnership to program Cowtown Coliseum with dozens of events at this iconic arena where PBR got its start. Cowtown was the first indoor rodeo site, and it will be a central venue for the other events surrounding the PBR World Finals.
If the season ends in May, what happens to the traditional second half? Will there be any PBR events from June to October following the 2022 PBR World Finals until the 2023 season begins?
There will be exciting new PBR events during the summer and fall premier series offseason, announced in the coming months. Our bull riders, stock contractors, and independent contractors rely on PBR events to provide for their families. We are responsible for creating more of those opportunities for our riders and contractors. In turn, this will also lead to more events and content for our fans to consume.
I don't mean to be coy about our full slate of exciting plans. We know fans are eager to hear everything immediately. We are taking a strategic approach to finalize our plans. Then we will be sharing with you new "second-half" PBR events and opportunities for fans to watch PBR action live and in-person beyond the PBR's elite series. We are confident that when the full plan is unveiled, fans will be thrilled.
© 2021 PBR Inc. All rights reserved.