Daylon Swearingen – Rochelle, Ga. ($111,837)
First-time WNFR qualifier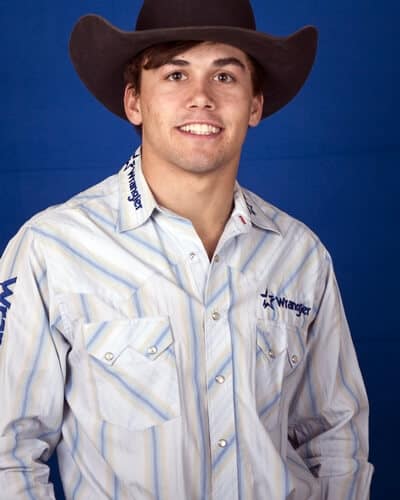 It's been 20 years since anyone qualified for the College National Finals Rodeo, the Professional Bull Riders World Finals and the Wrangler National Finals Rodeo.
Corey Navarre competed at those three events twice in 1998 and 1999. Daylon Swearingen will do it this year and he will compete at his first NFR as the reigning National Intercollegiate Rodeo Association bull riding champion. His trip to Las Vegas for the PBR World Finals resulted in a 13th place finish in their standings.
He'll start the NFR in 14th with $111,868. Just about a year ago, he got his PRCA membership card and set a goal to win rookie of the year. Along the way he wanted to qualify for the NFR, figuring that if he made it to Vegas, the rookie would take care of itself.
The bull riding rookie race may be just as exciting as the fight for the gold buckle. Daylon is currently second behind Stetson Wright and Trey Kimzey who will start the NFR in 15th is close behind Daylon.
He won the National High School Rodeo Association bareback riding title in 2018. He then elected to start school at Panola Junior College in Carthage, Texas, where the coach is 2000 world champion bareback rider Jeffrey Collins. Daylon made a commitment to be there two years, so this fall along with trying to qualify for the NFR and going to PBR events, he was also competing in college rodeos.
He wants to be known as a man of his word and regardless of how much money he wins in Las Vegas, he'll be back in classes this spring working towards and associate degree in Land and Ranch Management.
He's come a long way from Piffard, New York where he grew up putting a bareback rigging on ponies and steers. His family owns Rawhide Rodeo Company, putting on rodeos in the northeastern United States and across the border into Canada. The family made their way to Las Vegas to watch him for six rounds of PBR action. Now, they are ready to see him go against 10 great bulls in the PRCA in the yellow bucking chutes of the NFR.