CoBurn Bradshaw – Beaver, Utah ($89,325)
4-time WNFR qualifier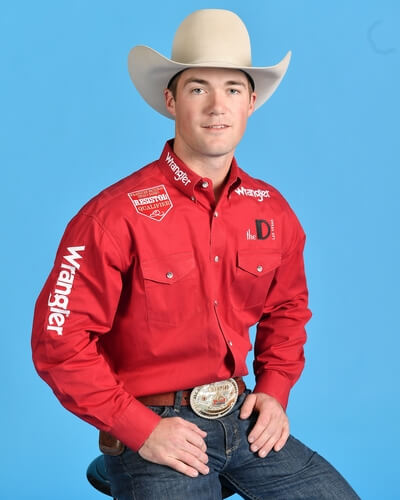 CoBurn Bradshaw is a man of few words, but since joining the PRCA in 2015 he has let his feet do the talking. He has spurred his way to four consecutive Wrangler National Finals Rodeo qualifications and in his first three, the lowest he has finished in the standings has been fourth.
That was the same year he got his PRCA card and won the Rookie of the Year in saddle bronc riding. The first time he rode in the Thomas and Mack Center, he started in 14th, won two rounds, placed in four more and finished fourth overall and in the world standings.
The next year he started in second and dropped on place. Last year he started and finished in third place. This year, he is starting in 11th and if he could move up 10 spots like he did in 2015 he would win his first gold buckle.
CoBurn feeds off of his traveling partners and when one of them is riding well, it inspires the rest of them to do even better. And what traveling partners he has. His wife, Rebecca, is a sister of Cody, Jake, Jesse, Alex, and Spencer Wright. CoBurn has been traveling this year with Jake, Jesse and Alex. Jake will also be competing at rodeo's championships.
The family of bronc riders has grown so much that they now travel in two groups. Rusty and Ryder, Cody's sons are in another rig and have also qualified for this year's NFR.
Planning on adding to his $89,325 in regular season earnings and provide for his growing family is the best incentive CoBurn has. Just a few days before his 28th birthday, Rebecca gave birth to their second son, Audy. Their oldest is a daughter, Vaida and son, Lafe, is now in the middle.
While nothing in rodeo is for certain, it is highly likely that more than one of these family members will win some rounds in Las Vegas and could easily take the gold buckle home to Utah. And with CoBurns success in Las Vegas in the past, it certainly could be him.
Presented by: