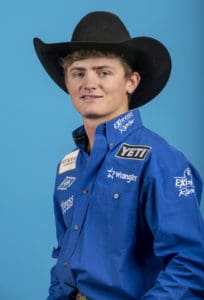 Name and Hometown: Ryder Wright – Milford, Utah
5-time Wrangler National Finals Rodeo Qualifier
1-time world champion
Joined PRCA: 2016
Regular Season Earnings: $111,336
Starting 2020 NFR in 2nd place
Major regular season wins:
• The American Rodeo (Arlington, Texas, 2nd), $25,000
• Fort Worth Stock Show & Rodeo (6th), $6,520
• San Antonio Stock Show Rodeo (5th), $6,250
• World's Oldest Rodeo (Prescott, Arizona, 2nd), $4,531
• Dodge City (Kansas) Roundup Rodeo, $5,616
• Home on the Range Champions Ride (Sentinel Butte, North Dakota, 3rd) $4,208
• Golden Spike Bronc Riding Classic (Tremonton, Utah) $4,089
• Range Days Rodeo Xtreme Broncs, $17,905
Fun Facts about Ryder: Just five years ago, he was the champion in the National High School Rodeo Association. The next year he qualified for his first WNFR and won every round that he placed in. In 2017 he won the gold buckle given to the world's best. In 2019, Ryder was in the lead of the competition going into the WNFR, but a disappointing finals saw him drop to 12th. He is anxious to win another gold buckle to join his father as a Wright family member with two world championships. His dad Cody won them in 2008 and 2010. Ryder and his wife, Cheyenne, have one daughter, Bexley. He will be competing at Globe Life Field with his brothers Rusty and Stetson.