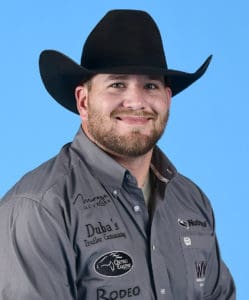 Name and Hometown: Jacob Talley – Keatchie, Louisiana
3-time Wrangler National Finals Rodeo Qualifier
Joined PRCA: 2010
Regular Season Earnings: $61,623
Starting 2020 NFR in 2nd place
Major regular season wins:
• Fort Worth Stock Show & Rodeo, $25,640
• World's Oldest Rodeo (Prescott, Arizona, 2nd), $4,545
• Pro Tour Finale (Rapid City, S.D.), $9,801
Fun Facts about Jacob: He has qualified for the WNFR every other year since his first in 2016. In 2017 he shattered his mouth. Last year he was sitting good in the standings after the winter rodeos. Then he tore his pectoral muscle at the Red Bluff (California) Round-Up. He got back in time to compete at the legendary Calgary Stampede where he finished second, but the injury took a toll on his season. Much of his success has come aboard a mare named Baby Doll owned by Sam Dixon that Will Lummus is also riding. Jacob worked at his family's water well drilling business and stayed in shape by spending time in his mother's gym during the pandemic. He is having the best year of his career and along with horsepower, eating healthy and working out are contributing factors.