Ty Erickson – Helena, Mont. ($146,081)
6-time WNFR qualifier
2019 World Champion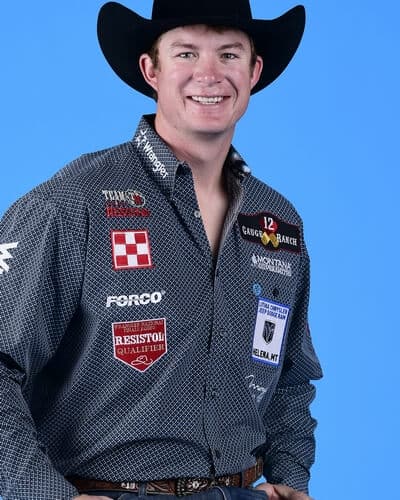 Ty Erickson has had the best regular season of an eight-year career that has seen him win over $1 million. And, he's not slowing down one bit.
He started the year off with a win at the National Western Stock Show in Denver last January. The end of February found him second in the world standings. Then he headed to RFD-TV's The American and magic happened.
Ty won the event in 2016, but the money didn't count towards the world standings and as soon as he was through competing, he had another rodeo to get to. This year, he showed up excited to compete and because the money counted had a little extra incentive. It all worked in his favor. He won the title and $100,000, half of which counted toward the world standings. He moved into first place and has held that position through the rest of the season.
He will start his sixth Wrangler National Finals Rodeo with $146,080 in regular season earnings. It's not the first time that Ty has started the NFR in first place. He did the same in 2016 and 2017. In 2016, he dropped to seventh, and in 2017 finished as the reserve world champion.
Last year he earned over $80,000 in Las Vegas and finished the season in eighth place. All of Montana is hoping that this will be the year he will bring the gold buckle home. He would be the first representative of the "Treasure State" to earn that buckle in the history of the NFR and the first on record since Bill Linderman won it in 1950.
No one is hoping that happens any more than Ty's wife of one year, Cierra, and their families. He has a special needs brother Josh who is older that is his biggest fan. Josh has a pretty big fan club of his own. Known as "Juice," he has made friends with many rodeo contestants and no matter what happens in the arena, Juice can always put a smile on Ty's face. He is also the reason that Ty is first to volunteer for the Exceptional Rodeos.
Some of Ty's success this year has come aboard a new horse "Crush" that he has been training and seasoning. The patience to get a horse to a level to compete on at pro rodeos, the never give up attitude and support of family, friends and fans has Ty doing what it takes to get the job done. His signature hashtag #Dowit appears on his social media posts and is constant reminder.
When he rides into the Thomas and Mack center carrying the Montana flag for the grand entry, he will have several other Montanans riding behind him and a whole state hoping for the best.