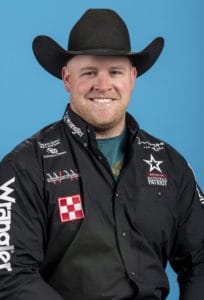 Name and Hometown: Will Lummus – Byhalia, Mississippi
3-time Wrangler National Finals Rodeo Qualifier
Joined PRCA: 2012
Regular Season Earnings: $40,279
Starting 2020 NFR in 13th place
Major regular season wins:
• Fort Worth Stock Show & Rodeo (brackets and semifinals), $6,080
• Cody (Wyoming) Stampede (3rd) $4,988
Fun Facts about Will: This is his third consecutive WNFR qualification. In his first he placed in seven rounds including winning round 5. He finished third in the WNFR average and third in the world standings. After the 2018 rodeo was over, he bought the steer that he won round five on, named him Cinco and took him home to live the rest of his life in Mississippi. Will's wife, Jenna, works as a pharmacist. His father Luke ranches and works for the county and his mother is an accountant. His siter is a nurse practitioner and Will has a bachelor's degree in exercise science and wellness and his Physical Therapy Assistant certification.