Clay O'Brien Cooper – Gardnerville, Nev.
29-time WNFR qualifier
7-time World Champion
4-time RNCFR Champion
10-time RNCFR qualifier
4-time WNFR Average Champion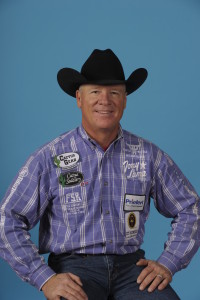 Clay O'Brien Cooper's career would make the Energizer Bunny cringe.
He has qualified for his 29th Wrangler National Finals Rodeo (WNFR) in second place behind Jade Corkill. Clay qualified for his first WNFR in 1981. Jade was born seven years later.
To say that he has had a huge influence in the arena would be an understatement. Roping with Jake Barnes, he won seven world titles. Speed Williams and Rich Skelton set a goal to beat that record and they did. Records were made to be broken and without Clay's success today's heelers would not have as much to reach for.
His influence outside of the rodeo arena has been wide-spread as well. After winning his first world title, he realized that with that gold buckle came great responsibility and has worked to live up to that responsibility since then. His faith in God and willingness to share it has given him opportunity to speak at churches across the country.
This year his journey has included Derek Begay as his partner. He had a very successful WNFR last year roping with Aaron Tsinigine when his regular partner Chad Masters missed the cut. They won a round, finished third in the average and Clay jumped from 14th to third in the world standings.
He and Begay have talked about roping together for years and when the talk turned to action they started winning. Their big win this year came at Rodeo Austin last March. Roping with Clay has been a something Derek dreamed of since he was a child.
Growing up in southern California, Clay was a childhood actor appearing in several movies and television shows. His most well-known role was in The Cowboys with John Wayne. He has two daughters, Bailey and Quinn. He and his wife Alisa make their home in Gardnerville, Nev.