Sterling Smith – Stephenville, Texas ($79,083)
3-time WNFR qualifier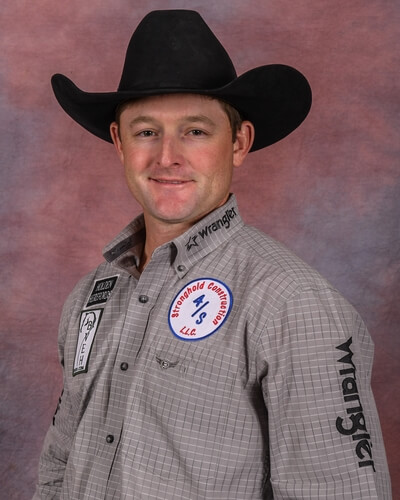 When Sterling Smith isn't on the road competing, he stays busy working with his family's construction company and on their ranch. It was almost his undoing this year.
He has competed at rodeo's Super Bowl, the Wrangler National Finals Rodeo twice and was hungry to get back there again. The last time he rode his horse into the Thomas and Mack Center was 2015. He finished 22nd and 27th the next two years respectively.
This year got off to a good start with a win at the very competitive RAM Texas Circuit Finals. By the end of March, he was among the top 15. The horse that he was riding, Pepto owned by his girlfriend, Cassidy Boggs, had been working well and things were working in his favor.
He made history at the 122nd edition of the Cheyenne Frontier Days Rodeo in Wyoming on July 23rd in the tie-down roping in less than ideal conditions. Sterling made a picture-perfect 9.4 second run to set a new arena record.
Cheyenne's arena is big, so are the calves and so is the start. The timed-event cattle get a 30-foot head start that can be very nerve racking and adds seconds to a run. Sterling's time was a half a second faster than the previous record that had been set on three different occasions.
He had a solid run in the second round and qualified for the rodeo's finals. He had a chance to do something that no member of his family ever had – win a buckle from the "Daddy of 'em All."
Things didn't go exactly as planned but he finished third, won $14,061 and moved to sixth in the world standings. After he set the record, the first person he called was his dad, Brad Smith, who won the team roping world championship in 1978. His mom, Barrie is also a WPRA world champion roper.
The glory didn't last long and soon he was on to the next rodeo. He had a break the first of August after Dodge City, Kansas, and headed home. He was putting feed out at the ranch, somehow got his hand mangled and had to sit out for three weeks and watch his name fall in the standings.
After skin grafts and time off, he came back the end of the month and got to using his right hand again. He won $5,822 the end of the season and will enter his third NFR in 14th place with $79,083.
Presented by: