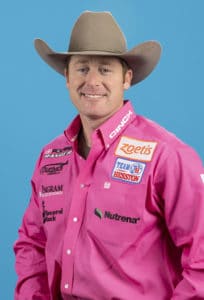 Name and Hometown: Tyson Durfey—Brock, Texas
1-time world champion
14-time Wrangler National Finals Rodeo Qualifier
Joined PRCA: 2003
Regular Season Earnings: $47,293
Starting 2020 NFR in 12th place
Major regular season wins:
• Fort Worth Stock Show & Rodeo (3rd), $12,560
• Rodeo Houston (Bracket 1), $7,000
• Cody (Wyoming) Stampede (4th), $5,939
• Pro Tour Finale (Rapid City, South Dakota), $8,505
Fun Facts about Tyson: He has the distinction of having the most qualifications of any of the tie-down ropers in this year's field at 14. He finished third in the world standings in 2019 after placing in seven of the 10 rounds and finishing second in the WNFR average. In 2013, he married Australian Shea Fisher. The couple has two daughters and are busy entrepreneurs as well. He is using his rodeo experiences as a platform to encourage others and has nearly half-a-million Facebook followers.