Amberleigh Moore – Salem, Ore.
1-time WNFR qualifier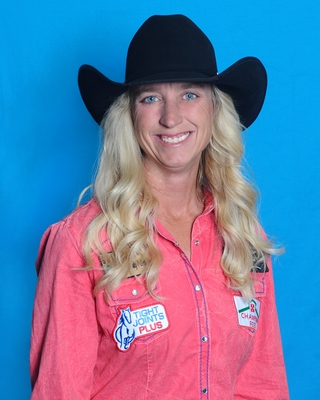 Setting goals, working towards them, achieving them and then setting new goals has gotten Amberleigh Moore to her first Wrangler National Finals Rodeo (NFR).
Although she has only been a member of the WPRA since 2015, she is a veteran barrel racer and horsewoman that has been competing all of her life. She grew up on the back of a horse competing alongside her parents at play days.
The turn of the century saw her move into the futurity game, training and competing on barrel racing horses. When CP Dark Moon "Paige" came into her life, that changed everything. Amberleigh bought the mare as a green three-year-old. She started campaigning her and felt like she would make a good rodeo horse.
She waited to join the WPRA until she had a horse that she could hold her own amongst the best with. That was a decision based on her very competitive nature. She didn't want to just play, she wanted to play and win.
She qualified for the Columbia River Circuit Finals and won the circuit's Rookie of the Year in 2015. This year she decided to set her sights a little higher. She won rodeos in her home state at Sisters and Union in June and the checks started coming in.
One month before the end of the season, she was still $10,000 out of the top 15, but with success at the Washington State Fair Rodeo she felt like she had a chance and made the late season push to qualify.
Amberleigh held off Taylor Jacobs by just over $3,000 to earn the final spot of the NFR qualifiers. She and Paige will enter the rodeo with $79,068. She also has a custom tack business and is involved in her family's business Emerald Outdoor Living. She has depended on her husband Paul and daughter Keirstin while she has been burning up highway miles. Now they will all celebrate one more goal accomplished in December.