Bob Feist Invitational | Live Stream presented by Bloomer Trailers
Upcoming live video coverage from Reno; Monday, June 18th thru Thursday, June 21st.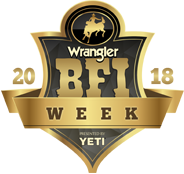 The Most Anticipated Monday of the Year!
DAY SHEETS
Who puts on a team roping on a Monday? "I told rodeo committees and friends that team roping was going to explode. They laughed. Told me I was crazy. Told me that people wanted to watch real cowboys like the bull riders and bronc riders. Me being me, I bowed up and said 'I'll show you guys. Nobody does anything on a Monday in this industry. I'll put together the biggest showing of team ropers in the world AND I'll do it on a Monday!'" – Bob Feist
The BFI has grown to be the team roping elite of elites. Not just for the competitors but the fans as well. Today, the roping kicks off at 8 a.m and the stands are nearly full by noon. As the day winds closer to the sixth and final round, the stands get packed. Fans of roping, locals, and people from all walks of life converge on the events center to watch the best in the world compete for the coveted title of "BFI Champion." After 40 years, roping fans have picked their favorites to cheer for and you can hear and feel the excitement when ropers like Derrick Begay make a good run. Or feel the respect of the applause when Clay O'Brien Cooper tips his hat as he coils his rope after a seemingly effortless heel shot. You should hear the crowd when Trevor Brazile rides out leading the average after four. Fan's from BFI's yesteryear pay tribute to the three men that have competed in every single roping since the first year; the legendary Denny Watkins, World Champion Allen Bach, and World Champion Mike Beers with cheers, whistles and applause.

The BFI brings together all walks of life, from amateur to pro, to enjoy and celebrate the sport of team roping. The only thing better than watching the greatest in the world for a day, is to spend a whole week worrying about nothing but team roping! The new owners of the BFI, Daren and Kami Peterson along with Corky Ullman, have also purchased the Reno Rodeo Invitational Team Roping and the All-Girl and are taking these great ropings, making them even better!
BFI Webcast Video
LOADING
Latest BFI News
LOADING