Cayla Melby – Burneyville, Okla.
1-time WNFR qualifier
2016 Rookie of the Year
Huge thanks to my long time sponsor Diamond Wool Pads. I have rode in others and always come back to our Jane Melby Approved Diamond Wool Pads. Thanks for always believing in me! #JustTwoSmallsMakinItBigInVegas

Posted by Cayla Melby on Thursday, October 6, 2016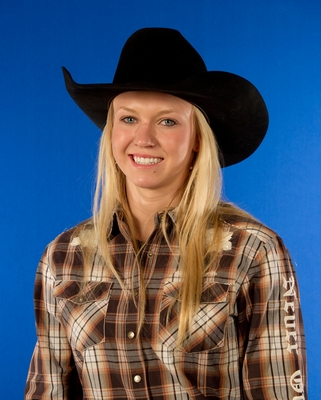 Cayla Melby might be the busies 18-year-old at this year's Wrangler National Finals Rodeo (NFR).
That's right, 18. She will turn 19 on Dec. 15, five days after making her first appearance in the arena at the Thomas and Mack Center. She's been there before, watching her mom Jane Melby who qualified twice in 2011 and 2013.
While Jane was on the rodeo trail, working to qualify Cayla was at home riding and training colts. In 2010, she was the National Junior High School Rodeo champion in barrel racing. The next year, she won the Minnesota (her native state) high school team roping title with her brother Colton. She also won the state's all-around cowgirl title.
The family moved from Minnesota to Oklahoma, easier for their barrel racing pursuits. When Cayla turned 18, she bought her WPRA membership and hit the trail. She and her mother traveled together initially, but when spring came along, Jane stayed home and sent Cayla west with her fiancée, team roper Zac Small.
When Cayla called to enter this year's NFR, she entered as Cayla Melby. When she enters the Thomas and Mack Arena, she will be Cayla Small. Zac has qualified in the team roping and is juggling a rodeo and vet school schedule. The Oct. 29 wedding will make them the second husband and wife team at this year's competition. Sherry Cervi and Cory Petska (heeling) also qualified.
Cayla enters this year's NFR in 10th place with $87,737 in regular season earnings. Jane finished 38th in the world this year. With three great horses going down the road with them, the mother and daughter could be competing against each other next year. This year however, Jane will be in the stands on pins and needles as she watches both her daughter and son-in-law making their first trip through the yellow gates.