Jackie Ganter – Abilene, Texas
2-time WNFR qualifier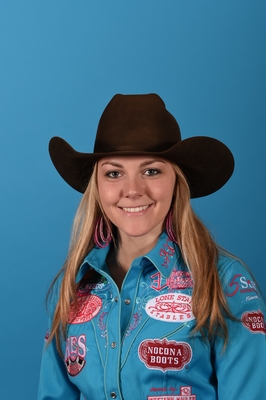 Last year, Jackie Ganter set a goal of qualifying for the Wrangler National Finals Rodeo (NFR) and winning Rookie of the Year.
She accomplished both of those, entering the 2015 NFR in 12th place, and moving up to eight. She finished second in the average, less than a second behind Callie duperier, who won the average and the world title.
This year Jackie enters her second NFR in second place with earnings of $116,387. Much of that money came from Canada and prior to coming to Vegas, she will compete at the Canadian Finals Rodeo in Edmonton, Alberta.
Jackie's success in the rodeo arena has been inspired by her mother Angela Ganter who is an accomplished barrel racer as well. She also has a trailer full of talented horses and is not afraid to go the distance to accomplish her goals.
Some of that determination is genetic. Her mother is a cancer survivor having been diagnosed with breast cancer in 2010. Jackie was 15 years old. Her father passed away when she was 8, and Angela was determined that Jackie would not be a without both of her parents.
Mother and daughter will make the trek to Vegas this year building on last year's experiences. Jackie is taking on-line classes working on a business degree, so she will be busy before the NFR with schoolwork.
Her competitive nature and love of her horses are likely to see her back at the Thomas and Mack Center for years to come. The former English rider is on a mission to finish the year at the top of the world standings and isn't likely to slow down until that happens.