Cowboy Kicks Off World Championships By Visiting Troops
By Wrangler Network contributor American300 Tours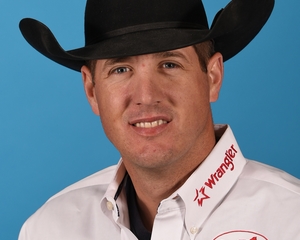 Nellis Air Force Base – After twelve years of professional rodeo, Trevor Knowles would be right in his mind to step away from the injury prone sport of bulldogging and focus his energies entirely on running the family farm. Instead, the hall of fame high school wrestling star will be entering the Wrangler National Finals Rodeo for the 12th time in the hopes that his steers run straight and his landings on top of them go in the right direction.
Of all the professional rodeo sports, steer wrestling aka 'bulldogging' is one of the hardest on the body, not the steers, but the cowboys. "Being raised on a farm and having a Vietnam veteran for a father definitely has made Trevor the man he is today," says Jeff Chadwick, a director with Wrangler Corporation who recruited Trevor and many others to represent the companies 'Wrangler National Patriot' program years ago, he adds, "It wasn't a hard sell, Trevor has been donating time and financial resources to local military charities ever since he started on his way to being a million dollar Cowboy.
As part of the Wrangler National Patriot program, professional cowboys, cowgirls and rodeo committees here at home are asked to volunteer time and energy to raise awareness and funds for our military.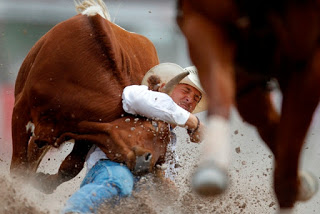 In 2009, Chadwick went one step farther by partnering with american300.org to connect his stable of professional athletes with our troops serving around the world. Now 8 years later, Wrangler champions have shared their never quit winning attitudes and heart felt thanks with thousands of troops. "Every year we take Wrangler Cowboys and Cowgirls out on the Department of Defense Armed Forces Entertainment Wrangler National Patriot Memorial Day Tour," says Army Veteran Robi Powers, founder of American300 "while the focus has always been on saluting the service and ultimate sacrifices, it's also become a resiliency sharing experience as troops come to understand the true nature of what it means to be a professional cowboy." he added.
This week, Trevor Knowles joins the likes of World Champion Hall of Fame Cowboys: John W. Jones Jr. and Rob Smets along with Annie Bianco in taking time out for our Troops. Trevor along with Chadwick and Powers will be visiting Nellis Air Force to meet Airmen and share their thanks along with resilient life stories.
For more on American300 Military Mentor Programming visit: www.American300.org